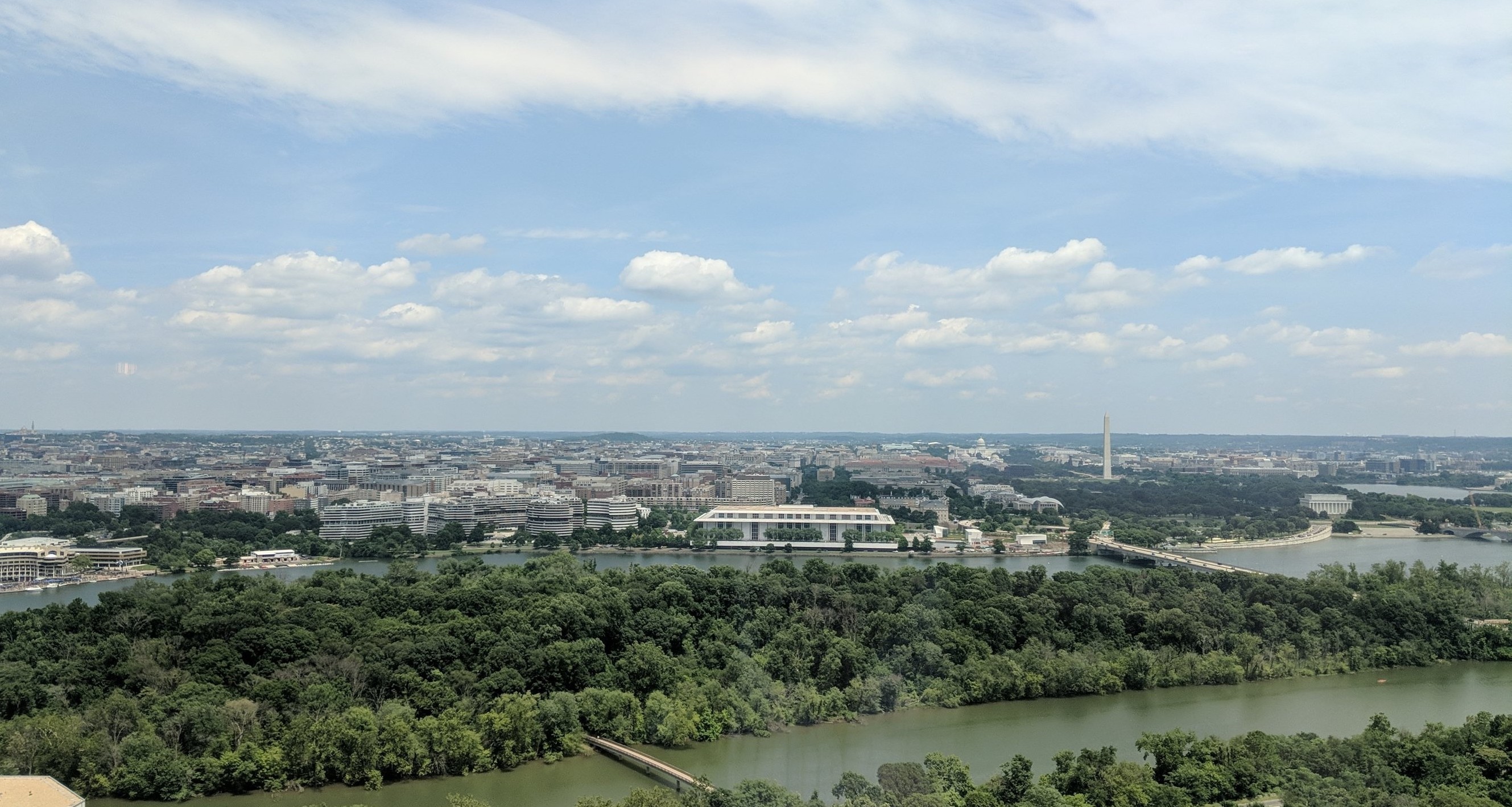 The view of Washington, DC from the LOCUS Leadership Summit. (Image: staff)
This week the LOCUS Leadership Summit: Opportunity Rising brought forward-thinking real estate developers and investors who are creating sustainable communities together with local elected officials and transportation and land-use planners. The breadth of topics covered at this year's Summit reflected the breadth of expertise among attendees. While the conference's main sessions and keynotes were held on Monday (June 24), walking tours, meetings, and the LOCUS President's Reception and Awards Dinner took place in the days before and after.
Here's a short look back at what was caught live on Twitter at #LOCUSSummit2019.
JBG SMITH National Landing Walking Tour
The Summit opened with an afternoon walking tour of National Landing, the site of Amazon HQ2 in Arlington, VA on Sunday, June 23. Participants toured mixed-use developments and public spaces in Crystal City and Pentagon City, including the Crystal City Water Park and JBG Smith Marketing Center. And with JBG Smith leading the tour, participants got a glimpse of how the area will be changing in the years ahead.
Yesterday, we took a walking tour of Amazon's new home with @jbgsmith and saw how Route 1 will be turned into a boulevard (the overpass pictured will be removed) and JBG SMITH is working to make their buildings more street facing rather than inward facing. pic.twitter.com/hzAKt7m6UQ

— Smart Growth America (@SmartGrowthUSA) June 24, 2019
2019 LOCUS Leadership Summit: Opportunity Rising
We kicked off on Monday with two in-depth discussions on the Amazon HQ2 site selection process, featuring insights from Arlington about their winning bid, and a panel of officials from cities that weren't successful or that decided not to participate at all.
Breakout sessions throughout the day covered topics ranging from Opportunity Zones to climate gentrification.
LOCUS' First Smart Growth Showcase 
LOCUS also hosted the first ever Smart Growth Showcase at the Summit, where five projects in search of development partners were on display for an interactive dealmaking lunch.
Foot Traffic Ahead Released  
After a productive dealmaking session, the George Washington University's Center for Real Estate and Urban Analysis (CRUEA), Smart Growth America/LOCUS, Cushman & Wakefield, and Yardi Matrix released Foot Traffic Ahead: 2019 report which ranks the 30 largest U.S. metros on their level of walkable urbanism.
Christopher Leinberger, an author of Foot Traffic Ahead, offered an easy transition to the final session of the day, which focused on utilizing land use regulations as a tool to create equitable, transit-oriented development.
Thank you to everyone who attended this year's Summit and shared their knowledge and enthusiasm for smart growth. We look forward to hearing about how you're using what you learned back home and creating more equitable, prosperous, and resilient places.
---