In a unique partnership focused on bringing vital connections to rural America, Smart Growth America is helping T-Mobile give one small community a prize package worth $3 million as well as millions in smaller grants for hundreds of other rural and small town communities to reinvest in their downtowns, improve their quality of life, become more resilient, and improve their connections.
T-Mobile is in the midst of a massive effort to bring 5G service to rural America and they are tapping Smart Growth America's deep experience with planning and development in small communities as they roll out two new programs to build stronger, more prosperous small towns and rural communities. T-Mobile's $3 million Hometown Techover contest will award one lucky community with tech upgrades from T-Mobile, a local baseball or softball field, new connectivity for a public space like a library, community center or town square, and a free concert with multi-platinum duo Florida Georgia Line, among other benefits. The winning town will also receive a free workshop from Smart Growth America and a $200,000 grant to help make a catalytic project a reality and become more healthy, prosperous, and resilient.
Their Hometown Techover Contest is just one part of T-Mobile's larger effort to expand 5G service to rural households, build new stores, and create thousands of jobs all across rural America, where people have often been left behind when it comes to internet and wireless connections. Anyone can nominate their community for this contest!
The wireless company is also giving away $25 million over the next five years through $50,000 (or less) T-Mobile Hometown Grants to revitalize community spaces in towns with 50,000 people or less. Winning communities can use the funds to kickstart catalytic projects like small but vital infrastructure improvements, restoring a downtown theater, improving façades on small businesses, or making improvements to a local park. Local elected leaders, community leaders, city/county employees, or leaders from a local non-profit organization are eligible to apply for these grants (and you can encourage them to apply!)
"We are excited to partner with T-Mobile to help a small town reach its full potential," said Smart Growth America CEO Calvin Gladney. "Community projects like these can be a catalyst for creating healthier, thriving communities with strong local businesses and jobs that create economic prosperity for all."
20 years of experience in small town America
While smart growth often gets cast as a purely urban phenomenon, the concept was birthed and first proven in smaller towns. For almost 20 years now, Smart Growth America has perhaps done more work in smaller towns and rural places than anywhere else, offering technical assistance, workshops with local partners, and policy implementation. We've helped local leaders learn the basics of smart growth, re-evaluate their economic development plans, do the math on sprawl vs infill growth, and re-focus on their downtown cores. We also spent a few years helping local communities think about how expanded broadband connections are vital for resilient, productive communities where all are welcome to live and set up shop. We told stories about two of them—Erwin, TN and Millinocket, ME— in a two-part audio series.
With a track record of providing scores of smaller towns a roadmap for achieving economic vibrancy over the years, Smart Growth America will be helping the winner of the $3 million Hometown Techover develop and implement a plan to enrich the town's development—such as a place-based economic development plan, the restoration of a neglected downtown square, infrastructure improvements in a historic neighborhood, or investments in a community center. Ready to transform your hometown? Think Smart Growth America could help your community? Anyone can enter the Techover contest here. Enter the contest at T-MobileHometownTechover.com before it closes on Friday, May 7. Just upload a photo or video of your town and tell T-Mobile what makes it special.
In addition to the big prize, T-Mobile will be giving away $25 million over the next five years through hundreds of smaller Hometown Grants for local communities for all types of catalytic projects. And if you are a local leader of almost any kind, nominate your town for a Hometown Grant here.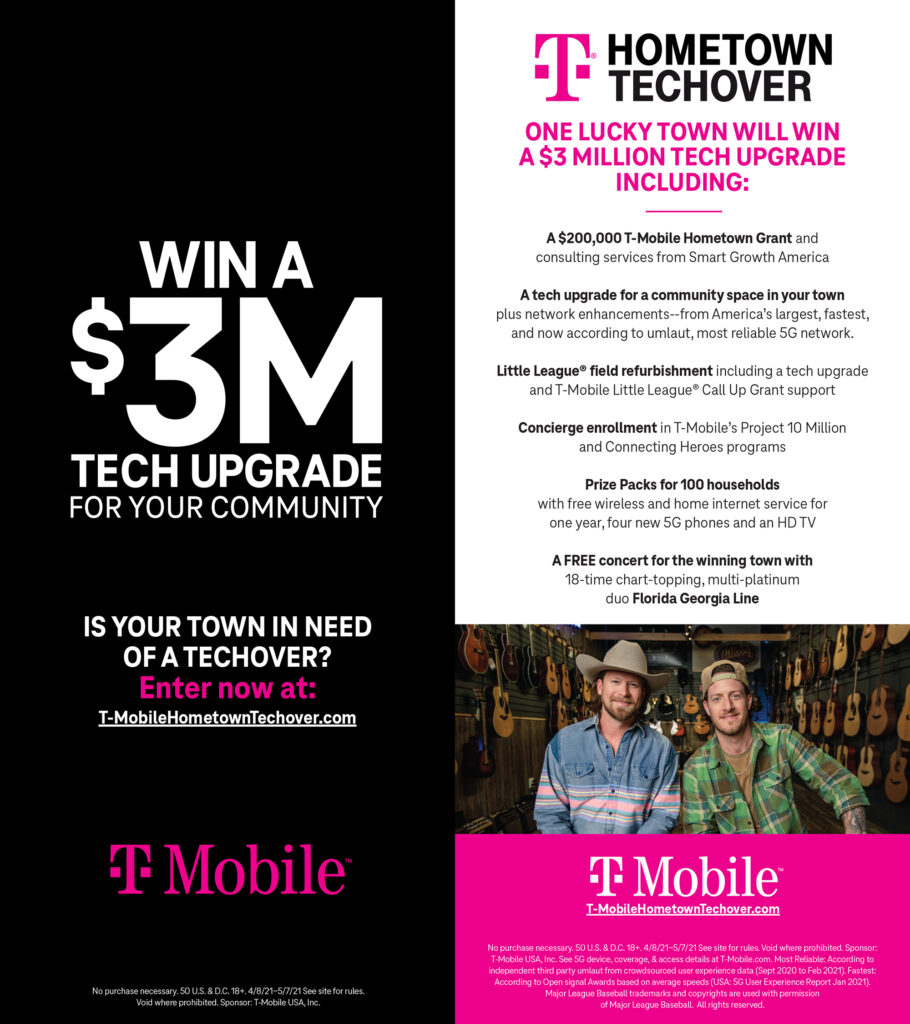 T-Mobile Hometown Techover Contest: No purchase necessary. Open to legal residents of all 50 United States and the District of Columbia to nominate a city or town in the 48 continental United States with up to 50,000 residents. 04/08/21-05/07/21. See T-MobileHometownTechover.com for full rules. Void where prohibited. Sponsor: T-Mobile USA, Inc.