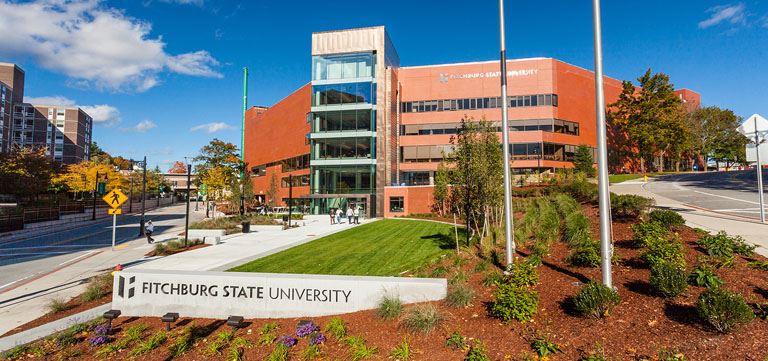 Fitchburg State University (Image source: City of Fitchburg)
A former manufacturing city northwest of Boston has renewed its focus on its downtown, leveraging partnerships with the local state university and utilizing its current stock of historic buildings to generate an economic resurgence. 
Fitchburg, MA's story has, until recently, echoed that of many former manufacturing towns: job losses, vacant downtown storefronts, and deteriorating infrastructure. As city staff noted: "Main Street scarcely resembles the vibrant urban center of old, and at times feels instead like a suburban expressway."
But Fitchburg has seen some positive changes – major commuter rail upgrades in 2016 improved service to Boston, about an hour away via train. The city has also been investing in its downtown, helping to fill storefronts and increase development around a new intermodal transportation center along Main Street. To harness this existing momentum and improve relations with (and support from) other local actors the city partnered with Smart Growth America for a (Re)Building Communities workshop, funded by a Building Blocks grant from the EPA Office of Community Revitalization.
An in-person workshop—the cornerstone of the assistance—brought together stakeholders from a range of community institutions and partners, including Fitchburg State University and ReImagine North of Main. The participants broke downtown into four focus areas, with a group at the workshop discussing each one. Based on the input from the participants and the ideas generated during the workshop, some "next steps" were developed for Fitchburg as a whole and each of the four districts.
Since the workshop
Since the SGA team's visit to Fitchburg, three key projects have been moving forward in downtown Fitchburg that together represent $75 million in investment: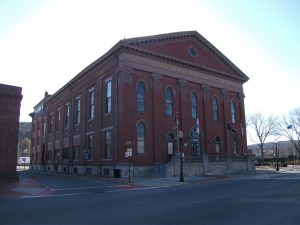 Renovation of city hall

: This historic structure, originally built in 1853, has sat vacant for some time—city departments are instead located at another building adjacent to downtown. A feasibility study was done prior to the workshop, but the city has since decided to move ahead with identifying funding for a full renovation. This project would allow Fitchburg's city hall to return it to its original function. This project is both a sound historic preservation decision and an economic development driver working in concert with other downtown projects.

Fitchburg Theater Block

: This project along Main Street—and across the street from Fitchburg's historic city hall—is now in the first phase of construction and renovation. Fitchburg State University (FSU) has purchased the buildings along this block, including the theater itself, and will be opening an "Idea Lab" that combines coworking space for entrepreneurs with a computer gaming laboratory for FSU students in their video game design program. The project is expected to generate significant downtown foot traffic from students, faculty, and the general public. Future phases of the project will include the renovation of the historic 1,600 seat Fitchburg Theater and seven commercial storefronts on the same block. Fitchburg's partnership with FSU—which is located about a mile away—has been critical to making this happen.

Postcard of B.F. Brown Middle School in downtown Fitchburg as it appeared in the 1930s/40s. (Image source: Wikimedia Commons)

Redeveloping B.F. Brown Middle School: NewVue Communities and the Fitchburg Art Museum has been planning to convert this old school building into an affordable live-work space for artists until a fire in 2016 threw those plans into question. While some in the community wanted to see this historic building demolished, the live-work space project is back on track. This project is near both the historic city hall and the theater block. Its proximity has the potential to contribute to a strong arts and theater district in downtown Fitchburg. Such a district could attract people from all over for shows and exhibitions while benefiting businesses in the downtown as a whole.
One key benefit of all of these projects is that it may change FSU students' image of downtown Fitchburg and entice them to stay in the city after graduation. In the coming years, smart investments in Fitchburg could help it transform from a manufacturing town into a place that celebrates the city's history while providing a regional arts and culture destination.