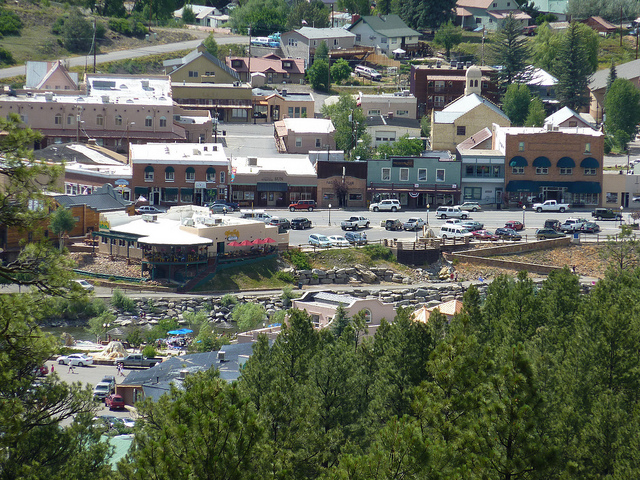 Downtown Pagosa Springs and the San Juan River (Image: Granger Meador, Flickr)
The small Colorado town of Pagosa Springs is focused on revitalizing its downtown and supporting more mixed-use, walkable development to both address a lack of affordable housing and accommodate a large volume of tourists. There are a number of opportunities to make progress in the near-term, including turning a recent disaster in the downtown into a catalytic redevelopment opportunity.
Pagosa Springs is a small town (pop. of about 1,800) in southwestern Colorado, about a 90 minute drive east of Durango. Tourism is Pagosa Springs' major industry: The local hot springs—for which the town was named—are some of the largest, hottest, and mineral-rich springs in the world, renowned for their restorative properties. And the San Juan River runs through town and the San Juan National Forest surrounds the community. In the summer, the population of the surrounding county doubles and the town itself attracts 375,000 tourists each year.
However, the number of tourists drawn to these beautiful attractions has resulted in a loss of affordable and workforce housing for Pagosa Springs' year-round residents. Much of the existing housing has been converted to short-term rentals that cater to visitors and part-time residents.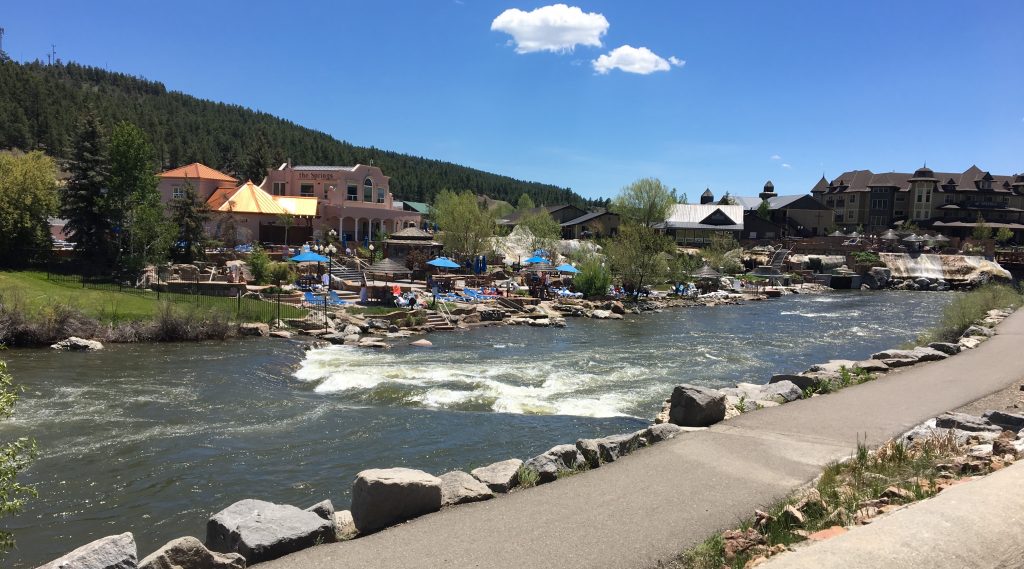 The Pagosa Springs Resort, a major tourist attraction in downtown Pagosa Springs. (Staff photo)
Pagosa Springs was looking to address this housing shortage while helping to redevelop downtown to create a more walkable environment that encourages visitors and locals alike to linger. To achieve that, the town applied and was chosen for technical assistance from Smart Growth America, made possible through an EPA Office of Community Revitalization Building Blocks grant. The two-day Smart Growth 101 workshop helped Pagosa Springs understand its redevelopment potential and to begin working together towards a shared vision for its future.
Moving forward with downtown revitalization projects
Pagosa Springs has three major redevelopment opportunities that will help it expand year-round housing opportunities, making it more affordable while spurring downtown redevelopment.
The first redevelopment opportunity is the former home of the town's historic "Adobe building" in downtown, which was destroyed by a fire shortly before the workshop, displacing 16 businesses. As a result, that privately-owned site—and an adjacent town-owned property—is ripe for redevelopment. Since the workshop, the owner of the former Adobe building has decided to sell the property and the town is currently considering options for combining the two sites for a larger development project, one of Smart Growth America's recommendations. Together, those two sites could realize even greater opportunities for artist spaces, workforce housing, and other community amenities. Sites like these in the heart of a downtown can often serve as catalysts for further redevelopment while providing new housing units in a walkable part of town.
Adjacent to downtown, another 27 acres is earmarked for mixed-use development because of a previous agreement with the owner. Planning for phase 1 of the project—which includes a hotel and conference center, commercial spaces for retail and restaurants, and new residential units for year round residents—begins this year. To better connect this new development with the downtown, officials are hoping to work with the developer to accommodate a new multimodal river crossing in the future.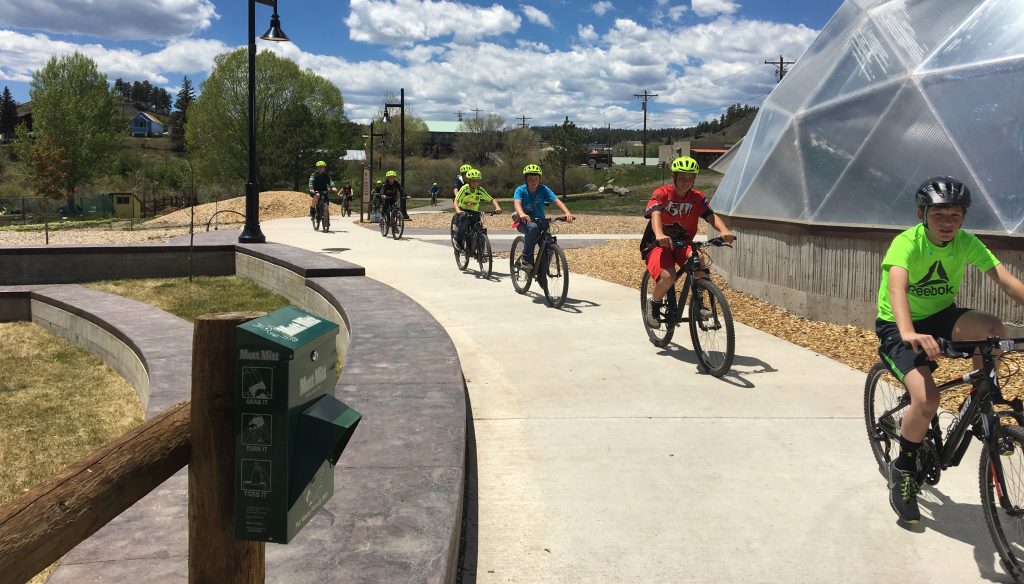 Bicyclists along the San Juan River in downtown Pagosa Springs. (Staff photo)
Finally, the Colorado Department of Transportation is in the preliminary planning phases of a project to redesign portions of Highway 160, the major roadway running through downtown that acts as the area's main street. The project represents an opportunity to slow traffic through downtown while improving the streetscape to make it safer and more attractive for residents and visitors to navigate on foot. The town has already budgeted for new pedestrian improvements to increase safety at key locations in downtown. Combined with a new scenic overlook structure above the river, the town hopes to entice drivers passing through to stop and stay a while.
The workshop helped Pagosa Springs identify redevelopment opportunities to focus on as catalysts for future projects, with an eye towards creating new housing and economic development opportunities. The next steps memo that Smart Growth America provided Pagosa Springs was referenced in the town's comprehensive plan update and the lessons learned during the workshop informed that update.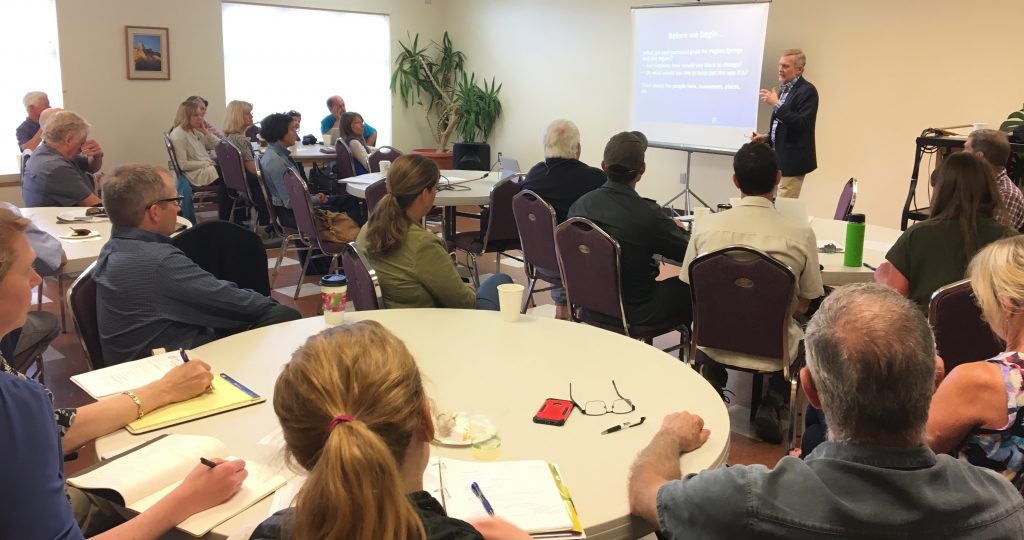 Smart Growth America's John Robert Smith addresses the workshop participants. (Staff photo)
For more information on Smart Growth America's Technical Assistance program and how your community can request assistance from Smart Growth America on a variety of land use, development, and transportation challenges, please visit our technical assistance home page.