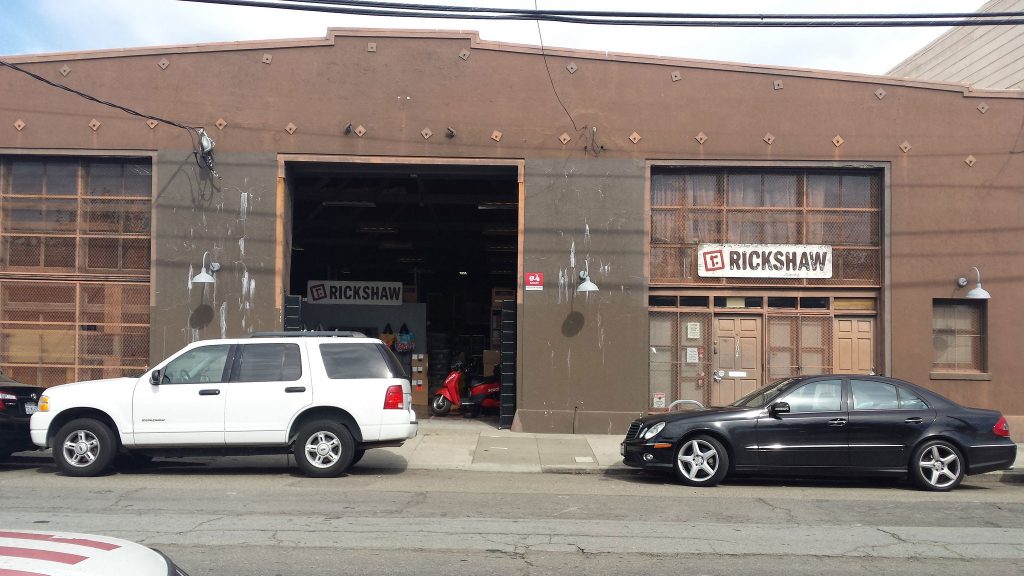 Rickshaw Bagworks makes and sells cycling-inspired bags in San Francisco's Dogpatch neighborhood. Photo by Richard Masoner via Flickr.
Small-scale manufacturers like woodworkers, steel fabricators, hardware prototypers, microbrewers, and coffee roasters with regional distribution have emerged as a significant force in today's urban economy. For many cities and neighborhoods suffering the loss of skilled-labor employers, this emerging, city-oriented industrial sector offers a powerful revitalization tool that can connect residents to good paying jobs and economic opportunity in the neighborhoods they call home.
Industry has come home to the city. And it's paying off.
Small-scale manufacturers aren't choosing to locate in just any cities, however. They are opting for vibrant, active, and walkable cities. In 2014, the Brookings Institution found that the small-scale industrial sector outpaced overall economic growth in the years following the recession. Much of that growth occurred in walkable, sociable, and affordable neighborhoods, towns, and cities.
Around that same time, Smart Growth America called for new policies and strategies to help cities and towns take advantage of small-scale manufacturing. We encouraged communities to include these industries in their revitalization plans, because when small-scale manufacturing is stitched into a community fabric it livens urban spaces and builds economic resilience through market diversity and high wage jobs.
Since then we've taken a closer look at these strategies, particularly in our 2016 report Amazing Place which explored how six cities, big and small alike, are following a new recipe for economic success. Through our (Re)Building Downtown technical assistance program, we have worked with dozens of cities and towns to develop the strategies necessary for building prosperous downtowns–including supporting entrepreneurs and home-grown industries like small-scale manufacturing.
Today we're excited to announce new, free technical assistance workshops designed to help communities incorporate small-scale manufacturing into neighborhood revitalization efforts. In partnership with the U.S. Economic Development Administration and Recast City, this new technical assistance will educate and gather lessons from communities on how strategic land use decisions can cultivate small-scale manufacturing and help fuel economic growth and recovery.
Applications are now open for this assistance. Any unit or subdivision of regional, local, or tribal government, as well as non-profits and nongovernmental organizations such as community development corporations are eligible to apply for this technical assistance. Selected communities will receive a professionally facilitated two- to three-day workshop and a customized action plan that will outline how to leverage existing assets to make small scale manufacturing work toward their goals. Applications will be accepted until 5 p.m. EST on January 6, 2017.
We're looking to work with interested communities with engaged leadership and a commitment to change that want to use small-scale manufacturing to make new opportunities for their most challenged neighborhoods. If that describes your community, learn more and submit an application today.