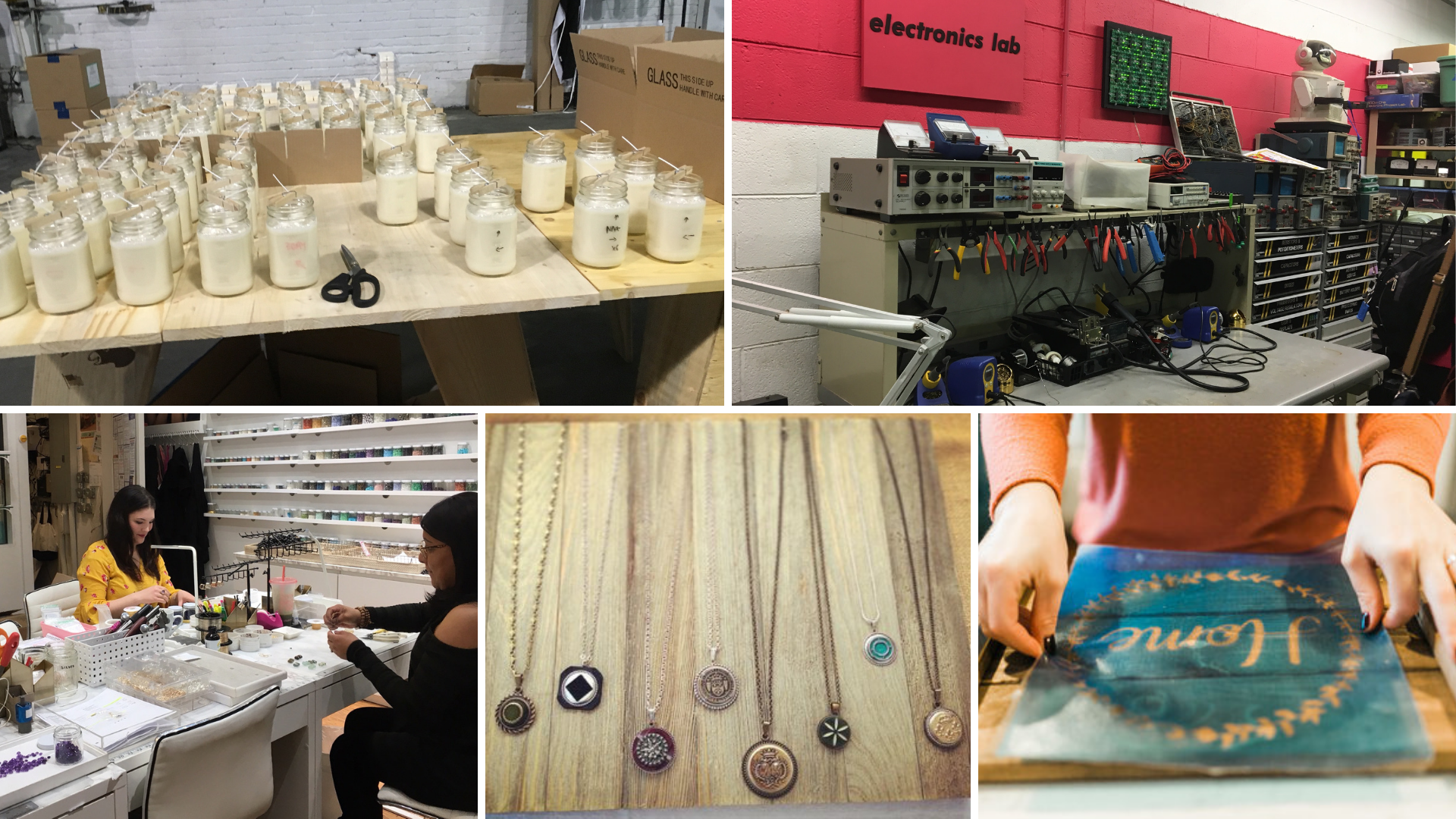 Images: SGA staff and The Maker City
This year's small-scale manufacturing technical assistance funded by the U.S. Economic Development Administration (EDA) is well underway with a pair of successful visits completed. We recently caught up with two communities we helped in 2016—Knoxville, TN and Youngstown, OH—to learn about their achievements with local makers. Their progress illustrates the potential for high-quality jobs and placemaking opportunities tied to this emerging sector.
The metal worker that welds customized signs out of his garage; the candle maker that appears at the farmers' market every Saturday; the bustling collaborative that designs and produces apparel. These are all representatives of what we call the maker economy—small-scale manufacturers—that is growing in communities of all sizes as online commerce and new technologies change the way people buy, sell, and produce goods.
It's these homegrown, unique businesses that can inject vibrancy and bring back hollowed out downtowns by filling vacant storefronts and providing employment opportunities in the neighborhoods people love. The result is a more diverse and resilient economy, high-paying jobs for a broad spectrum of residents, and a uniquely memorable sense of place. Knoxville and Youngstown are two cities being intentional about small-scale manufacturing to the benefit of this growing sector and the community as a whole.
Knoxville, TN
Knoxville made a bold statement when it dubbed itself "The Maker City" back in 2016. Since, city leadership have nurtured the catchy brand and supported new and established manufacturers whenever possible. For example, Mayor Madeline Rogero established a Maker Council to knock down regulatory barriers that impeded the city's diverse small business community. With that local support, the sophistication of the maker community quickly advanced beyond many other cities. But Knoxville didn't stop there—the city approached Smart Growth America for technical assistance, with big ambitions to redefine its Magnolia Avenue Warehouse District (MAWD) as a pedestrian-friendly hub of small-scale manufacturing businesses.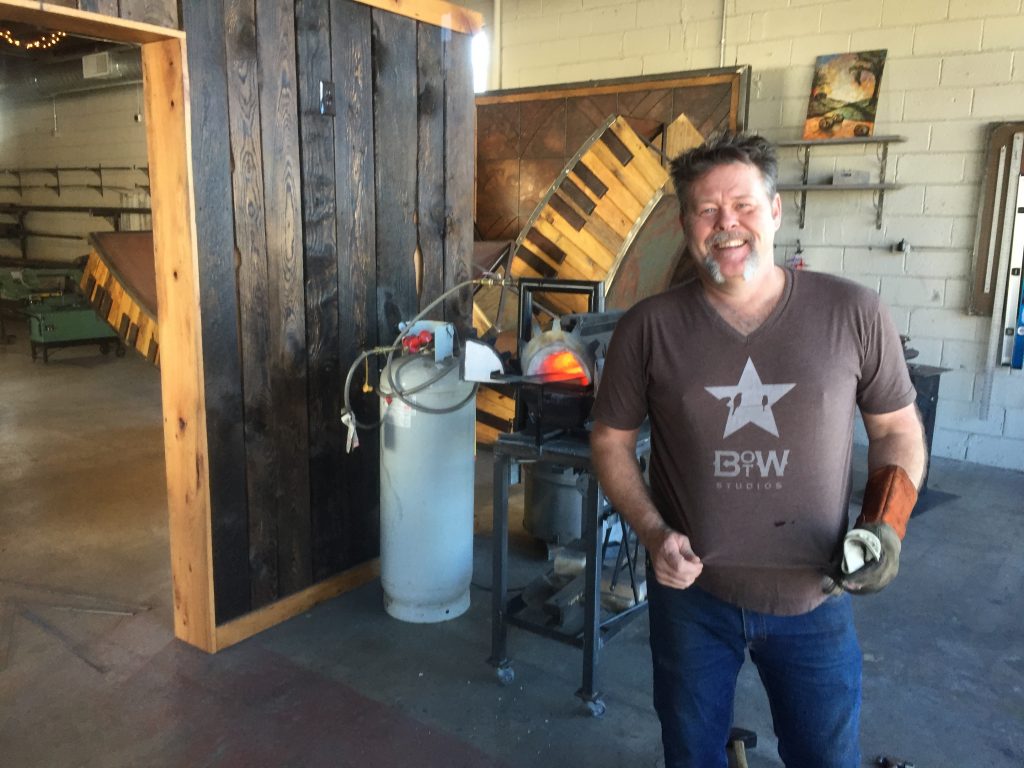 Mike White of Bird on the Wire Studios makes personalized signs and installations for local businesses and events. His space doubles as a collaborative makerspace. (Image: SGA staff)
After meeting with an array of stakeholders in Knoxville's growing small business scene, we learned that the city could spread its vision farther and wider to support makers across the region. We recommended an amplified effort to be THE maker city and intentional real estate development in all corners of the MAWD. The city could also strengthen the support network between makers with direct and purposeful outreach to minority-owned businesses.
The Maker Council has since worked to articulate a vision and goals that are not exclusive to the MAWD, but instead apply to the region as a whole. The Maker City motto—which previously pertained to only a subset of the community—now blankets the region and people are becoming more and more aware of their local businesses.
Meanwhile, the city is pursuing Recode Knoxville—which will loosen restrictions on industrial space citywide—and a major streetscaping and infrastructure improvement project in the MAWD. Buildings in the area are also being acquired for shared workspace and a local entrepreneur has even announced a 10-year plan to build a new ballpark. These investments have resulted in increased foot traffic that the city envisioned from the get-go and the manufacturers in the area—like Mike White, who was able to move out of his garage and into a new business space—are benefitting.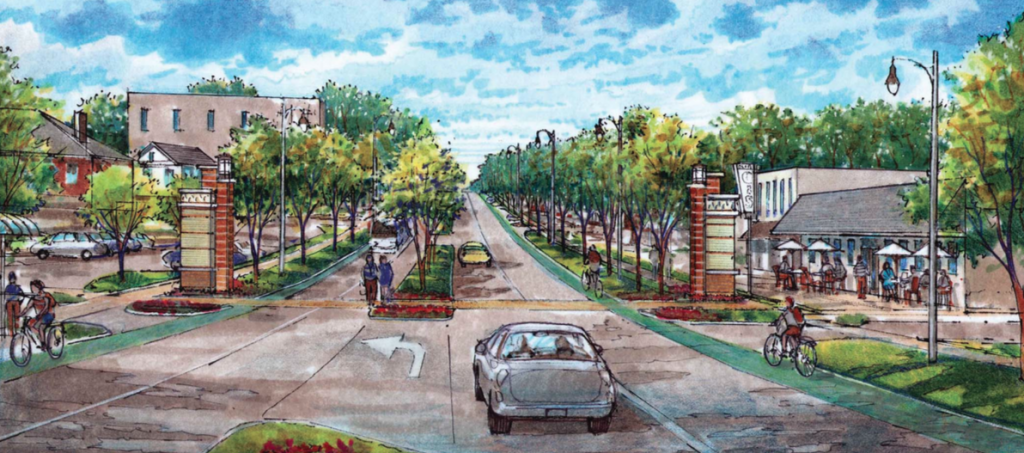 Streetscape vision for the MAWD (Image: City of Knoxville)
Knoxville is also doing its part to build stronger networks within the maker community by getting serious about equity. A new working group called the Knoxville Business Support Network is unearthing a wealth of unique craftspeople by intentionally supporting entrepreneurs and residents in underserved communities and by hosting Etsy craft classes in rural areas. During this year's Maker Summit, the group helped connect attendees with experts around the region to learn about taxation, law, finance, and marketing. Each of these initiatives is bolstering widespread creativity and entrepreneurship in a way that is more inclusive.
Youngstown, OH
Youngstown, like much of Northeast Ohio, has grappled with a decaying steel industry for years. Young leadership, innovation, and new development have potential to help the city rebound, but many of the small, innovative startups in energy and 3D printing are dispersed haphazardly across the region, which leaves little chance of placemaking. This led the area to seek assistance from Smart Growth America for placed-based strategies that could pair a manufacturing resurgence with downtown redevelopment.
Our first hand experience in Youngstown and the greater Mahoning Valley underlined how the region was inadvertently hindering local manufacturing. Zoning and building codes forced manufacturers into out of the way office parks and stoked negative perceptions of the industrial sector. If Youngstown really wanted to enable inclusive downtown placemaking around the region's budding maker economy, it needed to build a strong network of people who believed in Youngstown's future, implement place-based strategies for land use and real estate, and increase support for minority- and women-owned businesses.
Now, the city is orchestrating a wildly popular regional Manufacturing Day and the interest in manufacturing careers and events is rising. This city is also being intentional about equity and inclusion as it grows local industry by broadening funding opportunities for local makers of all kinds. Honeycomb Credits is helping the city grow small businesses through crowdfunding, marketing, and micro loans; and an Ohio network geared toward women- and minority-owned businesses is providing the resources and visibility that makes them equally competitive.
Startup businesses are establishing themselves in a newly converted, multi-unit property that was recently acquired by the Mahoning County Land Bank. And thanks to a new real estate assessment, Youngstown now has a better idea of available production space. The analysis is also allowing the city to set appropriate rental rates for a pilot coworking facility for makers and artisans later this summer. Rather than the distant office parks that dispersed Mahoning Valley makers, these new spaces are allowing them to put down roots in places that people love.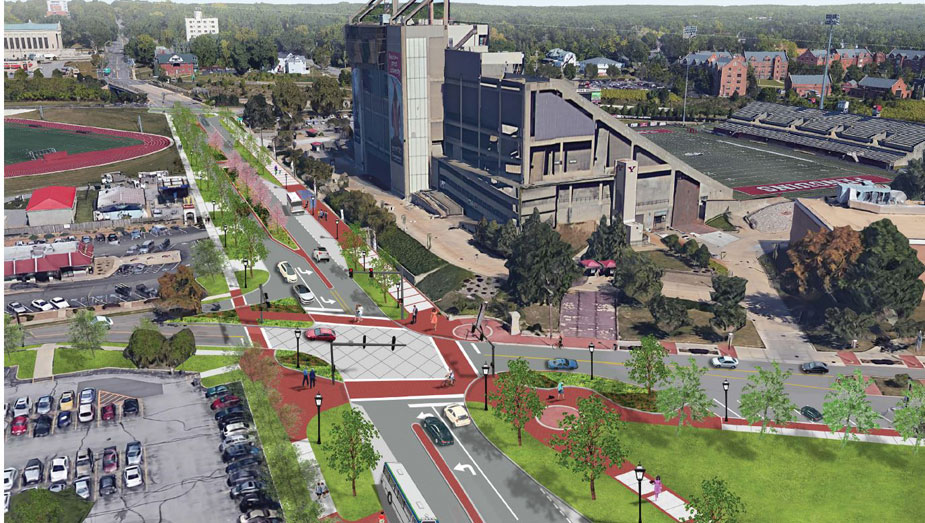 Upgrades to Fifth Avenue will be a part of Youngstown's large-scale public infrastructure project. (Image via The Business Journal)
Place-based strategies for citywide vitality
Knoxville and Youngstown have positioned themselves to grow regional awareness and success of small-scale manufacturing in different ways to meet their needs. Whether it's through robust education and recruitment for creativity in neighboring rural areas, exhaustive branding for a homemade culture, or with long overdue infrastructure improvements on main street, both cities are unlocking the potential of their maker economies.
Communities across the country are discovering the potential of their small-scale manufacturers to breathe life back into forgotten corridors and downtowns. It's these places that are bringing back competitive employment close to home, memorable consumer experiences, and greater economic resiliency. Both cities are stimulating this emerging sector in its own way, and we expect to discover entirely new stories in the six communities we are working with this year.
Smart Growth America currently leads the Small-Scale Manufacturing and Place-Based Economic Development program in partnership with Recast City and funded by the U.S. Economic Development Administration (EDA). This project helps communities improve their small-scale manufacturing sector through strategic land use decisions.