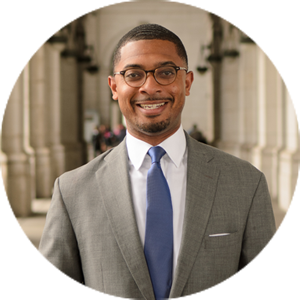 Smart Growth America is pleased to share the exciting but bittersweet news that Christopher Coes, Smart Growth America vice president of land use and development and Director of SGA's LOCUS coalition of real estate developers and investors, has been selected by the Biden-Harris administration to serve in the U.S. Department of Transportation as Principal Deputy Assistant Secretary for Transportation Policy.
"It has been a pleasure of a lifetime to work with and lead some of the smartest and most committed individuals dedicated to building communities of opportunity, said Coes. "Particularly, I am extremely proud of my land use and development staff at SGA and what they have been able to accomplish over the last three years together. I will also forever be indebted to our LOCUS Steering Committee and members for their trust and their support. Margaret Mead once said, 'Never doubt that a small group of thoughtful, committed citizens can change the world; indeed, it's the only thing that ever has.' For the last 10 years, LOCUS members and staff displayed the embodiment of those words. I will not only cherish the memories of our many successes but the friendships formed. I have no doubt LOCUS and Smart Growth America will continue to thrive and be successful in the future."
"While we're incredibly sad to see our colleague Christopher depart Smart Growth America, we are so proud at what we have accomplished together," said Smart Growth America President and CEO Calvin Gladney. "We are tremendously excited to know that he is going to have a close hand in shaping American transportation policy, which is badly in need of new ideas and a fresh vision. Christopher will be walking in the door on day one with the kind of fresh thinking that is urgently needed, along with a focus on addressing historic disparities and inequities. We are encouraged that the new administration has already given numerous indications that they understand this, with Secretary Buttigieg or others on his new USDOT staff mentioning the need to repair the divisions and deep racial and economic inequities created by past highway building, the need to reduce driving as a powerful climate strategy, and the need to marry our transportation investments with smart land use policy to give Americans housing they can afford in locations with good access to jobs and services."
In his new position at USDOT working with incoming Secretary-designate Pete Buttigieg, Coes will be responsible for recommending overall surface transportation policy initiatives to the Secretary. The office coordinates multi-modal initiatives and processes, such as the development of DOT's proposal for this year's looming long-term transportation reauthorization, and the coordination of the President's Executive Order on streamlining environmental reviews of transportation infrastructure.
"From its beginnings as a small but influential coalition of smart growth-minded developers a decade ago, Christopher has been instrumental in building LOCUS into an impressive network of developers and investors from across the country who are committed to equitable development," said LOCUS President Jair Lynch. "Thanks to his leadership and commitment over the years, LOCUS has become an important voice on Capitol Hill, helping advance numerous policy initiatives to help bring smarter, more equitable growth to cities, towns, and neighborhoods of all sizes."
Christopher's last day with Smart Growth America will be January 20, 2021, as he begins work immediately in the new administration in a provisional role pending Senate confirmation. SGA President and CEO Calvin Gladney will be assuming Christopher's duties for Smart Growth America and SGA/LOCUS on an interim basis, with extensive support from the land use and development team, LOCUS President Jair Lynch, and the LOCUS Steering Committee, to advance the organization's priorities on housing, land use, and equitable development in 2021. A search for his replacement will begin immediately.