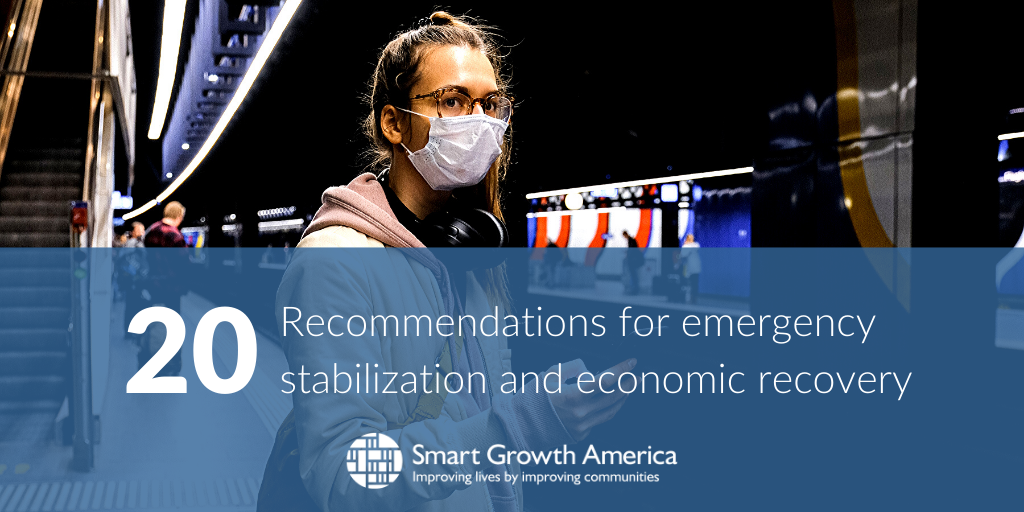 Our economy is at a virtual standstill because of the COVID-19 pandemic. Millions of Americans have lost their jobs and healthcare. Businesses of all sizes are facing an existential threat. Local municipal budgets are being gutted. As we hope for light at the end of the tunnel we'll need to craft a smart recovery. We leaned on our experience with the stimulus of 2009 and our long expertise in infrastructure and community development to produce a package of federal policy recommendations Congress should consider to build the foundation for a long-lasting recovery.
We held a webinar on Wednesday April 15 at 1pm ET to walk through our recommendations for supporting the nation through a recovery plan.
The scale of this public health crisis is unlike anything we have ever faced. The CARES Act passed last week is Congress' unprecedented $2 trillion attempt to stabilize the economy and provide immediate relief. We worked to get emergency operating assistance for transit included in that bill, but given the scale of the crisis and its rapid spread, more emergency funding will likely be needed—for transit and multiple other sectors of our economy.
Minimizing the damage and then beginning the long process of recovery will require us to think big and comprehensively. We can't spend money in the short-term in ways that will create long-term financial ruin, like plowing money into building new roads when we can't afford to maintain what we've already built. We need to prioritize "investments that build lasting economic prosperity and ultimately help all Americans have the opportunity to live in a place that is healthy, prosperous, and resilient."
Today, Smart Growth America is releasing a set of recommendations to help guide the federal response. As lawmakers continue to grapple with this crisis, these recommendations should inform additional short-term emergency measures and longer-term economic recovery efforts—with an eye toward bringing benefits to the most people in an equitable way.
Strategic infrastructure investments
With infrastructure investments, there is no better way to spend money faster and create more jobs than by prioritizing repair. In the 2009 American Recovery and Reinvestment Act, states and metropolitan regions received more than $26 billion in flexible transportation funds intended to create jobs, but many failed to prioritize the maintenance and public transportation projects that are proven to create the greatest number of jobs and return on investment in both the short and long term.
To put more Americans to work fixing our crumbling roads and bridges and bringing our public transportation systems to a state of good repair, we must explicitly dedicate any new money to repair. Simply pumping more money into the status quo of federal transportation policy will not lead to this outcome.
Beyond investments in repair, we call for greater federal investment in passenger rail and public transportation that will help connect more Americans—including those in small and midsize communities—to jobs and opportunity. As more Americans continue turning to walking, biking, rolling, and other active ways of getting around during the crisis, let's give them streets that are safe for people as we recover. Let's prioritize safety as we invest and create a new federal Complete Streets fund to support state and local projects and provide technical assistance.
We face a tremendous backlog of infrastructure maintenance beyond just transit, roads, or bridges. We need more money to help local communities clean up contaminated brownfields. Most Opportunity Zones don't have the infrastructure needed to attract the kind of investment that will meet the market demand for employment in walkable places with affordable housing and transportation options. We need to bring more private sector money to the table, and increasing public financing for infrastructure can help make that happen.
But infrastructure isn't just about transportation. The pandemic has highlighted the huge disparities in access to high-speed internet as daily life has rapidly become virtual. The federal government should address this with dedicated resources to expand broadband in disadvantaged, small, and rural communities.
Review all of our infrastructure recommendations.
Expand community development and housing options
Infrastructure will be a huge part of our recovery, but housing is the primary asset and means of building wealth for many families, or is the barrier to doing so. Even before COVID-19, communities of all sizes have been facing a housing crisis. Americans have been forced to search for homes that are further and further from jobs and essential services, where housing prices may be lower but transportation costs are higher. Homelessness has skyrocketed in many communities, and thousands more are on the brink, one disaster away from losing their homes.
The disaster is here.
Our recommendations call for protecting the most vulnerable of our neighbors by expanding the low income housing credit program and increasing federal funding for affordable housing. We call for protecting middle-income earners with new housing tax credits. We call for establishing a renters' tax credit to help people and families making below the area median income and balancing the federal support given to homeowners. And we call for reducing barriers to housing by establishing pre-tax home savings accounts (available to both renters and those wanting to buy).
The REHAB tax credit, a proposal that was released just as COVID-19 was becoming a crisis in the U.S., would help spur affordable housing in the transit-connected places that need it most. This credit, available to everyone from individuals to large development companies, would incentivize the rehabilitation of old, non-historic buildings, providing bonuses for affordable housing and infrastructure.
Unaffordable housing is one of the greatest barriers to economic prosperity, and the federal government should help people keep their homes and make housing even more accessible to more people. Our community development recommendations can help.
Our recommendations are not exhaustive, but they do cover some of the biggest vulnerabilities that directly affect individuals and families: housing and transportation. Directing robust support to federal housing programs, especially those that protect and provide for our less fortunate neighbors—many of whom have been deemed essential through this crisis—will best aid our nation's long-term recovery.