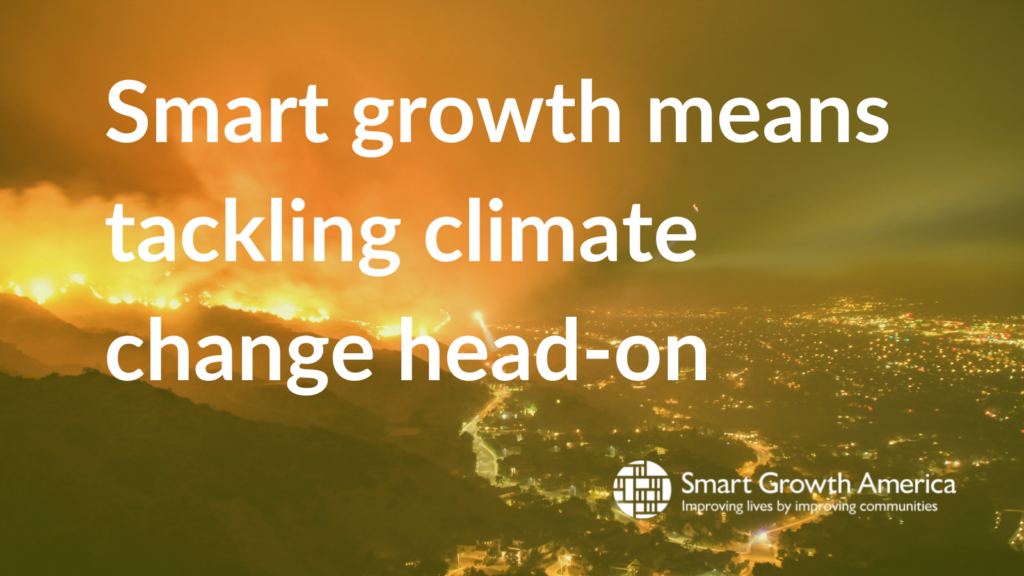 Climate change presents an urgent, existential threat to our communities, and those who are most vulnerable in our society today are disproportionately affected. Smart growth is one of our best strategies for reducing emissions and enhancing preparedness for future climate impacts.
Climate Week 2021 comes at the end of one of the worst summers on record for climate events. July was the hottest month worldwide of the 142 years of data available from NOAA, the National Ocean and Atmospheric Administration. Unbearable heat waves gripped the Pacific Northwest, historic drought led to the first-ever declaration of a water shortage on the Colorado River, and destructive wildfire and hurricane seasons remain underway. The data on unreported deaths from heat in the Pacific Northwest earlier this summer underscores the urgency of supporting communities to address climate impacts now.
Beyond our extensive work using smart growth as a tool to curb emissions in the short-and long-term to avoid the worst effects of climate change, its effects are already here, and they are not being felt evenly. The increasingly frequent and intense events are a threat multiplier, not only leading to destruction and loss of life, but also compounding other stresses and leading to significant health impacts and other inequities, including racial inequities. COVID-19 has recently presented another significant compounded risk; one 2020 study focused on post-wildfire air quality and COVID-19 cases rates and deaths in Reno, Nevada found that wildfire smoke exacerbated the impact of the pandemic.
Yet, development continues at pace in locations in harm's way. Between 1990 and 2010, the U.S. Wildland Urban Interface (WUI)—the area where homes and forests intersect— grew by 41% due to housing development according to the U.S. Forest Service. And by the end of this century, an estimated $1 trillion of real estate in the U.S. will be at risk from flooding due to sea level rise, storm surge and groundwater, according to the Union of Concerned Scientists. The Great Real Estate Reset, by Smart Growth America and the Brookings Institution, noted extraordinary growth in counties associated with high climate risk, such as in the Sun Belt.
Climate resilience and adaptation are also key parts of our work: ensuring that land use and development decisions take into account climate impacts which present grave risk to other communities, especially low-income communities and communities of color who have been historically marginalized by land use decisions. Policies need to prioritize the people being most impacted today and tomorrow and future land use strategy, infrastructure investment and building standards need to address the current and future threats we face.
For future development to be equitable, accessible and thriving, it must be better prepared for and adapted to the impacts of climate change. We've been working on climate change and smart growth for well over a decade, trying to mainstream the idea that we need to think beyond just the footprint of our buildings and start considering where we live overall and how we get around to reduce emissions and be more prepared for climate impacts. Now, we're calling it out by name. At SGA, we see many synergies between smart growth and climate adaptation such as:
Read a short summary about Smart Growth America's climate change and resilience work here. Reach out to us on Twitter to share your perspective on this important topic and help us shape this growing program of work.