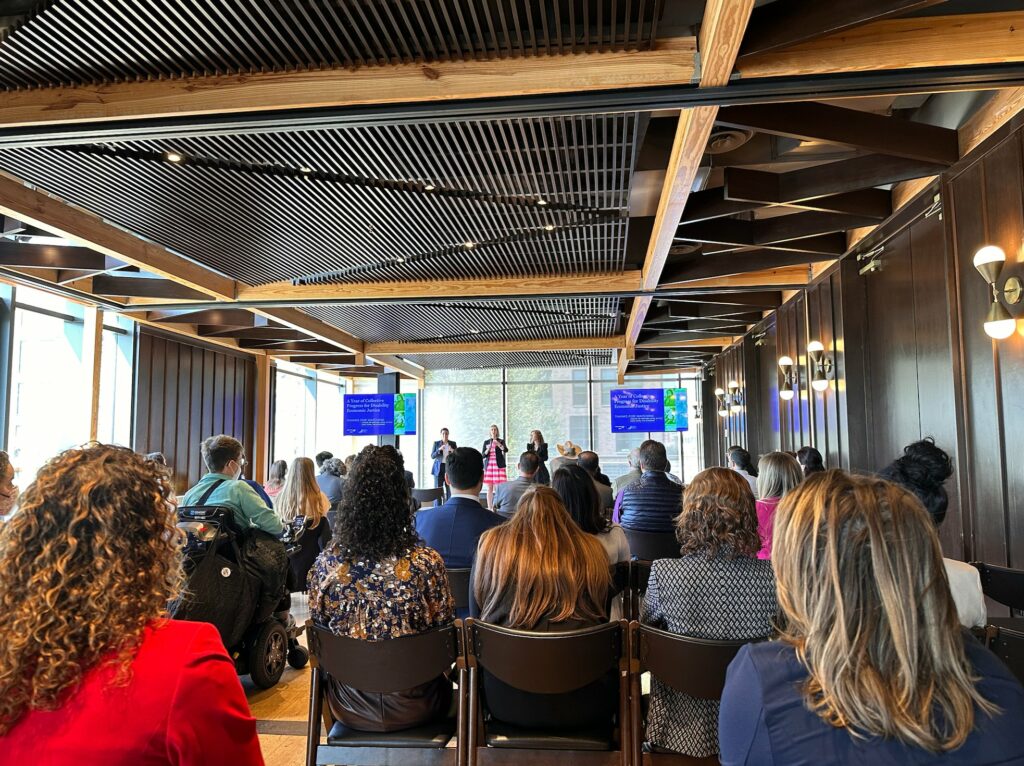 With this in mind, SGA staff joined the Disability Economic Justice Collaborative (DEJC) on Tuesday, April 18 in celebrating their one year anniversary as an organization—which originated as a partnership betweenThe Century Foundation's Disability Economic Justice team and the Ford Foundation. DEJC brings together over 40 disability rights and justice organizations and Washington, D.C.-based think tanks with advocacy, research and policy organizations in order to use innovation and activism to fight against the lack of economic opportunity and equity facing people with disabilities across America. 
As the world's largest minority, the disability community consists of over 650 million people worldwide and includes people of every race, religion, gender, sexual orientation, and age. Yet, members of the disability community are ostracized and discriminated against within the systems at the core of American society. While the poverty rate of non-disabled adults is approximately 12 percent, the rate for disabled adults is over double that at a staggering 27 percent. A multitude of inequities experienced by the disability community include lack of access to education, barriers to attaining employment, and costly healthcare contribute to this reality. DEJC is using their multi-faceted approach to change the systems that are preventing disabled people from living the lives they deserve.
The DEJC's hybrid anniversary celebration event began with opening remarks from Research and Policy Associate at DEJC, Kings Floyd. She set the tone with an important insight, "When you design things that are more accessible, you design everything for the better." She pointed out that accessible infrastructure—for example, curb ramps—not only benefit disabled people, but a variety of others as well; parents with strollers, people riding scooters or bikes, and pedestrians in general all benefit from this and other types of accessibility. 
Floyd was followed by House Representative Bobby Scott (D) of Virginia, who spoke about the inequity disabled workers face because of the 14(c) Subminimum Wage provision under the Fair Labor Standards Act. This provision allows some employers to pay disabled employees less than minimum wage—sometimes pennies on the dollar. In his remarks, Representative Scott announced the reintroduction of the Transformation to Competitive Integrated Employment Act, which will allow the disability community to work with businesses to create more equitable employment practices.
Congressman Scott was followed by Disability Economic Justice Collaborative staff Director Kim Knacktedt, and Senior Advisor to the Rebecca Vallas. They were followed by The Century Foundation's President, Mark Zuckerman, who explained that in an U.S. economic system that is failing disabled people. Zuckerman reminded everyone that transformative policy work must be inclusive of disability—no matter what the topic is.
Following the opening remarks, a panel of accomplished disabled changemakers shared personal experiences and professional insights, while moderated by author and disability activist Emily Ladau. The panel featured activists Dom Kelly, Claire Guzdar, Netia McCray; and Sue Popkin. The full opening remarks and panel can be viewed here.

One of SGA's programmatic priorities is to create communities where everyone can thrive, which means that equity for disabled people has to be part of the conversation. As SGA seeks to educate, transform policy, and advocate, we will continue to educate ourselves on how to make our work as accessible and equitable as possible by seeking out ways to show up for groups, like the disability community, that are often ignored by organizations like ours who are making changes that will have a huge impact on their lives.