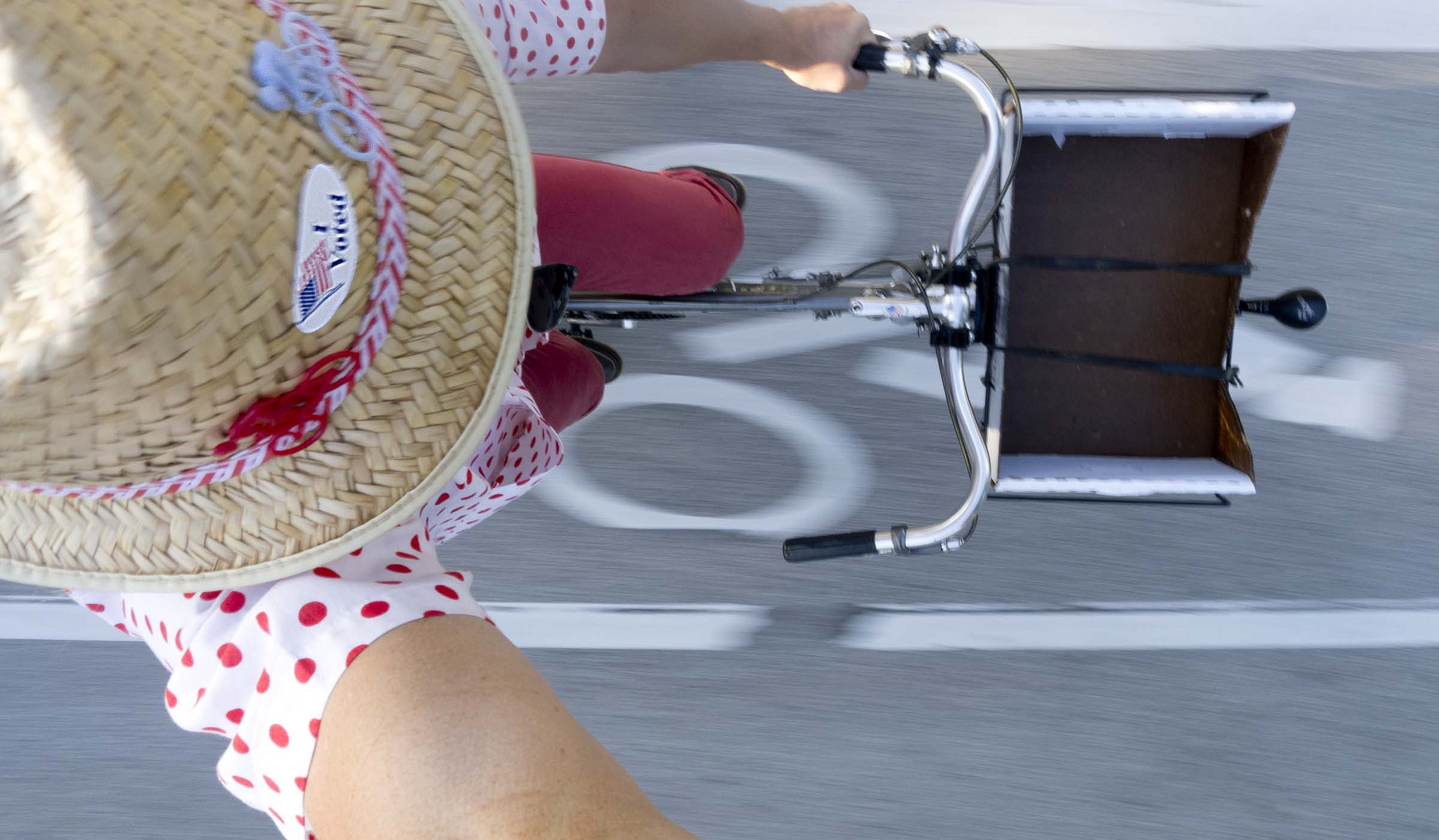 (Image: Bicycle Federation of Wisconsin, Flickr)
Voting is one of the most fundamental rights (and obligations) that U.S. citizens have and a number of ballot measures across the country this year could have big implications for smart growth. Here's a brief roundup of some of the nation's biggest ballot questions that voters considered.
Every election is important.
But local elections are often even more important than the big, headline-grabbing national races, especially when it comes to smart growth issues. The candidates that win and ballot issues decided can have a big impact on efforts to fund and build transit, make streets safer and more complete, update zoning to allow more housing options and affordability, preserve farmland and open spaces, and improve lives by improving communities.
While we won't delve into all the local races here, this is a look at some of the biggest state and local ballot questions that will have big implications for smart growth around the country. Click on the measures below to read more about each one.
(Note: this is not an exhaustive list. Let us know if we missed a measure—and why you think it's important—by tweeting at us @smartgrowthUSA!)
Land Use
Smart land use is critical in creating environmentally sustainable, socially equitable, and financially viable communities. Allowing greater housing choices and a mix of uses allows people to cluster in walkable, bikeable neighborhoods where their needs a wants are easily satisfied and expensive infrastructure can serve more people over less area. Unfortunately, most zoning codes which control local land use were written decades ago as new suburban development served by sprawling car infrastructure were coming into vogue. And many codes haven't been meaningfully update since then.
Energy and Environment
The United Nation's most recent report on climate change made it clear that playing ostrich and sticking our heads in the sand is no longer a viable option. "Rapid and far-reaching" action is required today to avoid catastrophic climate change. The good news is that we know what changes are needed: we'll have to use more renewable generate energy, build more efficient homes and office spaces, and electrify transportation while increasing the share of trips taken by low- or zero-emission options like transit, biking, and walking. Here's a few ballot initiatives that deal with energy and the impacts we're already seeing from climate change.
Housing
Housing affordability isn't just a big city problem. Smaller cities like Boise, ID are also increasingly finding themselves saddled with unaffordable housing costs. Last year, nearly half of U.S. renters—some 20 million people—were cost-burdened, spending more than the recommended 30 percent of income on rent. While rising housing costs are due in part to structural issues that should be addressed—like restrictive laws and zoning codes and a lack of new supply as communities grow—many cities and states are working to address the affordability crisis with greater public funding that can at least help ease some of the burden.
(Note: there are nearly a dozen other city and county initiatives in California that are not profiled individually below)
Transportation
It's increasingly clear that how we fund transportation infrastructure isn't working. Most states opt to spend money on new roads while letting their existing roads crumble (which costs them more in the long run). The Trump administration has made every effort to limit federal funding going to transit. And walking and biking around the country is still too dangerous in many places where people have taken a back seat to car-oriented infrastructure. This year, there were multiple ballot questions asking voters to approve new taxes and bonds for transportation infrastructure but making necessary structural changes like adopting Complete Streets policies and moving to prioritize repair will need to happen beyond election day to truly address our transportation problems.
Transportation for America tracked many of the transportation initiatives around the country and you can check their tracker for a complete list and a forthcoming summary. But here are a few of the biggest:
This post was last updated at 4:20 p.m. ET on Wednesday, November 7, 2018.