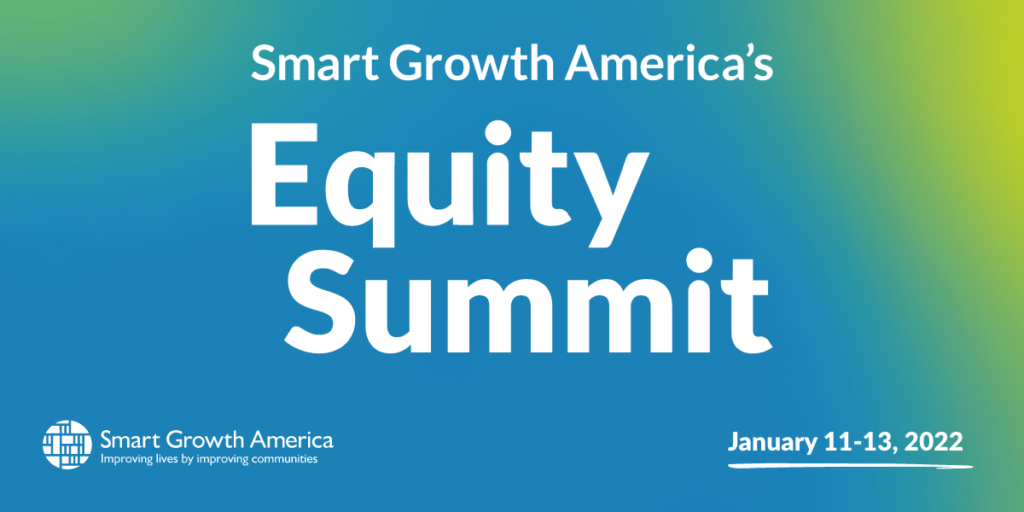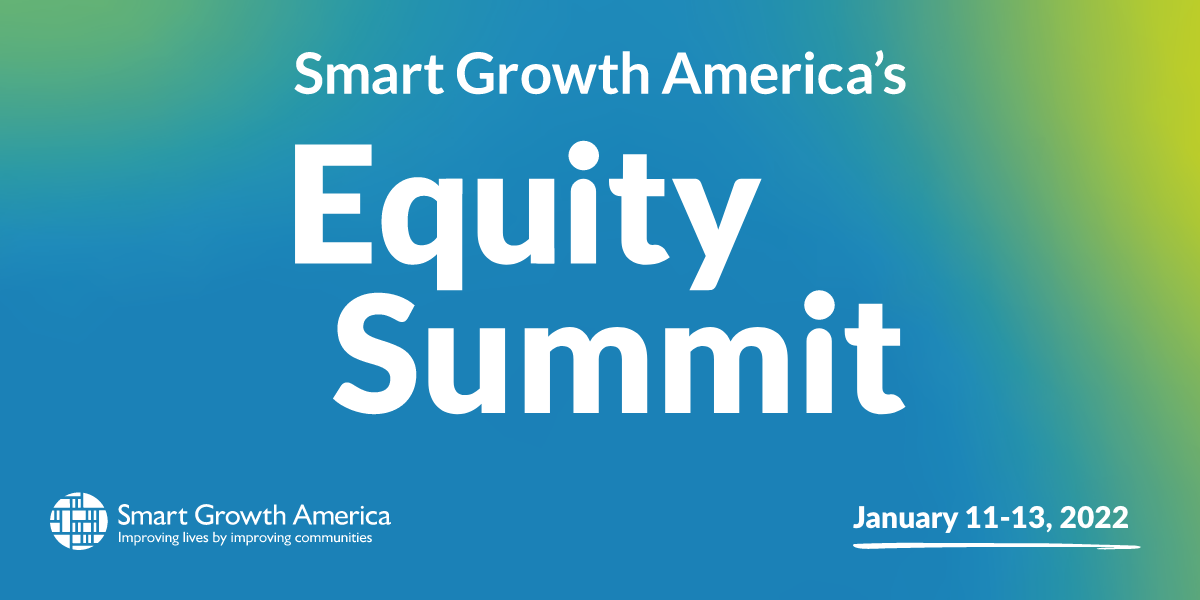 What you need to know about joining the Equity Summit next week, answers to your frequently asked questions, and more!
Smart Growth America hosted our first-ever Equity Summit last year to bring a discussion of racial equity to the smart growth movement and make the case that smart growth without a focus on equity isn't smart growth at all. Speakers discussed how to promote equity in housing and land use, why strong Black and brown businesses are key to neighborhood vitality, and how to right the wrongs of past damaging transportation decisions and promote restorative justice.
This year, each day is anchored by one of our three teams: land use, transportation and thriving communities, and economic development from January 11-13, 2022.
Learn how leading practitioners are advancing racial and social equity through land use strategy and climate adaptation, join a conversation about ways technology can be used to replace outdated tools and elevate community voices in transportation decisions, and explore how in future growth and development decisions, we can support economic mobility, wealth-building, and shared prosperity, all in these three days.
If you haven't registered, you can register up until next Tuesday right here.
---
If you have registered, here's what else you need to know:
Join using the invitation in your inbox
Now that you've got your ticket through SGA, you should have received an email from SGA with a link to the Zoom event to "register" for the summit within Zoom. You MUST also quickly register in Zoom to join the Summit.
Click register on the Zoom Events link we sent you (this also showed on your confirmation page.)

Either create a new free Zoom account or log in to an existing Zoom account. (Just remember to login to this same account to join the Summit.)
You'll get an email confirming your participation and a calendar invite with the link you'll use the day of the summit

Check out the lobby! 

This super new feature in our Zoom Event allows you to chat with other summit participants, see all the days, and pause (for a quick water break or otherwise) during the actual sessions.

 More detailed instructions for those having issues registering in Zoom are at the bottom of this post.
Talk about the Summit
Use Twitter to talk about the summit using the hashtag #SmartGrowthEquity and tagging @SmartGrowthUSA. We'll share the best mic drop moments and big takeaways.
Get a head start
Other FAQs:
I haven't seen an email from Zoom with directions for joining just yet.
We sent out instructions on January 5 and January 7 with instructions for registering in Zoom. If you haven't gotten those instructions, please drop us a line ASAP at [email protected]
I never got my receipt for my ticket for the Summit
The email receipt went out automatically to the address used in the payment process. This automatically generated email often gets flagged by mail servers as spam, especially if you have a government or public sector address. Check your spam folder and then drop us a line and we can resend it to you or send you a screenshot of the payment information.
I just heard about the Summit, but it's already started! Can I still join?
Yes! Though we cannot guarantee that you'll be able to join a day already in progress. You must register by 9 a.m. Eastern on the day of to join that day's sessions. E.g, if you register on Tuesday during the Summit, you will receive the info for joining but we can't guarantee that you'll be able to join before Wednesday if you have any issues registering in Zoom.
Can I register a large group of people all at once?
Yes! Email us at [email protected] to get started.
I have to miss one of the days, but still want to know what went down! Will these be recorded?
Yes! All three days will be recorded and available for registrants to watch (and rewatch!) afterwards.
How will the Summit be accessible?
Closed captioning will be available on all days (graciously provided by one of our sponsors, AARP)
I heard there were AICP credits available — how can I complete them?
Check out how many credits each session receives on the APA website here.
Can you walk me through the process of registering in Zoom? I'm a little confused or having problems logging in
When you click the Zoom Events link you receive from SGA, you should be brought to a page that looks like this. Click on "REGISTER."
Note: If you are already signed into a Zoom account, you'll see "Favorites", "Tickets" and your initials rather than "Sign in" or "Sign up" in the top bar, like below, and you MUST make sure that you are logged into that SAME Zoom account when you try to join the Summit next week. Your ticket will be in this account.
If you are NOT logged into a Zoom account already, you'll need to either sign-in to an existing Zoom account OR create a new one. You'll see a page like this:
When you see this login screen:
If you have an existing Zoom account
Just enter your ZOOM email and password and sign in. (NOT your email account info, your Zoom account info.) You can use any Zoom account of your preference, i.e, a personal one or a work account. Once you do, choose the single (free) ticket option and confirm registration. A confirmation from Zoom will be sent to that email.
If you don't have an existing Zoom account
Click on "

New to Zoom? Sign up free

" over to the left and create a free Zoom account using any email address you prefer, and then complete registration.
(You can also click on the Google button if you have a google/gmail account and either have a Zoom account tied to that, or it will create one free associated with that google/gmail account.)
After you complete this step, to confirm that you have registered successfully, go to events.zoom.us after you are logged in and registered, click on "Tickets" and you should see your ticket for the Summit on a screen like the below. Once you sign in and register, make sure you are signed into that same Zoom account to join the Summit.
Test things out by clicking "JOIN LOBBY" which is open and active. If that works properly, you'll see the lobby for the Summit, if not, read on below:
Problems launching the lobby?
After clicking to launch the lobby, some people see a box that says "Sign in to join." Just hit ok and then login to the Zoom account you used to register. If you're already logged into some Zoom account, log out of it and repeat this step and then login with the correct Zoom account.

Sometimes after logging in, instead of launching the lobby, it launches the normal Zoom meeting interface (below) instead: Just X/Close that out and then click on JOIN LOBBY once again at events.zoom.us and the Lobby should launch this time instead of the normal Zoom meeting window.

NOTE: If you see a message asking you for a MEETING ID or anything like that, just click cancel, X/Close out of the normal Zoom start meeting window like above, log out of Zoom and click "JOIN LOBBY" again and go through the steps above. There is no Meeting ID or link like a normal Zoom meeting — these are ZOOM EVENTS rather than meetings.
---
Have more questions? Email us at [email protected]