Last month, Smart Growth America hosted our third annual Equity Summit. The three days of virtual programming held space for thought leaders and practitioners in the planning space to gather and ensure that racial equity is a key priority in any smart growth approach. Each of the three days was concentrated on a specific smart growth topic, related to our programmatic priorities, and was planned and led by members of our staff. As we look back on the important discussions held at the Equity Summit, we asked SGA staff to reflect on what they heard, how communities can advance equity across the country, and how they plan to use it in their own work.
The fantastic group of community leaders, local officials, and other practitioners who spoke at the event helped to make this an impactful Equity Summit. Watch the recordings from the event here.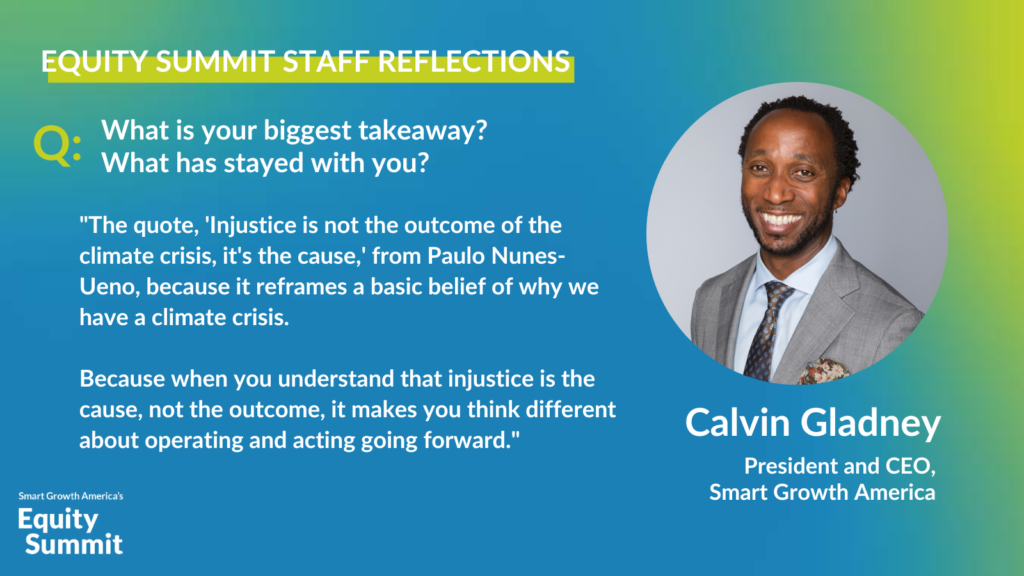 What presentation from the Equity Summit most stood out to you?
"Adah Crandall is a high schooler and anti-freeway activist in my city. When I suggested to the team that we invite her, I was worried about thrusting such a young person onto a national stage. My fear was misplaced and she made a big impact on the event, challenging us all to do better in steering our communities, nation, and world so that high schoolers can be kids again instead of having to clean up the mess we've left behind." — Chris Rall, Transportation Outreach Director
"The Day 2 panel discussion, 'Notes from the Front Lines of Reconnecting Communities,' was a breath of fresh air in the fight against highways that divide communities. I left feeling hopeful and encouraged by the grassroots advocacy efforts of the panelists. They made me feel like anyone can be a freeway fighter." — Stephen Coleman Kenny, Transportation Policy Associate
"Kizzy Charles-Guzmán's closing remarks about staying grounded in your passion for pursuing this type of challenging work, and striving to make positive changes to a complex and bureaucratic system, resonated with me and inspired me. Hearing her speak about her passion for nature and the joy it brings her helped me remember my passion to change how our cities exist with nature. She was very honest and vulnerable about herself and it was very relatable and inspiring." — Grant DuVall, Assistant Policy Analyst
"The presentation from Black Cotton was incredible. It was exciting to hear from an entrepreneur who has not only built their own business but is creating space where other Black business owners can thrive. They work to build generational wealth that will have a lasting impact and combat economic inequity now and in the future." — Courtney Cole, Thriving Communities Program Associate
"The local activists pushing back on highway projects on day 2. They are doing so much and showing an incredible amount of creativity in their approach with little-to-no funding or technical help." — Beth Osborne, VP of Transportation and Thriving Communities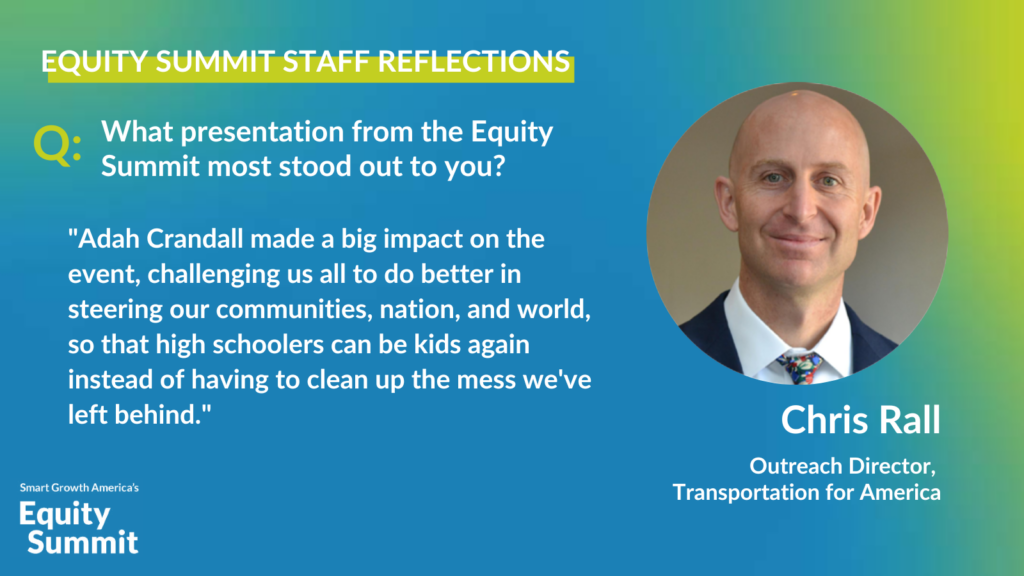 How will you use what you heard at the Equity Summit to advance racial equity in your work?
"I will continue to help serve and support social capital in local communities; strong resident leaders help equip community members with the knowledge and resources that make neighborhoods more affordable, healthy, and climate-prepared." — Jamie Zouras, Land Use and Development Program Manager
"Including local organizations led by Black and brown community members in the cities we work with, seeking feedback from marginalized communities, and looking for ways to give opportunities to businesses owned by people of color when contracting." — Courtney Cole, Thriving Communities Program Associate
"Asking more questions. Listening is important, but educating myself on different lived experiences is just as vital. Productive, collaborative conversations are indispensable when it comes to this work." — Megan Wright, Economic Development Associate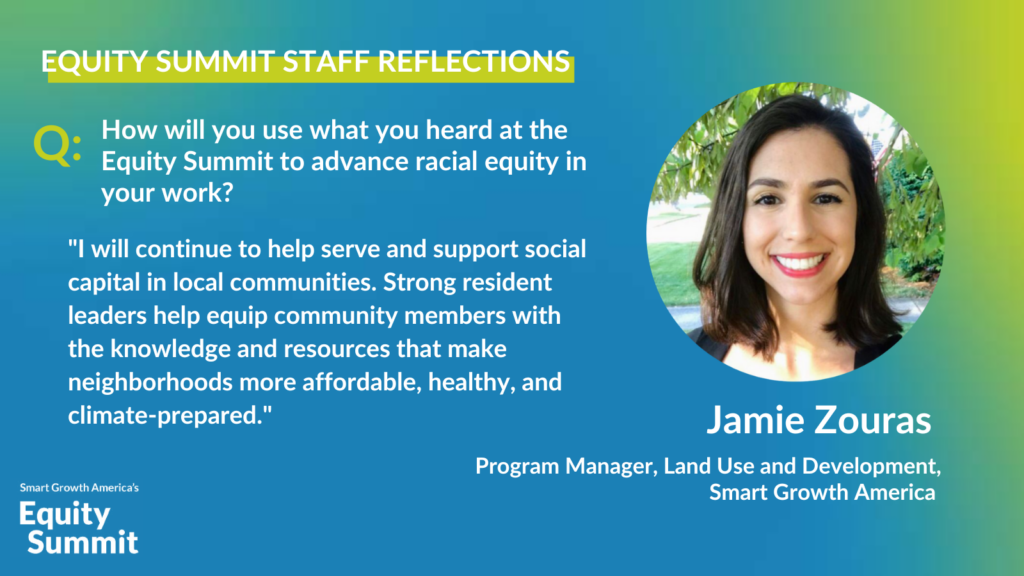 What is your biggest takeaway? What has stayed with you?
"The quote, 'Injustice is not the outcome of the climate crisis, it's the cause,' from Paulo Nunes-Ueno, because it reframes a basic belief of why we have a climate crisis. Because when you understand that injustice is the cause—not the outcome—it makes you think differently about how we should respond to the inequities of climate impacts going forward." — Calvin Gladney, President and CEO of Smart Growth America
"There are advocates standing ready to advance equity in our built environment. But they need support to connect across industries and exchange ideas. The Equity Summit plays an important role in building these connections." — Abigail Grimminger, Communications Associate
"America's youth are energized and engaged in the fight against inequitable transportation infrastructure that disconnects communities. This should make us all feel hopeful, but also spur us on to action so they are not alone." — Stephen Coleman Kenny, Transportation Policy Associate
"Even in the face of extreme pushback on discussing racism—especially in the context of land use decisions—hundreds of people had the courage and curiosity to attend and participate in the Equity Summit. It's courageous and gives me the strength to continue this important work." — Toccarra Nicole Thomas, AICP, Director of Land Use and Development
"It was so inspiring to see a diverse group of practitioners talk about equity in each of their fields. It really shows our audience that there's room to implement an equitable and inclusionary lens anywhere. Whether it's in the federal government, local advocacy level, or in the private sector — we can all work together to make the world a more just place for all." — Iman Mekonen, Communications Associate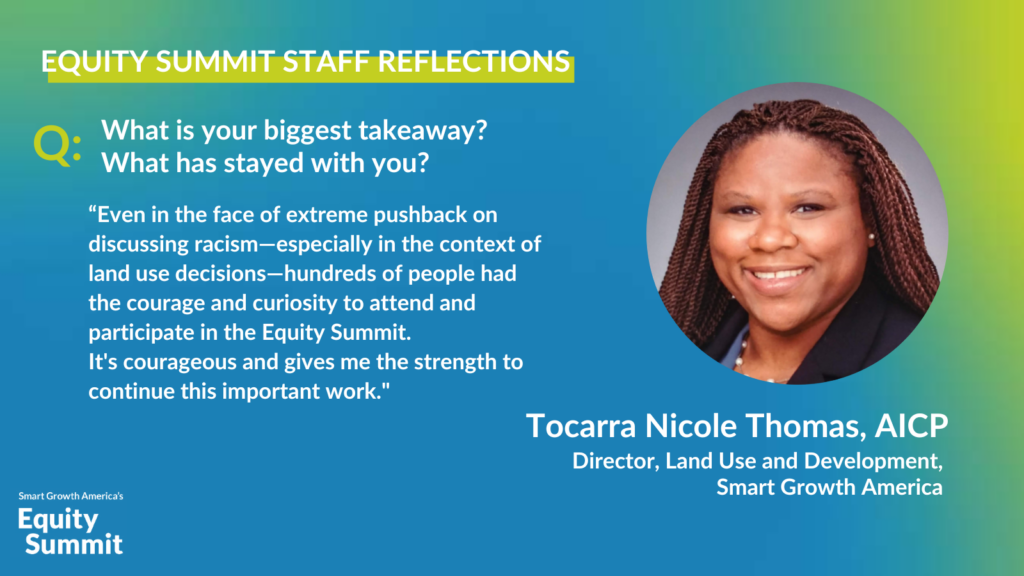 What are three words you would use to describe what you heard at the Equity Summit?
"Fund Underserved Communities." — Jamie Zouras, Land Use and Development Program Manager
"Truth, Insight, Inspiration." — Chris Rall, Outreach Director, Transportation for America
"Inspiring and Empowering." — Abigail Grimminger, Communications Associate, Transportation for America
"Informative, Energizing, Thought-provoking." — Beth Osborne, VP of Transportation and Thriving Communities
"Illuminating, Powerful, Motivating." — Courtney Cole, Program Associate, Thriving Communities
"Illuminating, Inspiring, Invigorating." — Megan Wright, Economic Development Associate
"Powerful, Impactful, Life-changing" — Toccarra Nicole Thomas, AICP, Director of Land Use and Development