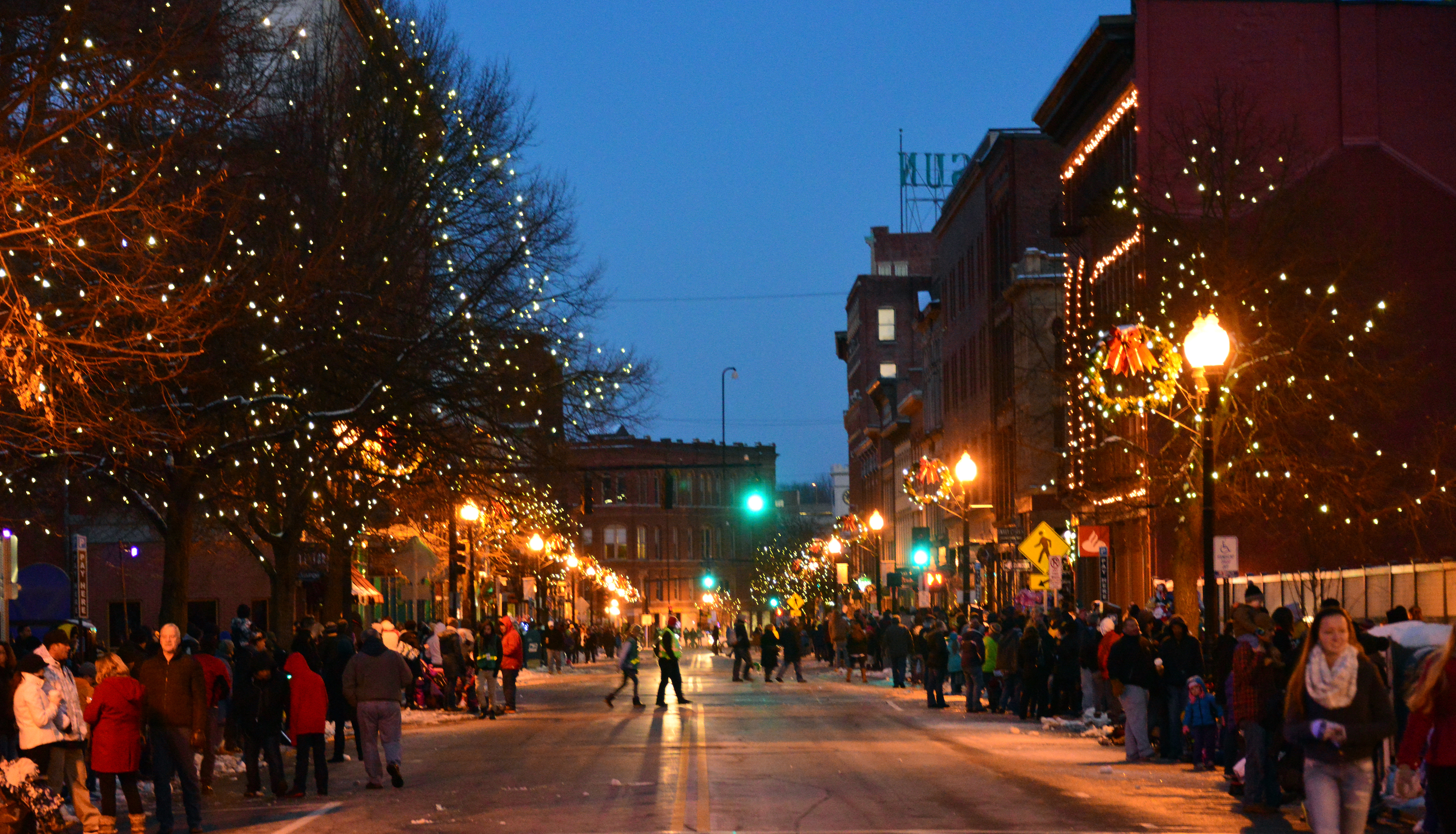 City of Lights Parade in downtown Lowell, MA. (Image: MA Office of Travel via Flickr)
As we prepare for site visits in six new communities to develop strategies for local small-scale manufacturing this month, we're taking a look back at the places we helped in 2016. Two communities—Lowell, MA and Twin Falls, ID—have made some impressive progress to support their budding maker businesses; their work shows how promising this emerging sector can be for building livable communities and healthy economies.
Small-scale manufacturing gives residents the opportunity to access high paying jobs and economic opportunity in the neighborhoods they call home. The growing sector is filling vacant storefronts, adding diversity to existing businesses, and contributing to a greater sense of place (and local pride). Smart Growth America began working with four communities to build their maker economies—which include homegrown businesses like coffee roasters and metalworkers—in 2016 and the progress those communities have made since is encouraging.
In the time since our work with them, Lowell and Twin Falls have both had the same "ah-ha" moment on small-scale manufacturing: it's the partnerships that count.
Lowell, MA
The City of Lowell is full of old textile mills that highlight its central role in early American industry. Thanks to an innovative economic development strategy, the city has repurposed its old mills into incubator spaces for small, locally-owned businesses trying to establish themselves and grow.
With a high-functioning, community-based makerspaces (in the old mills) and a strong support system for emerging entrepreneurs, Lowell had ambitions to leverage our assistance to catapult their maker economy to new heights. After working with the city, we recommended new land use and real estate policies and augmented workforce training programs that help facilitate inclusive growth in the nearby Acre neighborhood.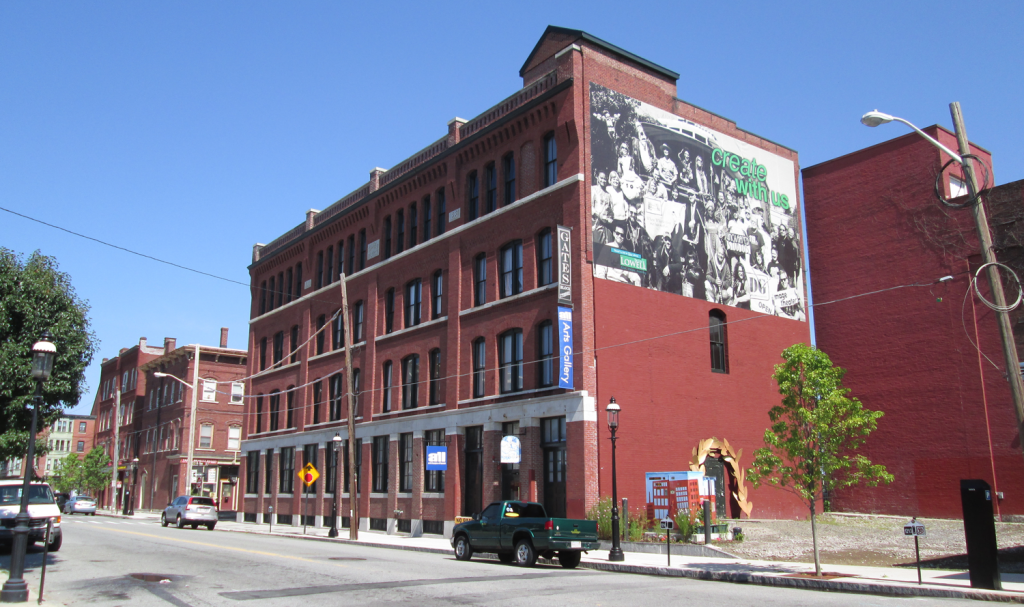 The Gate's Art Gallery building in the Acre Neighborhood of Lowell, MA. (Image: Richard Howe via Flickr.)
For example, many of Lowell's makers were encountering growing pains at the time of the technical assistance workshop—they were desperately looking for opportunities to scale. A zoning code prohibited craft businesses in the Acre and there wasn't much of a pipeline to sustain the workforce.
To address the zoning code, Lowell made some changes that would allow new and expanding makers into the Acre and Upper Merrimack Street. Craft businesses were allowed in the neighborhood by the end of 2017—which has helped attract mixed-use development—and the area is already experiencing an uptick in minority and low-income business owners that are capitalizing on a storefront improvement program, microloans, and other initiatives the city has had in place for years.
On the workforce front, the city worked with a network of local advocacy organizations to help recruit and train local workers. One of those groups, Coalition for a Better Acre—a community development corporation—helped provide Acre residents soft skills training. The group also secured $75,000 from the Commonwealth's Urban Agenda grant program last month which will go toward preparing high school students for advanced manufacturing careers.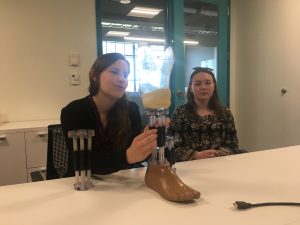 The Acre wouldn't be the same without its ethnic diversity, and maintaining that diversity has been a focal point for the city. To build a closer relationship between City Hall and business owners, many of which don't speak english, the city partnered with local organizations to provide summaries of city council meetings in Spanish and Khmer/Cambodian. (Lowell has the second largest population of Cambodian-Americans in the US.) All the above justify how Lowell is embracing its inclusive economic development strategy.
Twin Falls, ID
Until recently, the small and beautiful city of Twin Falls in south-central Idaho only boasted ambitions of growing its economy by building on its existing agriculture and food processing industries in a new way. The city aspired to fill an underutilized warehouse district with small, unique businesses but desperately needed to attract and support their workforce to make this goal a reality.
Now manufacturing is on the rise in the "Magic Valley." After we urged Twin Falls to establish a pipeline for food producing businesses, an array of stakeholders have been stepping up to the plate. The College of Southern Idaho and major manufacturers rooted in Twin Falls—like Chobani and ConAgra—are planning new downtown facilities to include education and small-scale production space for local food entrepreneurs. Even local restaurants and breweries—like Milner's Gate and Koto Brewing Co.—are contributing to the larger effort of educating and supporting the food producing community by opening up parts of their kitchens for small business use. And others—like Rudy's Cook's Paradise—are finding food workshops to be an easy way to give their businesses more depth.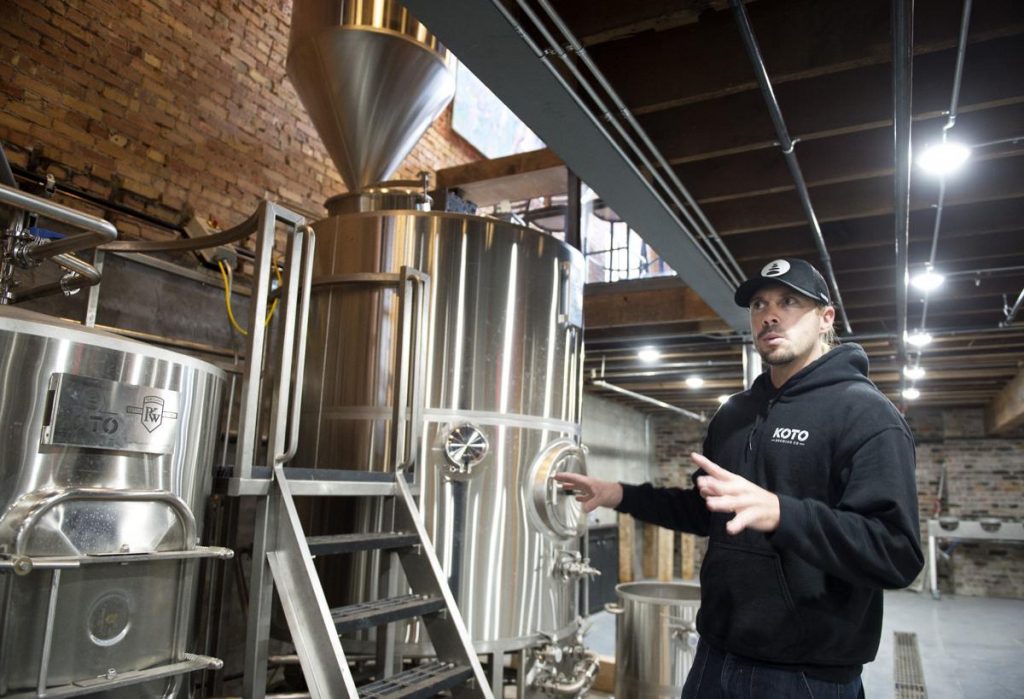 Pierre Tusow of Koto Brewing Co. explains his five-barrel beer brewing system. (Image: MagicValley.com)
SGA also advised Twin Falls to work with regional real estate developers to expose their hot market for investment. Since then, developers from Boise and Sun Valley, ID have begun targeting the warehouse district and old buildings are being revamped to serve as new homes for companies like Cavalli Corp., and Milner's Gate, and Melni Connectors—the highly successful small electrical connector startup that we featured in 2017.
But as new businesses have moved in, Twin Falls was faced with its own housing shortage, particularly when it came to workforce and low-income housing. This prompted the city to expand relationships with regional developers to also include new residential projects downtown. Now, Twin Falls is seeing some of the first multifamily projects in over a decade and there's a special consideration for workforce housing. There are also plans to turn a city-owned parking lot into a colony of furnished micro-dwellings.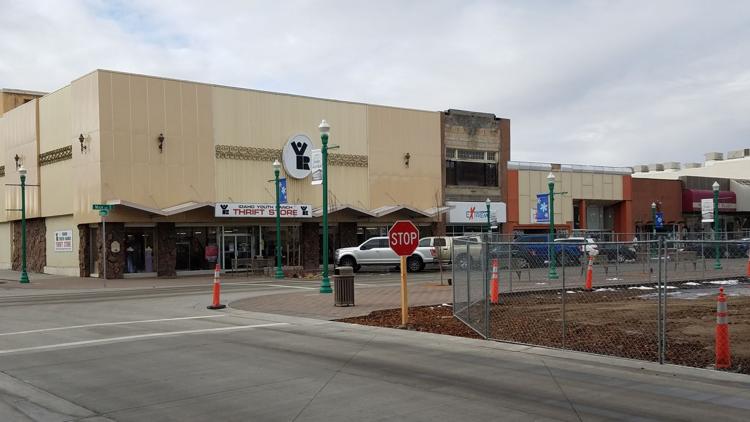 The Idaho Youth Ranch Building, pictured here, will soon be repurposed as a 28-unit mixed-use residential building. (Image: MagicValley.com)
The technical assistance workshop and engagement has helped point Twin Falls toward success for its existing and future small-scale manufacturers. New workforce training opportunities and the development of much needed housing are both supporting the city's maker economy. All of this is helping Twin Falls create a renewed vibrancy in town that's attracting new talent and residents.
Onward and upward
Both Lowell and Twin Falls have found close relationships to be key when nurturing small-scale manufacturing. Each of these cities have brought together a slew of stakeholders—from property owners and financial institutions to community development corporations and the manufacturers themselves—to cook up success.
Cities all across the country are using small-scale manufacturing to boost local economies and inject vibrancy into forgotten neighborhoods. The resulting place-based economic development can catalyze broader community development as it allows workers with a wide range of skill sets to access high-paying jobs close to home. Due to made-in-house products and wider market for sales—from online outlets like Etsy, business-to-business sales, and direct to consumers—makers are often the only types of businesses that can create a foothold for future growth in redeveloping areas while surviving financially.
We're excited to see what the next six months bring as we work with local stakeholders in High Point, NC; Columbia, MO; South Bend; IN, Lafayette, LA; Baltimore, MD; and Cusick, WA.