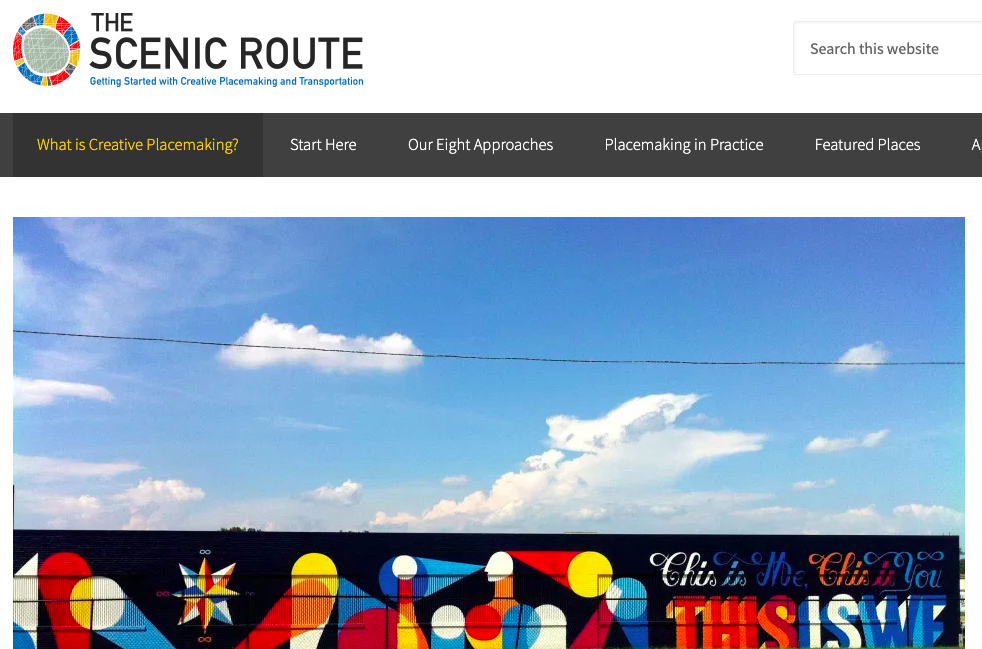 Back in early 2016, we launched the Scenic Route website, a new interactive guide to help transportation professionals collaborate with artists and to introduce creative placemaking to transportation planners, public works agencies, and local elected officials. This guide was an important touchstone, but the evolutions in this field and the notable projects that have happened since its launch has left it in need of an update, which we're pleased to announce is on the way.
Do you have a project you'd like to see included in the new Scenic Route?
Tell us about it here.
The Scenic Route has inspired communities across the county to embed artists into transportation projects through stories like the Green Line in the Twin Cities, where art was integrated into the entire light rail construction process, or transit planning effort in Portland, OR, where artists played a crucial role in community engagement. As part of the Scenic Route's makeover, we will be updating case studies, adding new resources, and featuring new projects, to reflect the proliferation of artist/transportation agency partnerships and artist-in-residence programs, and to share what has been accomplished over the past few years with the projects we previously featured. Here's what you can expect:
New resources. In some ways, the Scenic Route launched just as our arts and culture work was really getting off the ground in 2015 and 2016. But Transportation for America's arts and culture team has been busy in the last few years surveying the state of creative placemaking, training cities and artists to improve transportation projects, launching the first ever artists-in-residence program at State DOTs, and most recently working with communities to creatively address COVID challenges. We'll be adding new resources that stemmed from those projects and can help communities looking to do similar work.
Updates to flagship case studies included in the first iteration of the website. Oftentimes a creative placemaking project's impact isn't realized right away but rather develops in the years following implementation. That's why we're following up with some of our favorite projects featured in the guide to see how they have benefited communities in recent years.
A new website organization. The new website will be reorganized to better help you find what you're looking for.
And most importantly, we want to feature work that you think is important. Have you been a part of a project, or are you familiar with a project that should be featured on the Scenic Route? We're primarily interested in transportation projects in which artists have played a key role in solving a transportation challenge. Let us know by filling out this form. 
We look forward to releasing a new and improved Scenic Route in March. Stay tuned!