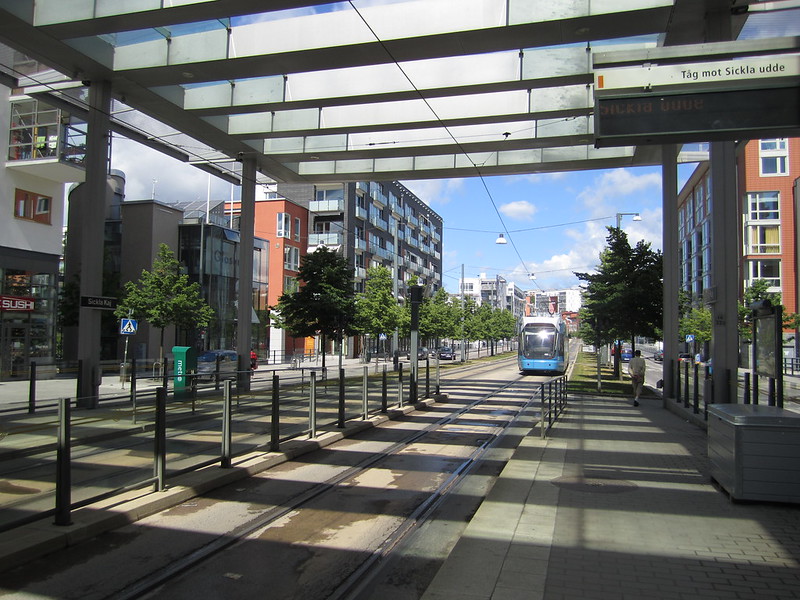 LOCUS, a coalition of triple-bottom-line real estate developers convened by Smart Growth America, made significant advocacy efforts this summer. The coalition's work aims to advance legislation that could lead to more equitable, sustainable development and better connectivity between land use and transportation policy. A core focus of this advocacy work has been establishing strategies to deliver more mixed-income and mixed-use development near transit. Below are three important bills that would advance these goals.
1. The People Over Parking Act
"The People Over Parking Act" was introduced to the House of Representatives in May by Congressman Robert Garcia (CA-42), Representatives Earl Blumenauer (OR-03), Greg Casar (TX-35), and Seth Moulton (MA-06). This bill reduces parking minimums for new construction within a half mile of transit. At the introduction of the bill, LOCUS Steering Committee member Glenn Wilson said the following:
Mandatory parking minimums drive up the costs of building truly affordable housing. By making developments more expensive to provide parking far beyond what residents need or use, these minimums prevent the construction of countless units of much needed housing. If we are to truly prioritize equitable development, we need to make one thing clear: the priority is to house people, not cars.
LOCUS believes that this bill would greatly contribute to forming communities that foster housing that is accessible to transportation. The benefits of achieving a healthy city are not being utilized by parking minimums, and this bill would help remove that barrier.
2. The Affordable Housing Credit Improvement Act
LOCUS has also endorsed, and advocated for the "Affordable Housing Credit Improvement Act," (AHCIA) including through its participation in the housing coalition the ACTION Campaign. Darin LaHood (IL-16), Suzan DelBene (WA-01), Senators Maria Cantwell (WA), and Todd Young (IN) introduced the bill. The AHCIA  would expand and strengthen the Low-Income Housing Tax Credit (Housing Credit) with key provisions including:
Restoring the 12.5 percent LIHTC cap increase, previously expired in 2021, and increasing resources beyond that by 50 percent

Reducing the threshold of the Private Activity Bond (PAB) financing from 50 percent to 25 percent, which is the requirement needed to trigger the top amount of housing credits available to individual properties (4 percent)
The housing credit has proven to be the best way to incentivize developing affordable housing. In the midst of a nationwide housing shortage, the Housing Credit is a crucial component to housing people that are seeking to be a part of communities that have access to transportation, opportunities, and jobs. An important component to this bill would provide more effective resources for communities like rural, Native Americans, and low-income and formerly homeless tenants.
3. The Yes In My Backyard Act of 2023
Senators Todd Young (R-IN) and Brian Schatz (D-HI) reintroduced the "Yes In My Backyard Act of 2023" (YIMBY) bill this year. The bill would increase transparency and encourage development of affordable housing, through the Community Development Block Grant (CDBG) program by requiring grantees to disclose implementation of efforts to remove discriminatory land use policies. 
The YIMBY Act would encourage policies such as rezoning areas near transit for high-density housing, introducing opportunities for manufactured homes and shrinking lot-size minimums.  A companion bill (H.R.3507) was also introduced in the House by Representatives Brittany Pettersen (D-CO), Derek Kilmer (D-WA), Mike Flood (R-NE) and Emanuel Cleaver (D-MO).
The bottom line
While zoning and other land-use regulations occur at the local and state level, federal policy has an important role in introducing incentives and other structures to advance equitable development outcomes. For this country to get to the level where sustainable, economically strong, and healthy neighborhoods across the country are the norm, LOCUS will continue to advocate for pieces of legislation like the ones above.