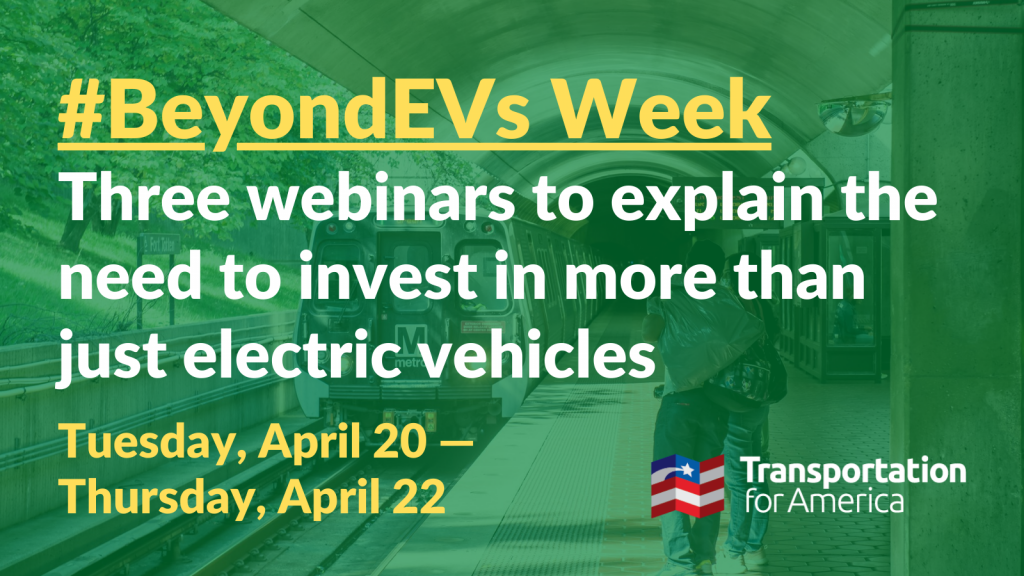 For decades, transportation planners planned and built urban freeways that destroyed many communities of color and continue to have devastating economic and environmental effects long after their inception. We've rounded up three of most intriguing ideas from the "Undoing the Damage of Urban Freeways" webinar to learn from in future planning:
Last month, Transportation for America and Third Way hosted three webinars in honor of Earth Day based off the set of recommendations for revitalizing our nation's infrastructure and uplifting communities damaged by "urban renewal" projects that disproportionately displaced Black & brown communities in urban areas. Here are three notable takeaways from our webinar on Undoing the Damage of Urban Freeways.
Community engagement is essential to genuine development
There's a long history of failing to meaningfully engage with Black and brown communities and listen to their input while building transportation infrastructure, turning it into something that is done "to them" rather than "for them" or "with them".
"We need to ask people in communities – what does infrastructure mean to them?"

Nikema Williams
As our CEO Calvin Gladney said, there are so many losses that accrue when highways run through Black & brown communities: Loss of affordable housing, economic engines, the natural environment, intergenerational wealth, street connectivity.
Infrastructure projects must be shaped by extensive community engagement to be truly equitable. Yet the opposite is happening in Houston, where the Texas DOT is ignoring the feedback from the community it proposes to affect with its I-45 expansion.
It's not just about engagement, it's about letting that engagement shape the project. It doesn't just have to be designers or planners contributing to these transportation (or other development) projects. If communities are allowed to, they can make great contributions. Investing not only financially but with dedicated time and engagement can reap benefits. As Keith Baker, executive director of ReConnect Rondo St. Paul said during the webinar, "When you invest in communities, when you invest in people, you can measure the benefits across the board."
How could a national planning advisor help?
Most cities around the country have a planning commission or planners who work to help tell the local narrative of where they are going and how they're going to get there.
Right now, we don't have that storyteller on a national level—a "truth-teller" who can help tell the national planning story over time and be a resource to policy makers across the country. As Beth Osborne mentioned in the webinar, it's been almost 100 years since the federal government got entwined in planning policy under Herbert Hoover when he was at the Department of Commerce. Could it be time for a national planning advisor?
That was the intriguing idea presented by former Secretary of Transportation Anthony Foxx. What if we had a resource and champion for the design and policy of our country's environmental and economic future? If we had a national advocate during the "urban renewal" of the 1970s and onward that could have given guidance to planners and promote a national narrative, would those decades of highway-building have turned out differently ?
With a national advocate, maybe we could push for an equity standard on boards of transportation—many aren't diverse, which impacts not only what gets built where, but who builds it. The role of a national planner wouldn't be to centralize planning, but to have a storyteller who could always consider the big picture, provide guidance and be a resource to local and regional planning entities.
Long after construction, highways continue to wreck environmental havoc
To build massive highways in cities all across the country we demolished homes, schools, churches, and businesses in the process—often in thriving communities—doing incredible damage. But those communities continue to be harmed through the "environmental menace" of the freeway, as Amy Stelly from the Claiborne Avenue Alliance in New Orleans put it. Air pollution from the congestion and exhaust leads to lower air quality and negative health consequences for those who were left behind in the neighborhoods cut in half with new interstates intended for someone else's benefit.
Constant noise from cars can lead to higher levels of stress and depression of up to 25 percent. When community engagement was done by the Claiborne Avenue Alliance in New Orleans, they included potent videos of trash on the sidewalks underneath the elevated I-10 expressway, washed there from the stormwater sweeping down the sidewalks. Runoff from above comes through the deck, raining polluted water on anything under or near, including homes, businesses, and community members. Amy Stelly referred to it as "fifty years of disrepair."
"The highway is an environmental menace"

Amy Stelly, Claiborne Avenue Alliance, New Orleans
Stelly also included images created by fourth graders attending Phillis Wheatley Elementary, a school neighboring I-10 . They drew what they thought of the interstate: images of smog and air pollution hurting their quality of life. New Orleans isn't the only example of environmental racism from freeways, but the stories and evidence the Claiborne Avenue Alliance are collecting create an powerful case for reparations to the community impacted by I-10.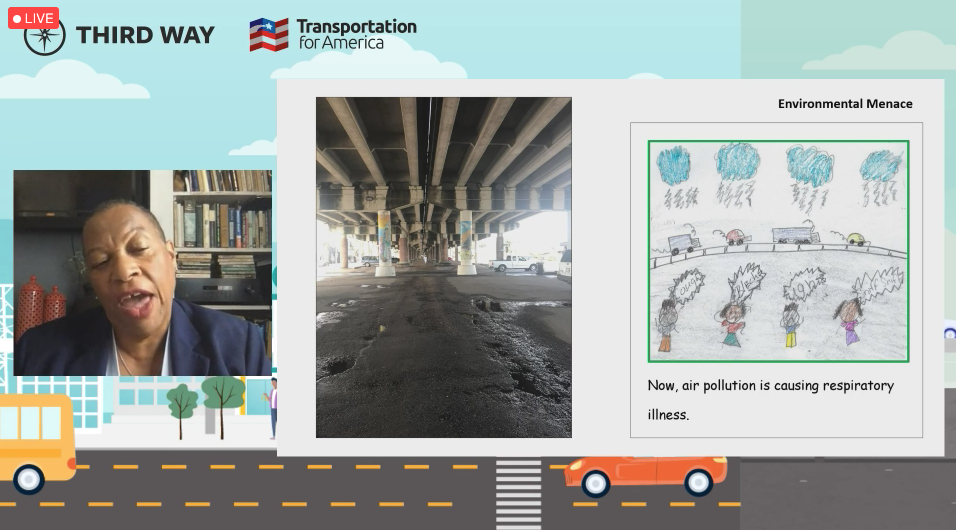 These ideas from the "Undoing the Damage of Urban Freeways" webinar could become reality for an equitable future if we continue to include them in conversations. You can watch the full webinar recording here.