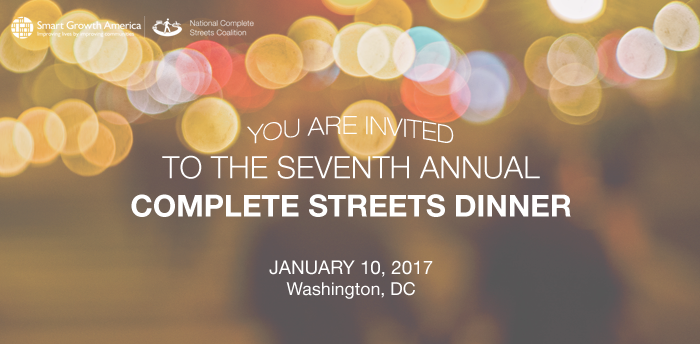 Join the National Complete Streets Coalition at our Seventh Annual Complete Streets Dinner, held on Tuesday, January 10, 2017 in Washington, DC. Conveniently scheduled during the 2017 Transportation Research Board meeting, this intimate and fun event brings together top Complete Streets professionals, policymakers, supporters, and friends to celebrate the successes of the Complete Streets movement in the last year.
We are honored to host Polly Trottenberg, Commissioner of the New York City Department of Transportation. Appointed in 2014 by Mayor Bill de Blasio, Commissioner Trottenberg has maintained the agency's strong focus on safety, equity, sustainability, and economic growth. She has helped lead New York City's Vision Zero traffic safety initiative to reduce roadway fatalities and injuries, with a focus on redesigning hundreds of city streets. Trottenberg served as the Under Secretary of Transportation for Policy at USDOT and developed key initiatives including the TIGER discretionary grant program.
Dinner tickets are available for $155 per seat, and can be purchased online. Partners of the Coalition may purchase tickets at a significant discount. For discount information, email Heather Zaccaro.
This year's Complete Streets dinner is made possible in part by generous support from MIG | SvR.