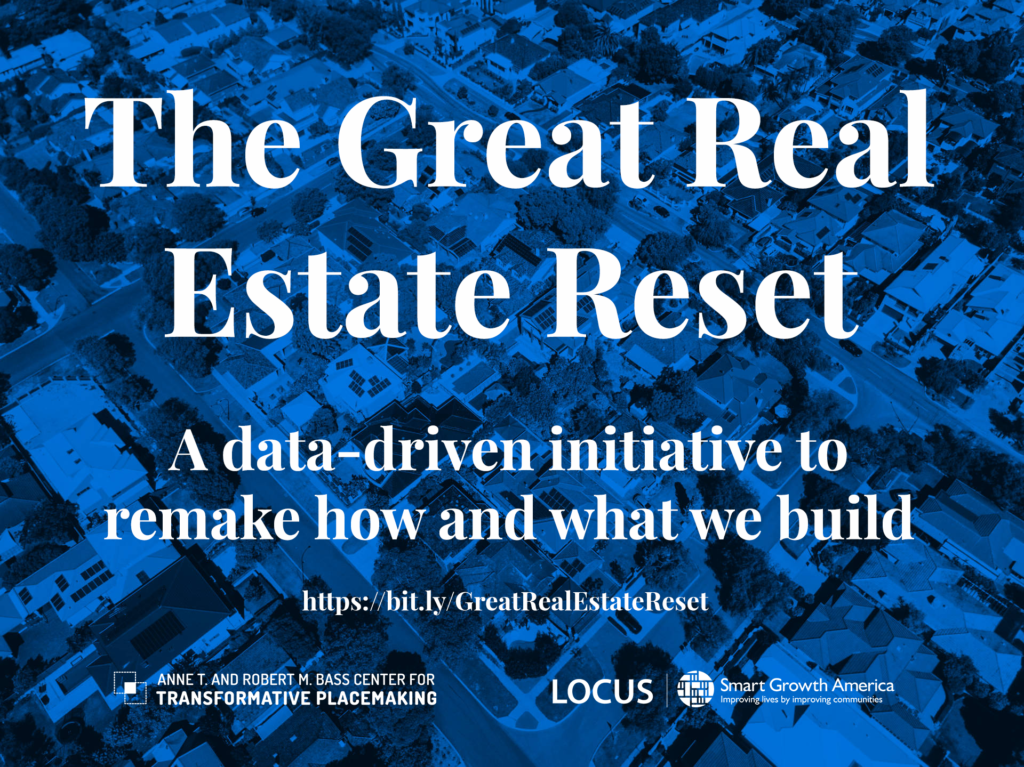 Real estate plays a defining role in our economy and in every American's life, but the industry is failing to fully address persistent segregation by race and income, pent-up demand for more attainable housing, destabilized regional housing markets fueled by climate change, and other converging trends. The industry at large is risking not just another market crash but also becoming a central contributor to growing inequity, climate disruption, and the deterioration of American political and social cohesion. It's time for a real estate reset.
Today, LOCUS (a program of Smart Growth America) and the Brookings Institution released The Great Real Estate Reset, a new package of five research briefs that describes the major forces that have pushed the industry toward this moment, and lays the groundwork for creating a new playbook to successfully cultivate better outcomes for more people and places.
Even before COVID led to a spate of evictions and other struggles for stable and predictable housing for millions of Americans, the real estate industry was failing to keep up with a market that looked radically different than a few decades ago. Most Americans are living in racially segregated neighborhoods, facilitated in part by public policy decisions, which also enable predatory targeting of Black and brown neighborhoods by the real estate finance industry.
Experts at Brookings and LOCUS wrote five briefs that examine the state of the real estate industry with data-backed insights, unpacking a series of trends that are converging to create a mismatch between what the real estate industry is building and what is sorely needed:
Separate and unequal: Persistent residential segregation is sustaining racial and economic injustice in the US.
Modernizing family: America's demographics are transforming, but our housing supply is not.
Risky (housing) business: Distorted and destabilized housing markets are pushing households into climate-risky, low opportunity communities.
The office, reimagined: The nature of office work is shifting, so must downtowns.
Retail revolution: The new rules of retail call for small business empowerment.
America's demographics have been transforming, but the market has failed to keep up by changing the types of housing they build, and where they are building it. This particular trend is one that Smart Growth America has been talking about for years: the real estate industry has stayed focused on building single-family homes as the barometer of success, even as the so-called "nuclear family" has declined as a share of all households, more couples delay having children or opt not to, and multi-generational households and group living arrangements become more common.
The U.S. is growing the most in the very places that are most vulnerable to climate change. And, the largely suburban form of that growth is accelerating the climate crisis. Yet low-income households and people of color are increasingly bearing a disproportionate share of that risk. This should serve as an immediate call to action for the real estate industry and policymakers to end sprawl and produce far more attainable housing in location-efficient places, while dedicating robust resources to retrofit and fortify existing neighborhoods before internal climate migration and economic disruptions escalate further.
Even before COVID-19, the location and nature of office work was already shifting in profound ways. Knowledge sector jobs are clustering near one another, and the physical design of office space was changing to emphasize sharing and collaboration. As we go back to work in greater numbers after COVID in the years ahead, those trends will be accelerated and things like teleworking may become more common, though no one can yet predict the exact impact for certain.
A lot of ink has been spilled about the declining nature of brick and mortar retail and the gap between demand and supply, which has widened during the COVID-19 pandemic. E-commerce retail sales skyrocketed in the second quarter of 2020 to $200 billion. But there are scores of Black and brown neighborhoods that never had decent or comprehensive retail offerings, due to racial discrimination by the industry, leasing agents, and retail companies.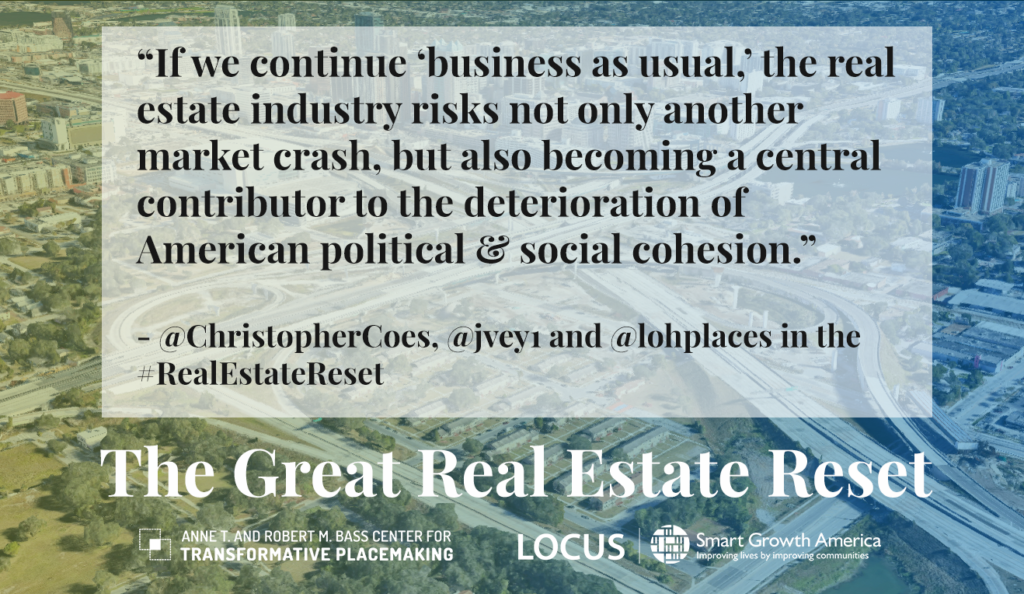 As we head into a new year with a new presidential administration and Congress and the promise of COVID vaccines coming into view, the real estate industry needs to consider it's role in adapting to these changing circumstances outlined above. How can the real estate industry change what it builds? How can it be a part of reimagining our built environment and resetting current policy and practice toward that vision? How can it create more "communities of opportunity," and embrace their role and responsibility in shaping that future?
We're eager to be a part of designing a playbook for this Real Estate Reset over the coming 12-18 months. We're especially excited that the LOCUS coalition of responsible real estate developers and investors will be at the center of leading their industry toward more equitable smart growth development that can truly benefit everyone.
Spread the news about the Great Real Estate Reset! Click here for a promotional guide with images and content to share on social media.