2017 was a nonstop year for the SGA news cycle; we shared how local leaders could use smart growth strategies to uphold the Paris Agreement, as well as our predictions for where Amazon will decide to locate their second headquarters. We ranked 222 new Complete Streets policies from across the country, and examined the safety for people walking in the 104 largest metro areas using our Pedestrian Danger Index.
We highlighted five cities striving to become Amazing Places, and examined seven ways arts and culture can help solve our most entrenched transportation challenges. We analyzed the standards that lead to excessive parking near transit stations, and collected best practices from four cities using small-scale manufacturing to revitalize neighborhoods.
Take a look at 10 of our most popular posts from 2017. If you appreciate the valuable analyses, research, and reports we work hard to produce each year, make a donation to Smart Growth America today and help us do more in 2018.
Donate to our end of year fundraiser
Released by the National Complete Streets Coalition, this report celebrates the 222 Complete Streets policies passed in 2016, as well as the communities that passed the strongest Complete Streets policies in 2016.
---
SGA's Director of Research Michael Rodriguez examines the qualifications in Amazon's RFP, and points to HQ2 as another example of how companies are increasingly seeking out vibrant, walkable, connected urban places as they try to attract and retain talent.
---
Presented by Smart Growth America with support from the John S. and James L. Knight Foundation, the Forum was an experiential gathering of leadership teams from five American communities to look at innovative placemaking strategies in action in Denver, Colorado and Greenville, South Carolina.
---
Emiko Atherton, Director of the National Complete Streets Coalition, calls attention to the systemic problem of attributing the high rise in pedestrian fatalities to distracted driving and distracted walking. Rather, the way we design and build streets is a fundamental part of whether people can walk safely along a road or whether they are at risk for being struck and killed.
---
Released by Transportation for America in partnership with ArtPlace America, this resource identifies ways that transportation professionals can integrate artists to deliver transportation projects more smoothly, improve safety, and build community support.
---
6. Dangerous by Design 2016
This signature report from the National Complete Streets Coalition examines the metro areas that are the most dangerous for people walking. It also includes a racial and income-based examination of the people who are most at risk, and for the first time also ranks states by their danger to pedestrians. This year's report ranks the 104 largest metro areas in the country, as well as every state by a "Pedestrian Danger Index," or PDI.
---
The land near transit stations is a valuable commodity. Hundreds or thousands of people travel to and through these places each day, and decisions about what to do with this land have implications for local economies, transit ridership, residents' access to opportunity, and overall quality of life for everyone in a community. Many communities choose to dedicate at least some of that land for parking. The question is, how much? This report explores the answer.
---
8. Made in Place: Small-Scale Manufacturing & Neighborhood Revitalization
Using tools and case studies, this report builds the case for why economic development practitioners should be thinking about working with small-scale manufacturers, how to grow the sector, and the particular synergies that are created when locating these businesses in downtowns and mixed use centers.
---
USDOT finalized new requirements for how states and metro areas will have to measure traffic congestion and in the final rule — responding to the outpouring of comments they received through T4America's organizing efforts — they backed away from most of the outdated measures of congestion that were proposed.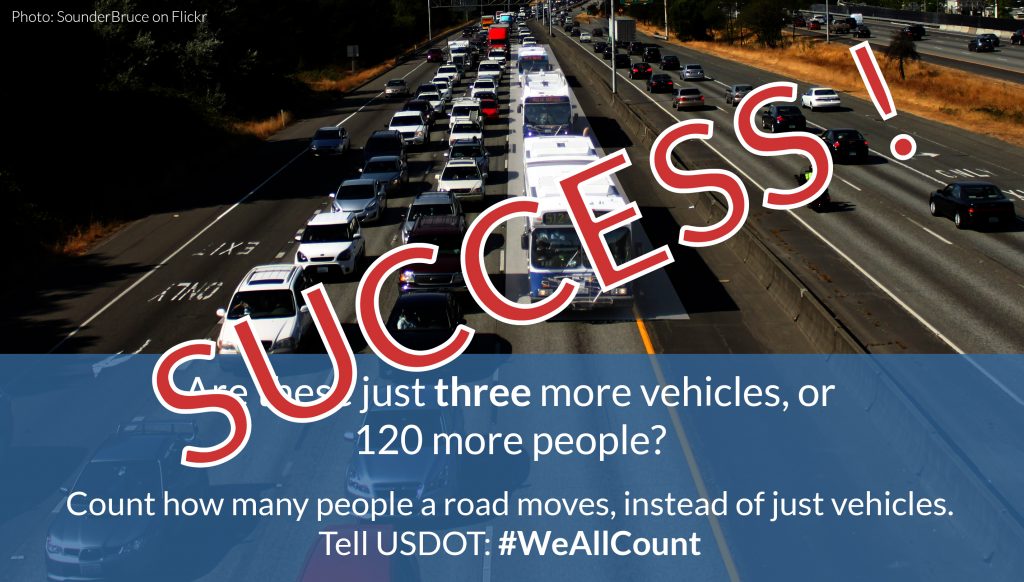 ---
In 2017, Smart Growth America offered a multitude of technical assistance opportunities, ranging from transit-oriented development, place-based economic development, Complete Streets, state DOT innovation, and much more.