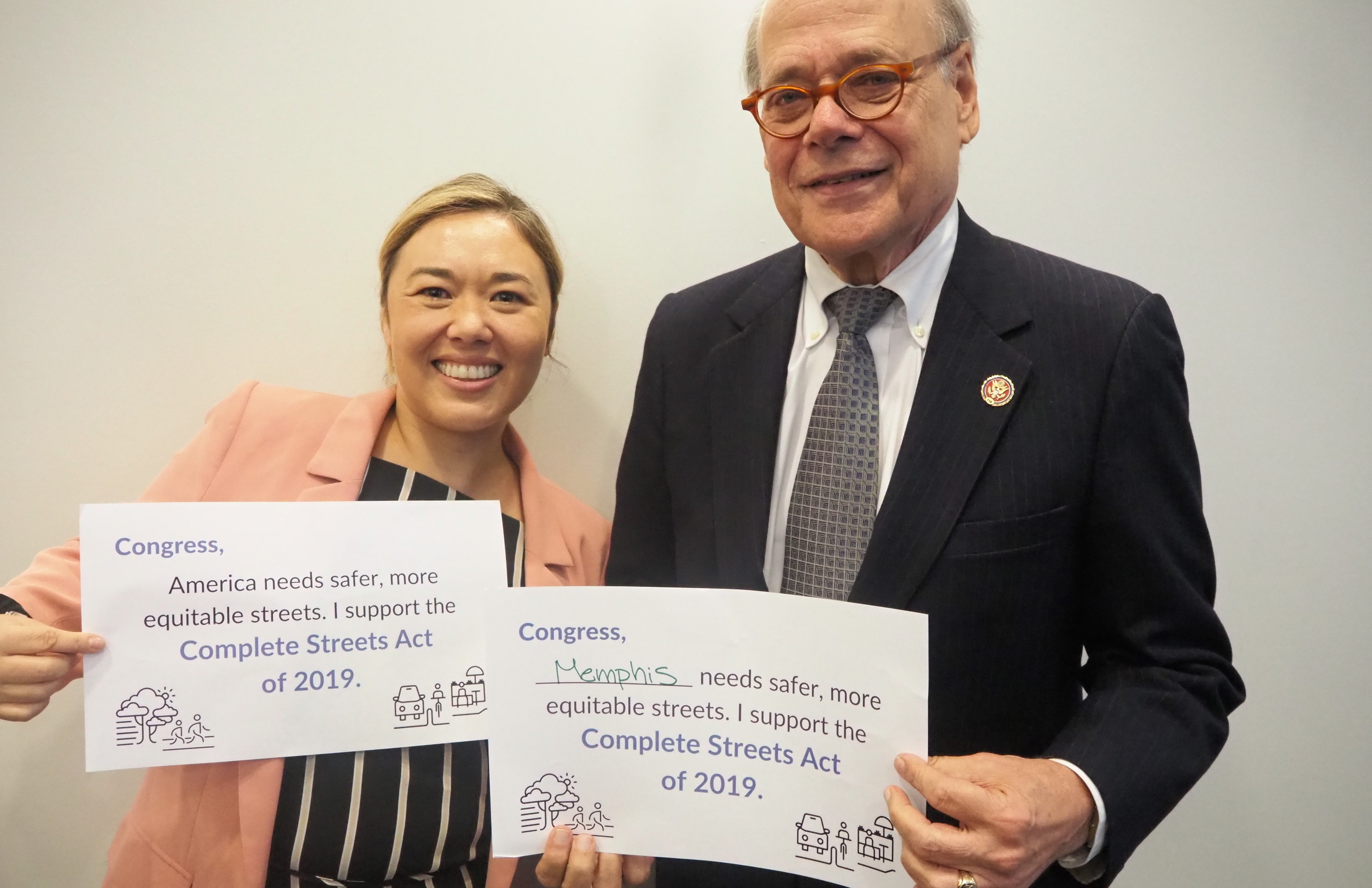 As the number of Americans walking and biking struck and killed by drivers each year reaches highs not seen in decades, Rep. Stephen Cohen (TN-9) brought local stakeholders together in his Memphis district to address this crisis. His legislation—the Complete Streets Act of 2019—is a needed first step, but as local advocates noted, alone it won't be enough to save lives and create the safe and modern transportation system that America needs.
It's official—2018 was the deadliest on record for pedestrians in almost three decades. In 2008, 4,414 people walking were struck and killed by drivers. Last year, that number jumped to 6,283, an increase of 3.4 percent from 2017. Prior to the official data being released last week, 2017 and 2016 had each held this infamous title as we noted in Dangerous By Design 2019.
Yet even as pedestrian and bicycle fatalities (up 6.3 percent from 2017) increased, overall traffic fatalities have been trending down sharply over the last decade. In short, while cars are getting safer for their occupants, our streets and the vehicles zooming down them are growing more dangerous for everyone outside of a car.
Traffic fatalities impact every community, but some are more dangerous than others. When adjusted for walking rates and population, Florida is the most dangerous state for people walking between 2008 and 2017; it's home to eight of the top 10 most dangerous metropolitan areas. Memphis, TN ranked as the 11th most dangerous metro region (which also includes parts of Arkansas and Mississippi) for pedestrians during the same period. And according to new federal data, Memphis had the highest rate of pedestrian fatalities in 2018 among America's major metropolitan areas.
In light of this news, a roundtable hosted by U.S. Representative Steve Cohen (TN-9) in Memphis, TN last week about creating safer streets was almost prescient. Unlike some members of Congress who are still victim blaming (ehm, Rep. John Garamendi [CA-3]), Rep. Cohen is leading on this issue and proposing legislative solutions like the Complete Streets Act of 2019. The meeting brought together stakeholders from the state, county, and local governments as well as dozens of local advocates from organizations like BLDG Memphis, AARP, the Memphis Area Association of Realtors, and Innovate Memphis.
"We are in the midst of a safety crisis in this country," Rep. Cohen announced as he kicked off the meeting. The safety of people walking, biking, or in a wheelchair has not been a factor in designing our roads, he noted. "People do want to have alternatives to cars," but often our streets aren't designed to safely accommodate anything other than cars.
Throughout all of the questions and comments over the course of the next few hours, a couple themes emerged.
The rise in deaths among people walking and biking is the result of consciously planning our communities to move vehicles quickly instead of moving people safely, and it's only getting worse.
Local governments need help from the federal government in addressing this problem; after all, the feds helped create this crisis in the first place.
The Complete Streets Act of 2019 (introduced and sponsored by Rep. Cohen) would be a meaningful first step if passed.
The legislation would help fund streets designed to accommodate all manner of people (i.e. Complete Streets) all across the country. First, the bill would set aside a small but meaningful chunk of federal highway funds (five percent) that flow to state DOTs every year. These funds would then be available to local communities that have passed a Complete Streets policy to help them redesign streets and implement safety improvements, potentially targeting the streets that have been the most deadly. States would be responsible for dispersing these funds and providing technical assistance to communities to help them implement a Complete Streets approach.
 Add your voice to the call for safer streets. Let your representative know you want them support the Complete Streets Act of 2019!
But there was another important theme that became very evident:
More must be done, and action cannot wait.
The Complete Streets Act is a sorely needed step, to be sure. But when the federal government spends 40 billion annually on building literal highways and other local roads designed like highways, a single piece of legislation can't undo that harm. It will require a more fundamental re-orientation toward safety and other changes at the federal level.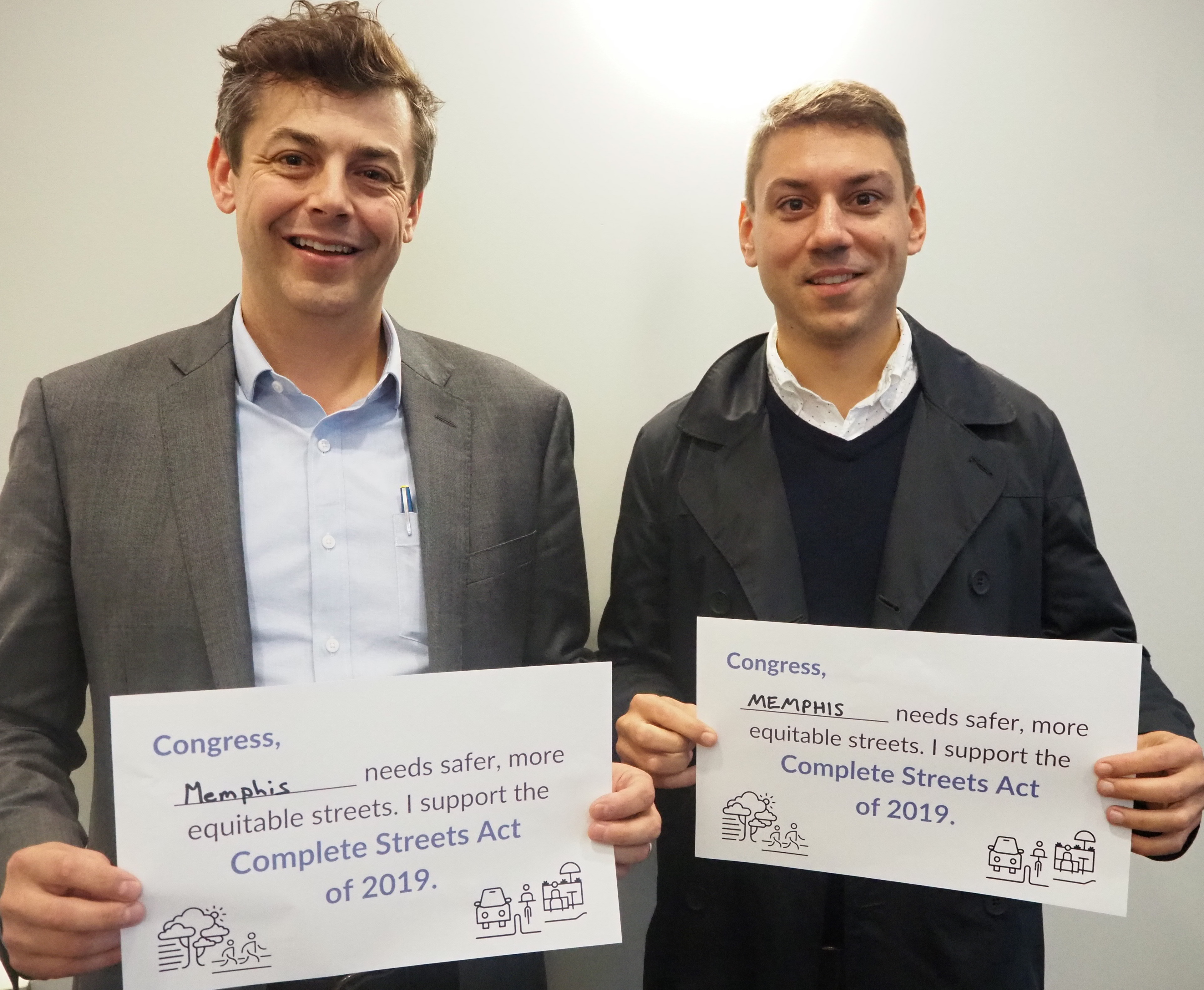 Tommy Pacello from the Memphis Medical District Collaborative noted that how we measure success of our roads—level-of-service—ignores both the needs of everyone who uses our roads and the impacts on land use. He called for better connecting our transportation and land-use decisions at the federal level and adopting newer metrics (like measuring and reducing vehicle miles traveled/VMT) that would lead to safer, more equitable streets.
George Abbott of the Memphis River Parks Partnership commented on the need to not only make sure that safe walking and biking facilities are present and accessible—which would certainly be an improvement in and of itself—but that they are preferable to driving. Reducing driving and the need to own a car will be necessary to reduce the negative impacts of our transportation system on climate change, human health, and social equity. Federal policies addressing these issues would complement a federal Complete Streets Act.
As the roundtable drew to a close, National Complete Streets Coalition Director Emiko Atherton highlighted how having diverse people from different organizations and levels of government focused on this issue together is rare, special, and vital for making change happen. "If this was present everywhere we could get more done," Emiko noted.
Memphis is clearly doing something right, but with 54 pedestrians killed just last year alone, there's no time to waste. The Complete Streets Act of 2019 would give communities like Memphis all across the country some much needed assistance in tackling this crisis.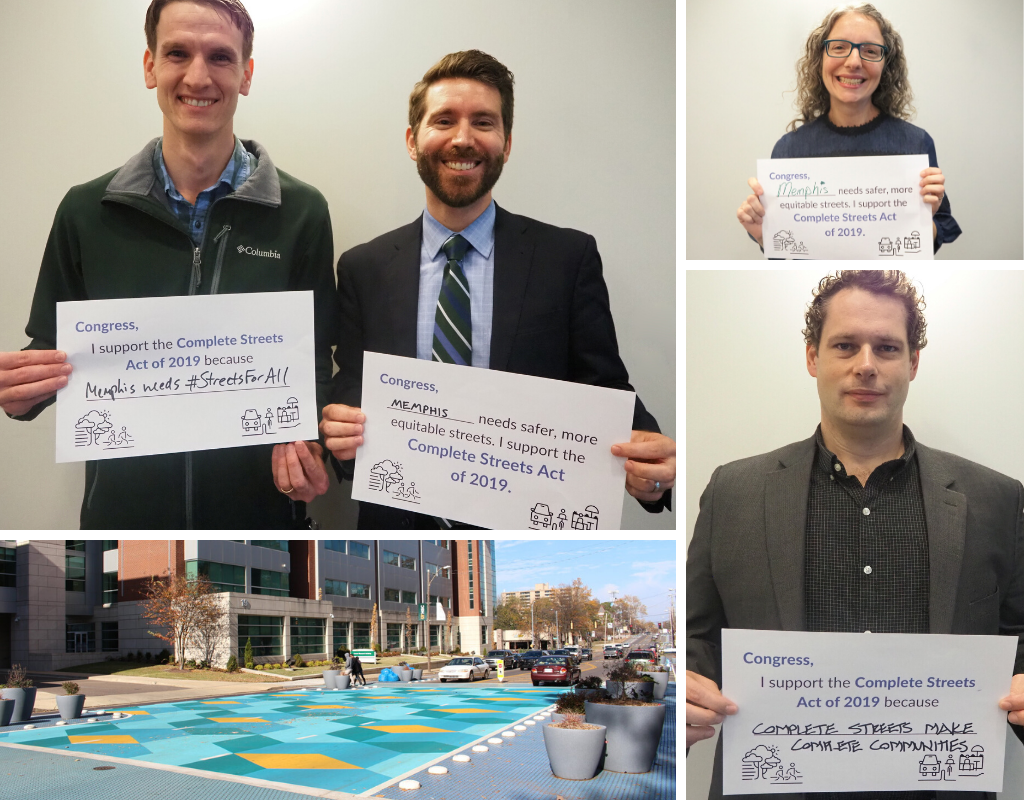 Top left: Nick Oyler (right), bikeway & pedestrian program manager for the City of Memphis and his colleague; Top Right: Sylvia Crum from Innovate Memphis; Bottom Right: Daniel Ashworth from Alta Planning + Design; Bottom Left: protected bike lanes & painted crosswalk outside the University of Tennessee Health Sciences Center on South Manassas St.