"If Transportation for America doesn't do what they do at the national scale, we would be in trouble at the local level. We count on them to lead at the national level and equip us with the knowledge and expertise to do the same locally."

"T4America is the only national group that really pulls everyone together in the same room: advocates, elected leaders, engineers, planners, researchers, transit agencies, safety experts, the business community…"
Those were just two comments I heard over the last week while we were in Atlanta for the last 2018 meeting of our Smart Cities Collaborative and Capital Ideas state policy conference. 
Will you help make more of this work possible in 2019 with a small donation to cap off the year?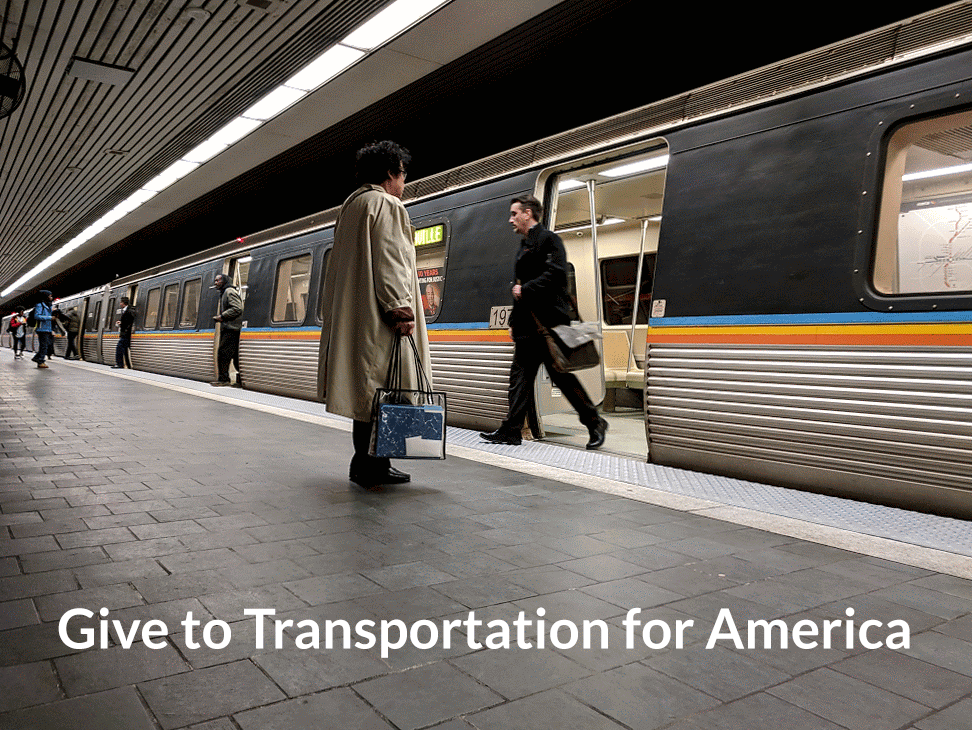 Why support our transportation work in 2019? We can think of a few reasons, but a big one is that we're headed into another reauthorization of the federal transportation law next year. Unlike the negotiations over the last bill in 2015, there is no more money in the congressional piggy bank to keep the status quo limping along.
None.
We currently have a gas tax that covers only about 70 percent of the transportation spending that Congress has approved. Do you remember what happened the last time we faced this situation? We do, because we successfully led the effort to kill a plan by the House of Representatives to end all federal funding for transit.
This administration has already twice asked Congress to do the same for expanding & improving transit, though Congress has thus far twice rejected those requests with a bipartisan vote.
But when Congress is faced with a gas tax that doesn't cover the bills, it is almost inevitable that someone will start looking at transit, multimodal projects, or complete streets as the so-called "extras" or "easier" places to cut.
And, among other issues, who will hold Congress' feet to the fire (and has been already this year) to ensure that the next transportation law isn't 100 percent silent on the potential impacts of automated vehicles to our communities, as the 2015 law was?
That's why T4America is here at Smart Growth America. And we know that local advocates and leaders are counting on us to do what we've always done.
Help us stand in the gap.
Make a tax-deductible, end-of-year gift to Smart Growth America to support our transportation work and get a free gift. And then, if you missed them, read our reflections and lessons learned from two great events we held last week in Atlanta: Capital Ideas 2018 and the last 2018 meeting of our Smart Cities Collaborative.
Thanks for your support.
Donate to T4America and Smart Growth America
By Beth Osborne, director of Transportation for America