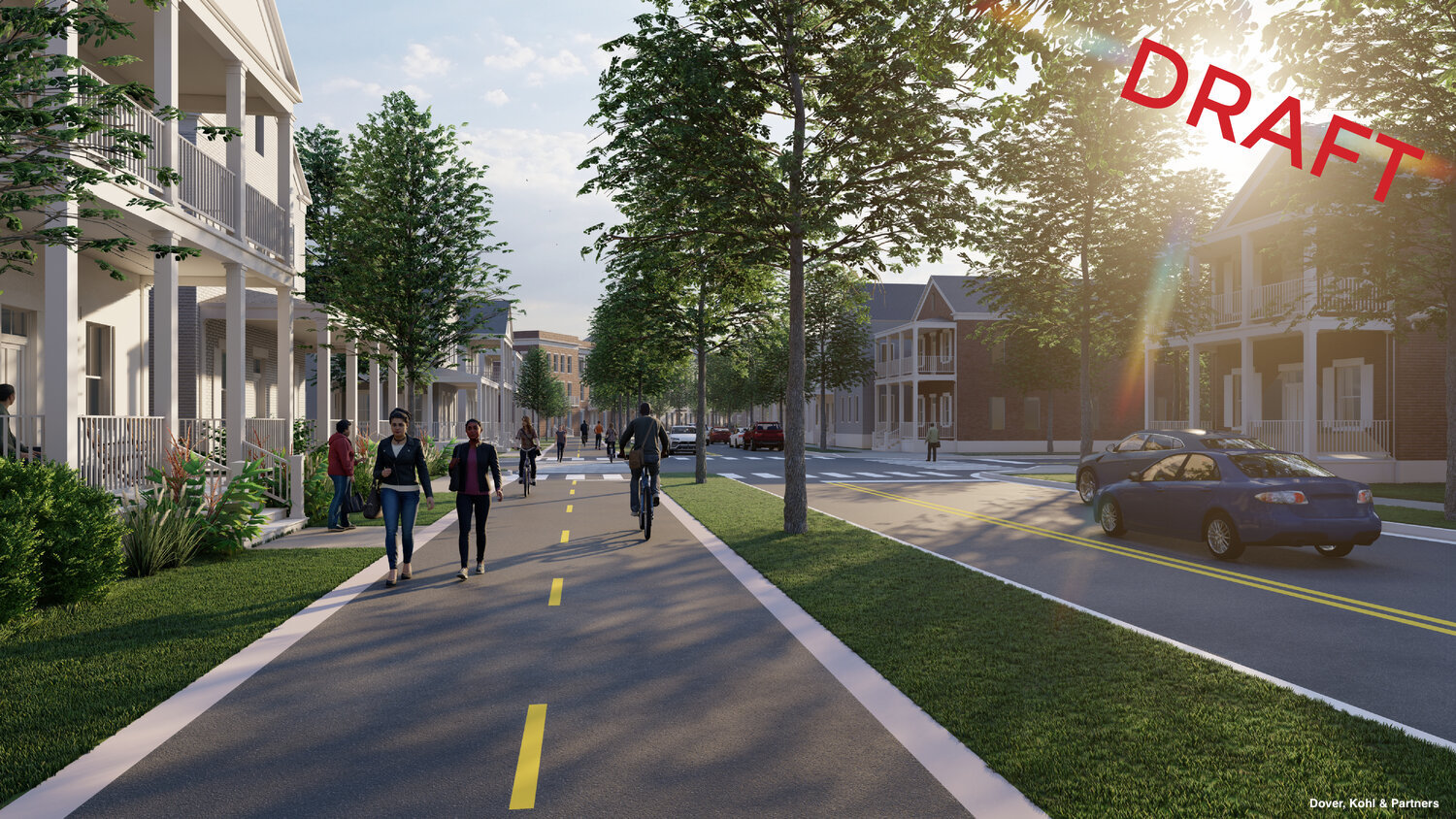 Last week, we hosted "Charrettes go virtual: Missoula, Montana hosts an online charrette to advance a community vision," a joint webinar between the Form-Based Codes Institute and the National Charrette Institute. Speakers discussed a first-of-a-kind fully virtual community engagement process conducted for the Mullan Area Master Plan. A recording is now available.
Local planners and design experts had long planned a week's worth of face-to-face workshops with residents, decision-makers, business owners, environmental advocates, and more to design the future of the Mullan Area—the western edge of rapidly growing Missoula, MT. But as stay-at-home orders and social distancing guidelines fell into place in March, it became clear the intensive community design workshop—known as a charrette—couldn't proceed as planned.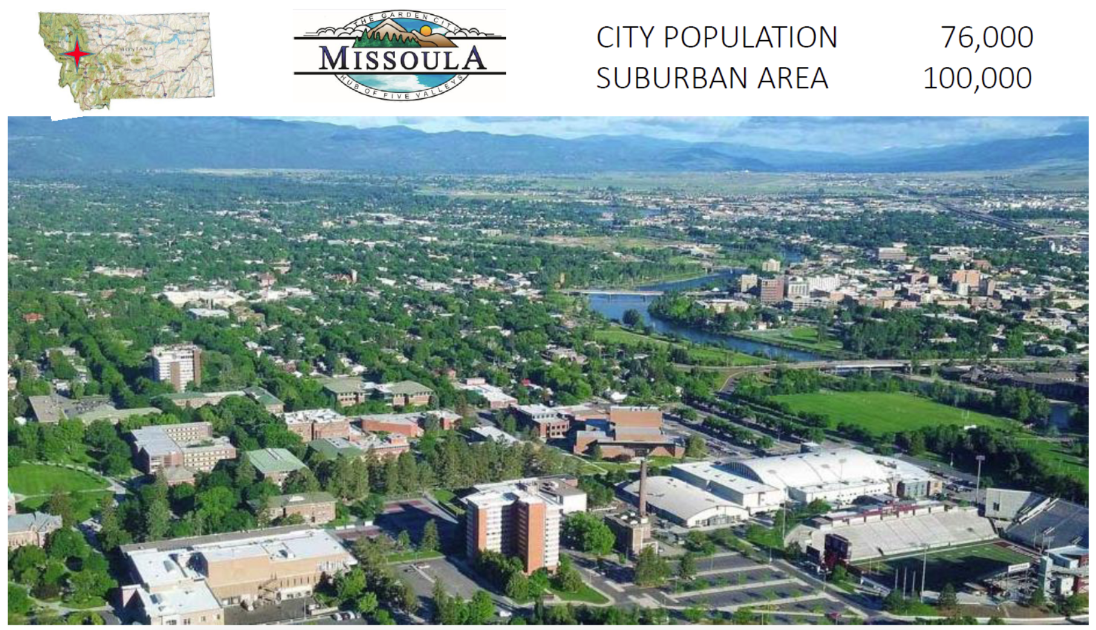 After careful consideration, which included the discussion of a soon-to-expire BUILD grant for infrastructure in the project area, city leaders and consultants Dover, Kohl & Partners (DKP) decided to move the collaborative effort entirely online. The last-minute pivot to engage stakeholders through a Virtual Charrette Hub, which housed dozens of collaborative online meetings, virtual design studios, and a 24/7 feedback portal, became the first of its kind—and a wild success. 
Not everyone has the time, resources, or technical ability to engage online right now. In many cases, communities should consider postponing community engagement to a later date to be more inclusive. But Missoula's case was different—months of in-person engagement preceded the online format and an enormous deadline loomed for capital infrastructure spending. And as our panelists note, participation actually grew and diversified compared to traditional community engagement settings.
This webinar is the first of a three-part series focused on providing local leaders, developers, and advocates with tools and examples for staying in contact, sharing ideas, and getting interactive feedback to keep critical decisions moving forward. Stay tuned for our next webinar when we'll take a deeper dive into the latest techniques and tools to conduct virtual community engagement. 
A discussion recap
Holly Madil, Director of the National Charrette Institute (NCI), kicked off the webinar by welcoming participants, introducing speakers, and acknowledging the growing uncertainty brought on by the COVID-19 pandemic. She described a growing interest in communities all across the world to continue engaging citizens and planning for the future as they adjust to virtual communication. Next, Bill Lennertz, founder of NCI and Principal of Collaborative Design + Innovation, explained how the NCI Charrette System works and the considerations that must be made to perform any element of it online.
Tom Zavits, Senior Planner of Development Services in Missoula, gave an overview of his city—a booming city of 70,000 confined by a ring of rugged mountains—and the growing challenges of housing affordability. In an effort to accommodate its rapid growth, the city and county negotiated the master-planning of a 1,500-acre hayfield just west of the city limit known as the Mullan Area. After months of pre-engagement and education used to build community trust and inspire ownership over the future plans of a walkable, mixed-use neighborhood, the onslaught of COVID-19 meant re-inviting hundreds of stakeholders to participate in a new virtual format in just three days.
Participants then heard from DKP lead charrette manager, Jason King who described how the city prepared and structured the virtual charrette. Jason explained how the Virtual Charrette Hub was built and used to conduct focus group meetings, post work-in-progress design concepts, and solicit feedback. The process engaged nearly 300 stakeholders ranging from local engineers to environmental advocates, landowners to historic preservationists, technology-challenged seniors to small business owners and more. Jason wrapped up by sharing the exciting outcomes of the visioning process—a walkable, mixed-use neighborhood with high-quality multifamily housing, trails, community farms, and ecosystem regeneration.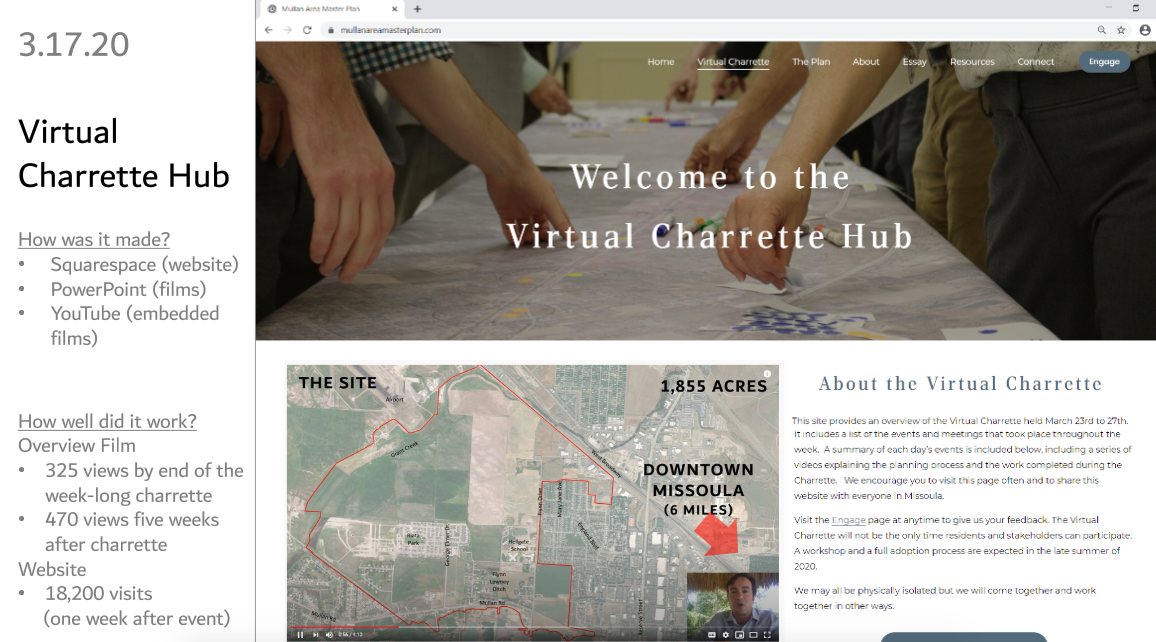 (Image: Jason King, DKP)
Questions?
We had so many great questions during the Q&A section of the webinar that we couldn't get to all of them. We followed up with Tom and Jason to discuss answers to some of the questions we missed.