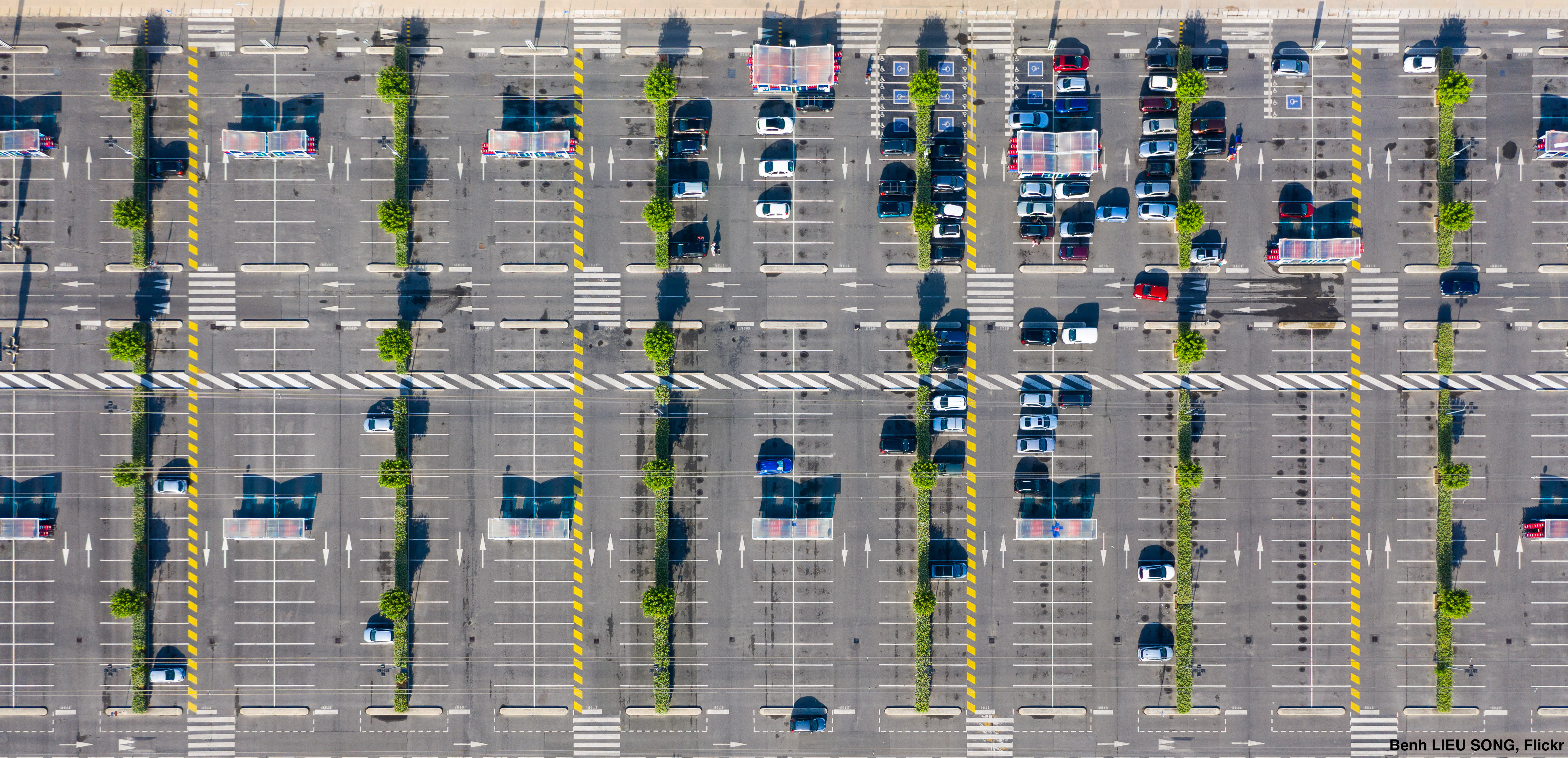 "Parking reform for 21st century communities: getting more out of public space," was a joint webinar between the Form-Based Codes Institute and the State Smart Transportation Initiative. Speakers discussed the steps taken to rethink parking policies and prioritize people in public spaces in Hartford, CT and Atlanta, GA. A recording of the webinar is now available. You can also read a recap below.
Many American cities were consumed by expansive surface parking lots and hulking parking structures during the highway building boom of decades past. At the time, city leaders adopted baseless parking requirements that mandated a certain amount of new parking when building housing, restaurants, bowling alleys, supermarkets, and more. It has fueled sprawl to this day and dedicates valuable real estate to the storage of idle vehicles. Now, there's an estimated two billion public parking spots for about 200 million cars nationwide—an unprecedented waste of public space that contributes to traffic and congestion, dangerous conditions for pedestrians and cyclists, and unsustainable costs for residential and commercial development.
Luckily, a growing number of communities are reversing this trend. And at Smart Growth America, we've found that a modern approach to parking policies, especially when integrated with form-based zoning standards, can create more walkable development and cut traffic, improve the public realm and housing affordability, and increase transportation equity.
A discussion recap
Chris McCahill, Deputy Director of Smart Growth America's State Smart Transportation Initiative (SSTI) kicked off the webinar by outlining the smart growth lens to parking. As the crucial link between transportation and land use, parking policies must respond to community context, address local goals like housing affordability or multi-modal transportation, and be managed accordingly. But the American landscape suggests our attitude toward parking is inherently unsustainable. At best, we're dedicating one space for every car in places like New York City where most households do not own a car, but nationally there are eight spaces for every car and in some cities it's much worse—a startling 19 spaces per vehicle in Des Moines, and 27 in Jackson, WY. 
Most communities adopted minimum parking requirements in the 1970s on the premise of guaranteeing parking on every lot. Developers are forced to include unnecessary amounts of parking which has spurred serious financial repercussions. When a single parking space costs upwards of $20,000, developers have little choice but to pass those costs on to renters, pushing affordable housing (and small business success) further out of reach. And where there's structured parking, about $1,700 is folded into apartment costs every year.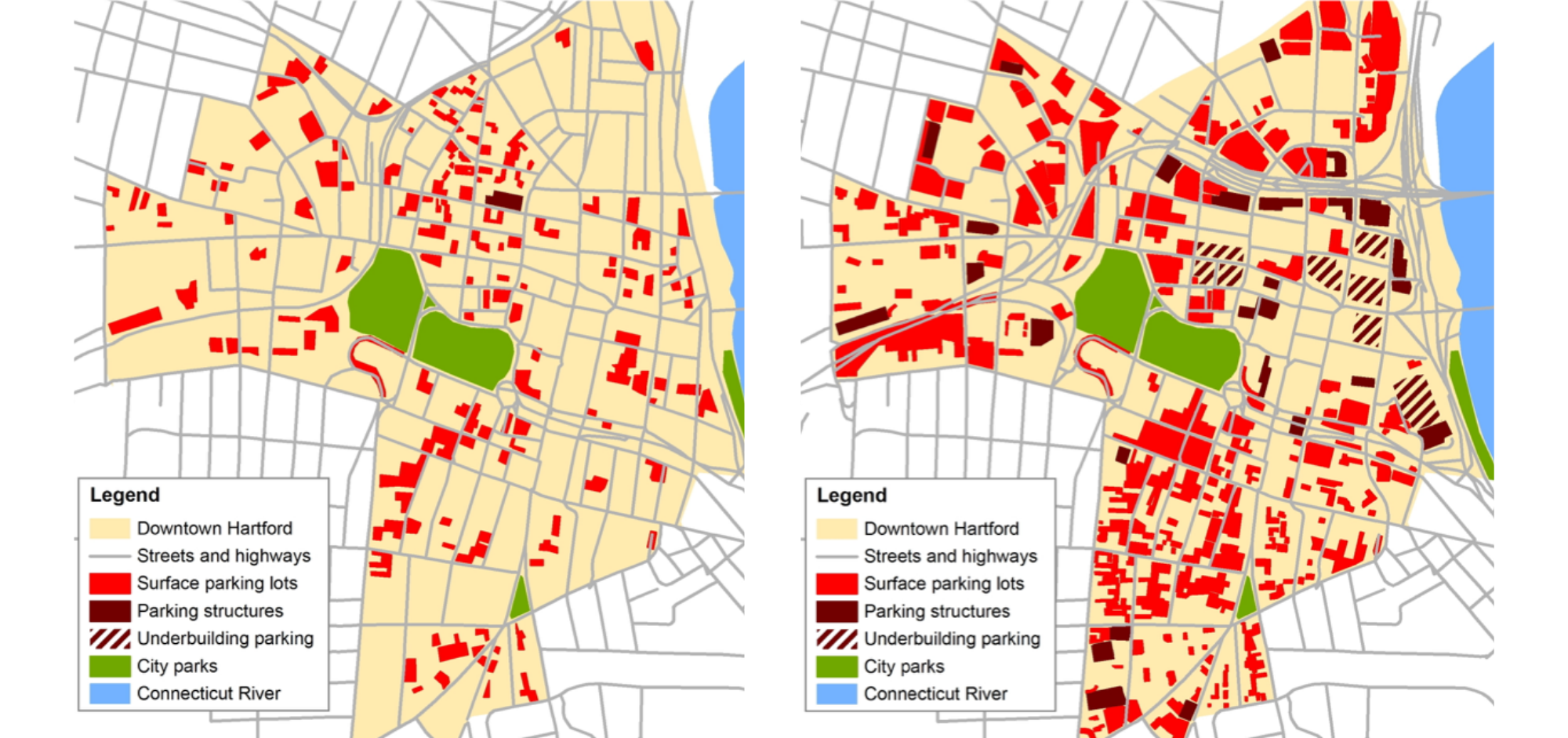 Hartford parking inventories: 1960 (left) vs. 2000 (right). Credit: Chris McCahill, SSTI.
The way we manage our parking also determines the way we get around. Much like highway widenings induce more traffic, which is chronicled in a new report by Transportation for America, more parking also leads to more driving. Abundant parking at home and the workspace triggers an automobile default in regional and local commuter behavior, even if the trip is well-served by transit. 
"If we aren't careful about parking policy, we could seriously undermine a lot of other work that's being done to manage traffic or increase walking, biking, and transit use." – Chris McCahill
Chris concluded with a promising tool several communities are using to adjust over-parking—a demand-centered approach detailed in SSTI's Modernizing Mitigation report—where parking minimums are replaced with a points system that rewards developers for building less parking and for taking steps to support walking, biking, and transit.  
Sara Bronin, University of Connecticut Law Professor and chair of the Hartford Planning and Zoning Commission, focused next on her city's revolutionary parking reform initiated in 2016—making it the first major city in America to do so. Hartford's centuries-old development pattern should lend itself to prioritizing people over cars, but considerable amounts of dense mixed-use development have been replaced by surface parking over the past 50 years. Underutilized parking structures and corner lots now disrupt the historic, human-scaled buildings and blocks that characterized the city. 

(Image: Sara Bronin)
Luckily, a number of factors helped propel a citywide zoning overhaul in 2016. Residents made it clear they favored walkable mixed-use development over Hartford's growing auto-dominated landscape, and surveys found a third of households didn't own a single vehicle. And despite promising gains in transit ridership, Hartford's transportation insecurity reached 26 percent, which soared above Connecticut's average. These trends catalyzed four key changes to the zoning code:
Fewer cars:

The city eliminated parking minimum requirements for all types of development citywide except for car sales lots. Parking maximums—which cap the allowable amount of parking—now take precedence and thoughtful design requirements (i.e. buffers and landscaping) enhance the public realm. 

More bikes:

Many employers are now required to offer shower and changing facilities, and must satisfy the city's minimum short- and long-term bike parking requirements. 

Complete Streets:

Streetscape requirements that support all modes and abilities are integrated in the zoning code and apply to development across the city. Now, less land is devoted to auto-oriented uses (drive-thrus, car sales, etc.) and more land is zoned for mixed-use.

Transit-oriented development:

Buildings that fall within Hartford's TOD overlay zone (primarily around CTfastrak stations) must be three to eight stories.
Hartford's efforts to curb excessive parking isn't slowing either. Now, the city is determining the best way to encourage property owners to convert surface parking lots into more valuable uses. They are exploring parking lot license fees, land value taxes, and stormwater utilities that charge for impervious surfaces. And finally, the city is interested in doubling down on its bus service.
Eric Kronberg of Kronberg Urbanists + Architects (KUA) then turned the conversation to ongoing efforts to remedy parking in Atlanta. Guided by Atlanta City Design, Eric and his firm led a zoning diagnostic that would help "transform the city into the best possible version of itself" beginning in 2015. 
Rather than embarking on a five-to-seven year process for a full zoning rewrite, KUA and the City of Atlanta decided to first address quick-fix problems with the current ordinance. The laundry list of improvements included a missing middle zoning category, neighborhood design standards, and reduced parking/loading requirements. The latter initiated the following:
Shared parking citywide:

Applies inside and outside the Beltway. Shared spaces can be located onsite or offsite from participating properties and managed by time-of-day to smooth out parking demand.

Parking minimums eliminated within 1/2 mile of transit:

Applies to all uses, rail and bus transit.

On-street parking counts toward off-street parking requirements.
Parking minimums eliminated for buildings built before 1965.
Parking minimums eliminated for projects that meet inclusionary zoning requirements.
Advocacy and work on parking reform must be calculated. Adjustments to current policies need to reflect the local context—and they rarely succeed without smaller, incremental steps. Eric shared several examples his firm has identified to show how different communities are tackling the problem across the country.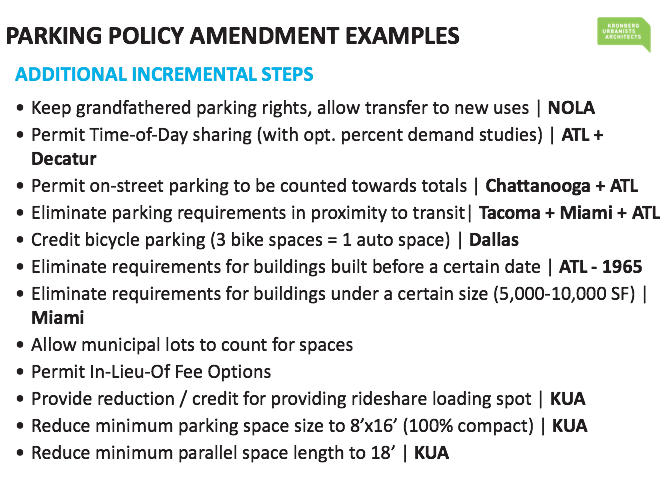 Credit: Kronberg Urbanists + Architects
Questions?
We had so many great questions during the Q&A section of the webinar that we couldn't get to all of them. Here's what our speakers had to say about the ones we missed.