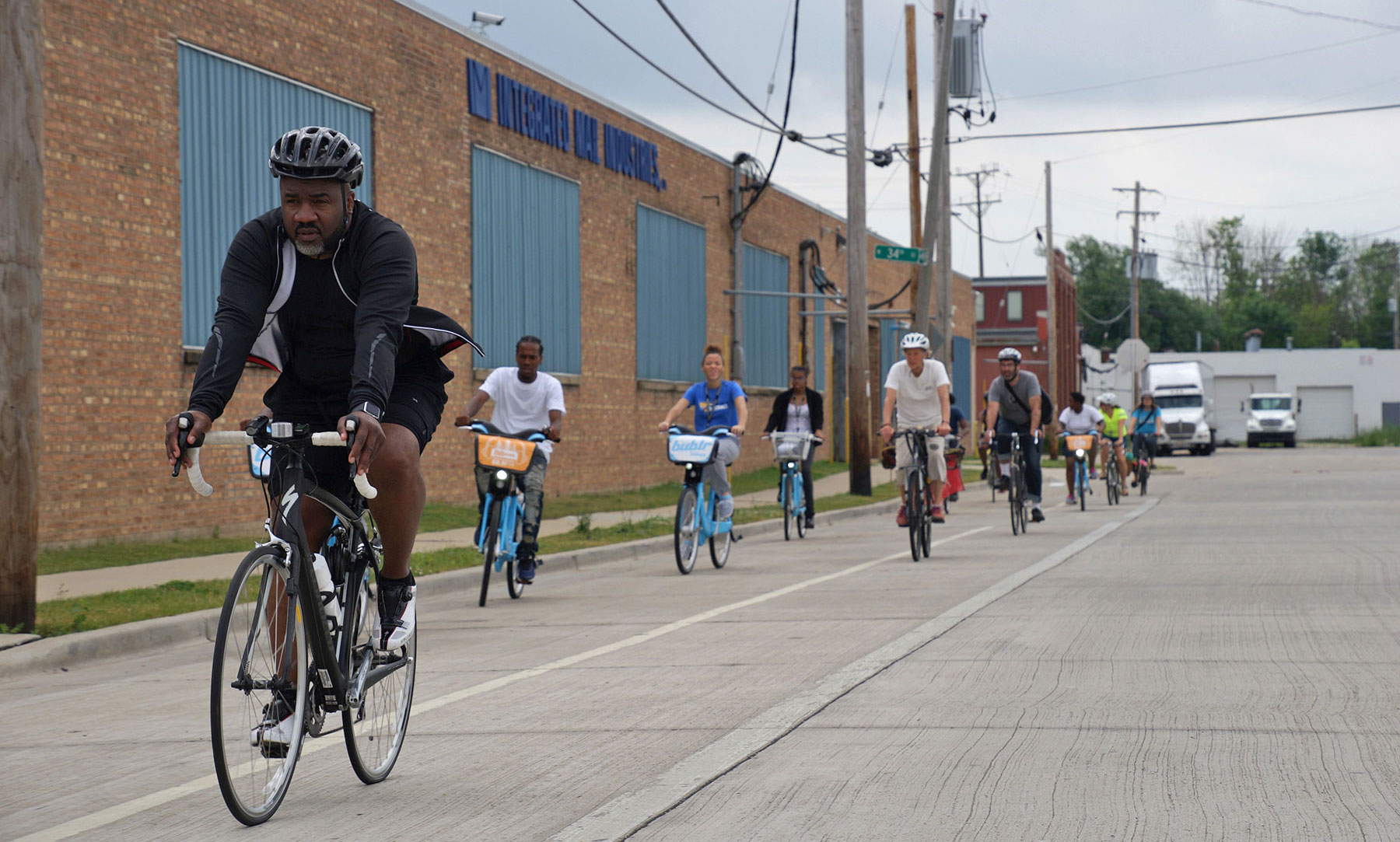 Image courtesy of Caressa Givens.
Last week we brought together representatives from three of the top ten communities with high scoring policies in our recent report, The Best Complete Streets Policies of 2018. They shared their insights on the process of passing a strong Complete Streets policy and answered viewers' questions. A recording of the webinar is now available. You can also read the brief recap below.
A discussion recap
Emiko Atherton kicked off the event by highlighting Complete Streets progress across the nation, noting that there are now nearly 1,500 Complete Streets policies in place across the country. She congratulated this year's top ten communities on passing high scoring policies, especially this year given we used a new and improved grading framework—The 10 Elements of a Complete Streets Policy—for the first time.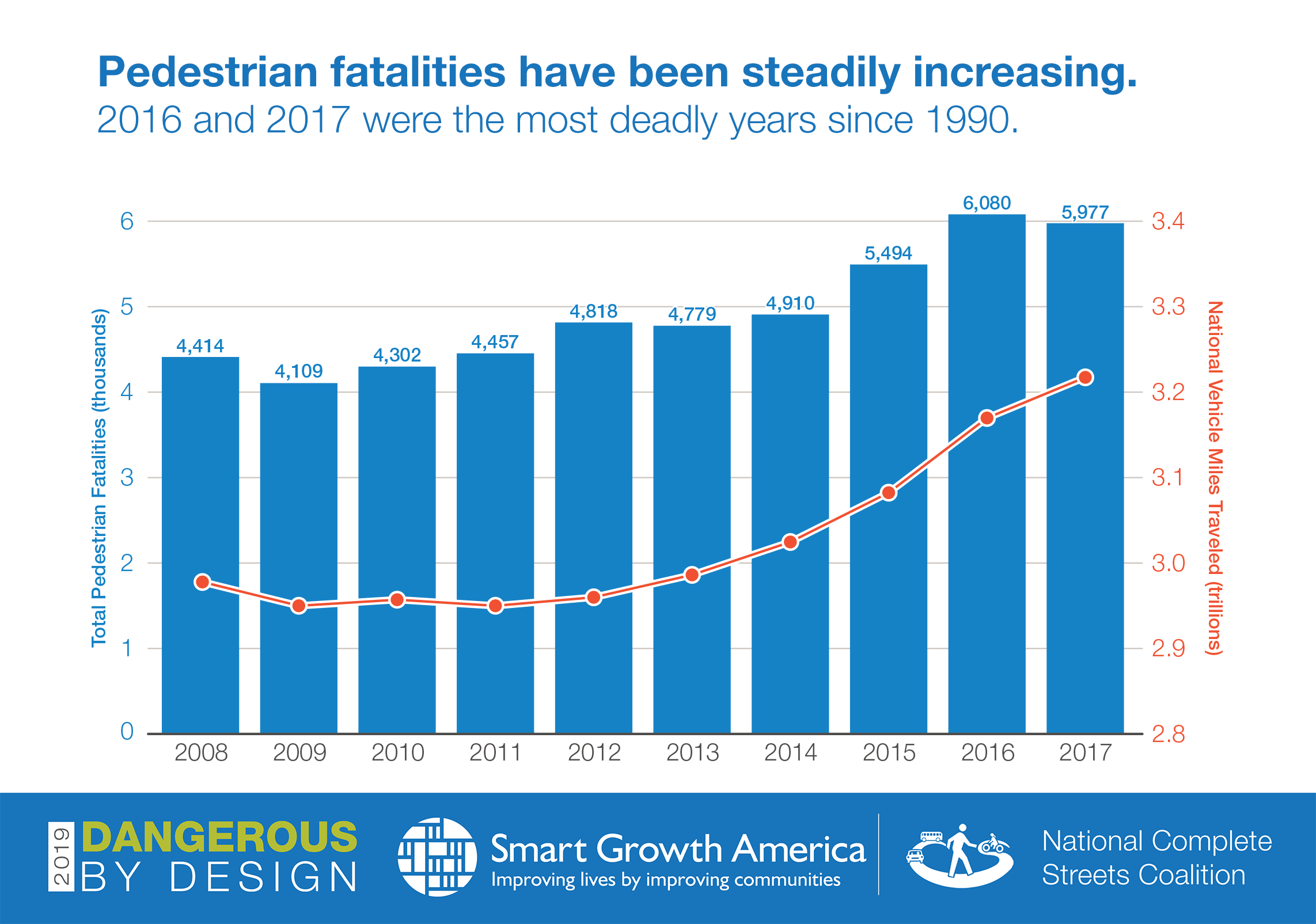 While the Complete Streets movement has gained momentum over the last decade, we are still killing pedestrians (particularly from vulnerable populations) at record numbers. Those deaths are caused by a culture that prioritizes the movement of cars over people's lives. We know that Complete Streets policies alone won't create safer streets; communities have to commit to change how they choose, plan, and build their street networks moving forward. That is why our new framework emphasizes implementation and equity in the Complete Streets policy itself.
She then handed it off to Fred Jones, who talked about Neptune Beach, FL's new policy. Fred is the vice mayor of Neptune Beach, a trained planner, Complete Streets advocate, and National Complete Streets Coalition Steering Committee member. Neptune Beach is a small coastal community in northeast Florida directly east of Jacksonville.
Neptune Beach began its Complete Streets journey because of the ranking that the Jacksonville metropolitan area (which includes Neptune Beach) earned in Dangerous by Design 2016; the metro area was the fourth most dangerous among of the country's top 100 metros. Jones went on to emphasize the importance of messaging in Complete Streets advocacy, share elements of the city's policy, and outline next steps for implementation and accountability in a small town with limited resources.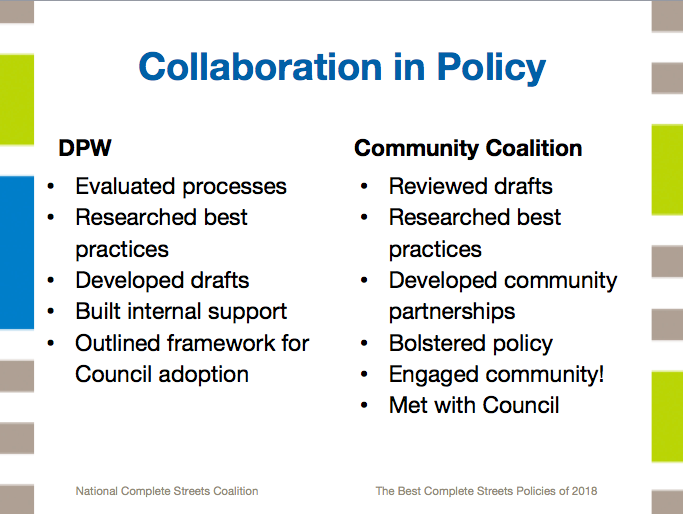 Next, we had two representatives from the Milwaukee Department of Public Works: Caressa Givens, community projects manager and James Hannig, pedestrian & bicycle coordinator. They shared how the city and a local coalition collaborated on drafting the policy and are continuing to collaborate on implementation. They also discussed how their process to discuss equity for their Complete Streets policy will be a framework for navigating hard conversations about addressing equity in transportation design and construction.
Finally we welcomed Richard Wong, planning director for Cleveland Heights, OH, the top scoring policy of 2018. His presentation was the most rhythmic and took a tour through the Ten Elements of a Complete Streets Policy, peppered with specific examples from Cleveland Heights.
Want to know more about these communities? Read their case studies in the Best Complete Streets of 2018 report.
Questions?
We had so many great questions during the Q&A section of the webinar that we couldn't get to all of them. We followed up with all four of the speakers to discuss answers to some of the questions we missed.