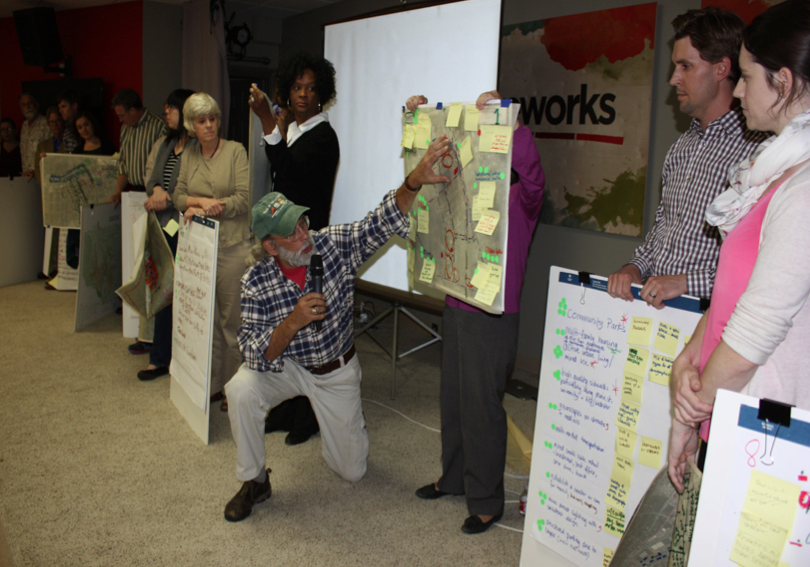 This November, we hosted "From vision to implementation: Using an NCI charrette to create a vision for a form-based code," a joint webinar between the Form-Based Codes Institute and the National Charrette Institute. Speakers shared their experiences using NCI charrette workshops to develop form-based codes in Norman, OK and Arlington County, VA.
Form-based codes are designed to bring a shared community vision to life. These zoning codes translate desires of the public—town homes there, street trees along here, and taller buildings over there—into straightforward standards that regulate future development. But creating a mutually supportive vision of how a community looks and aspires to grow takes time. 
The National Charrette Institute (NCI), which is housed at Michigan State University, has developed a charrette process that helps communities build capacity and collaboration to develop a shared vision quickly and effectively.
A discussion recap
Holly Madill, Director of NCI, kicked off the webinar by explaining how the NCI Charrette System ultimately brings together residents, decision-makers, and content experts during an uninterrupted work session to design solutions for difficult community issues. As she noted, Preparation is key to ensure the charrette is as inclusive and multidisciplinary as possible. And the charrette process might not be right for every community—it works best where solutions to complex design problems are pressed for time with impending development, when the stakes are high, and where tricky politics and low-trust environments coincide. It's particularly helpful for communities taking on a form-based coding process where stakeholders can learn about the project and help code writers inject a community vision into development standards.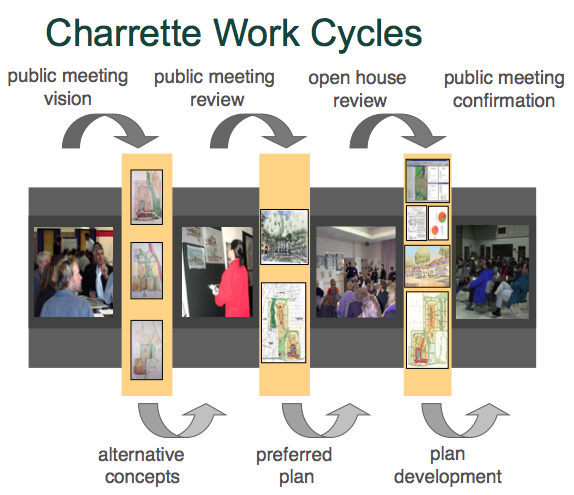 The webinar then turned to code writers and charrette managers who described how NCI charrettes aided in the development of form-based codes in Norman, OK and Arlington County, VA. 
Bill Lennertz of Collaborative Design + Innovation introduced a project for a neighborhood that sits between the University of Oklahoma and downtown core of Norman, OK. Tensions between community members, city leadership, and the university had simmered for years over housing. Mid-rise apartment buildings that had been previously proposed were opposed by long-standing homeowners but it was clear the area needed a way to fill the housing gap between larger apartment buildings downtown and single-family homes. 
The project team pulled together residents, planning staff, and university leadership during a pre-charrette event to better understand the local context, people, and eventually rebuild trust. Over two days and 75 interviews, the team established relationships with stakeholders and developed a clear understanding of the community's concerns, its strongest assets, and places outside the city that residents admire—aspirations of what Norman could become.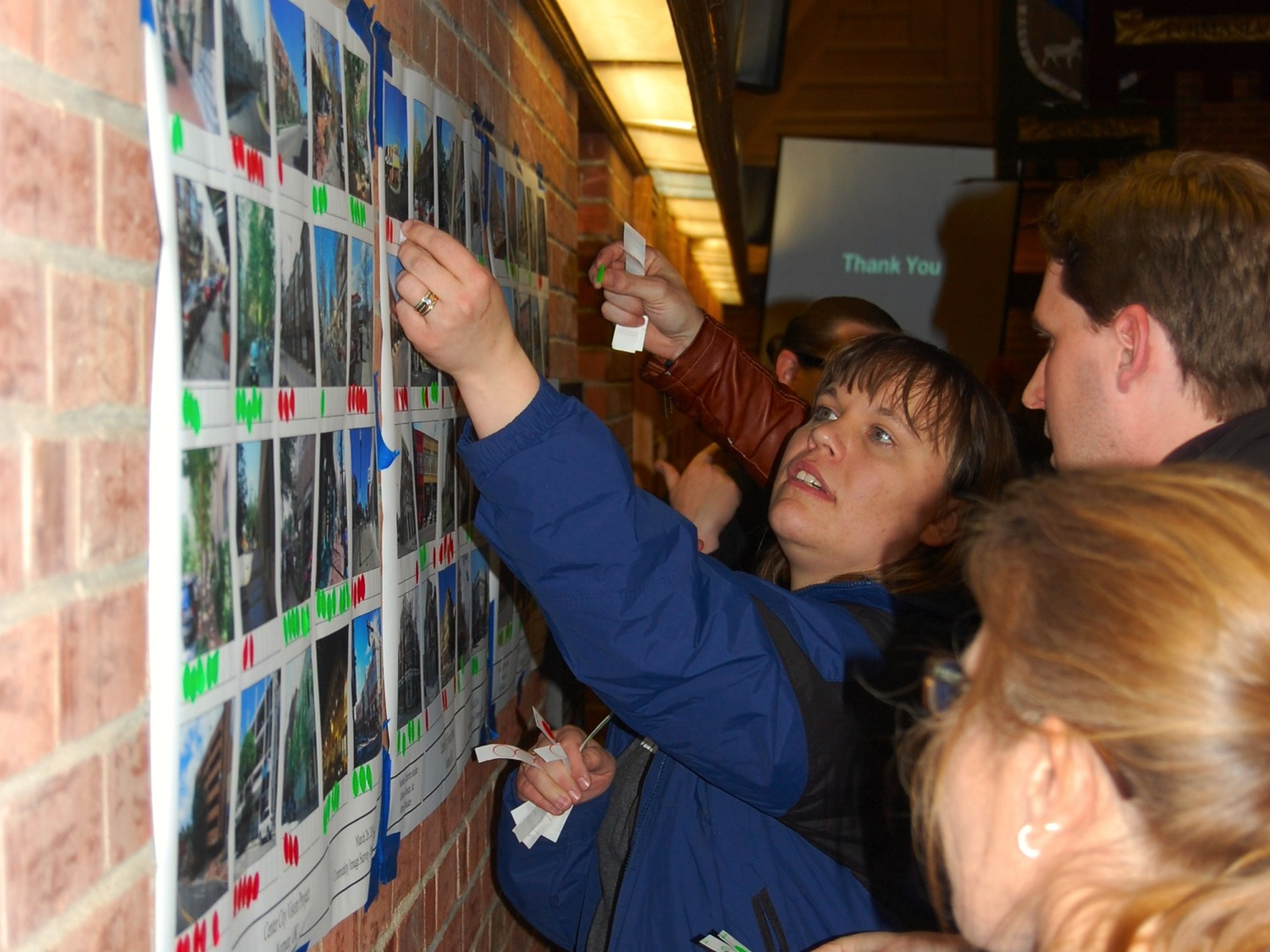 Bill then described the activities of the five-day Center City Vision Charrette: hands-on exercises and opportunities for residents to draw their ideas; technical meetings with transportation, building code, land use, and legal staff; public meetings; and abundant open-studio time for community members to observe the designers at work. 

Mary Madden of urban design and town planning firm Ferrell-Madden then discussed how the team drafted a form-based code to best retain and implement the community vision. They determined which areas were right to maintain, revitalize, or fully transform and identified what new development standards would be needed to enable the character residents desired. 
"We reminded people why we were going through this process and why they needed to think about it differently … and the really big idea was to help people think about placemaking—not land use, FAR, or dwelling units per acre."—Mary Madden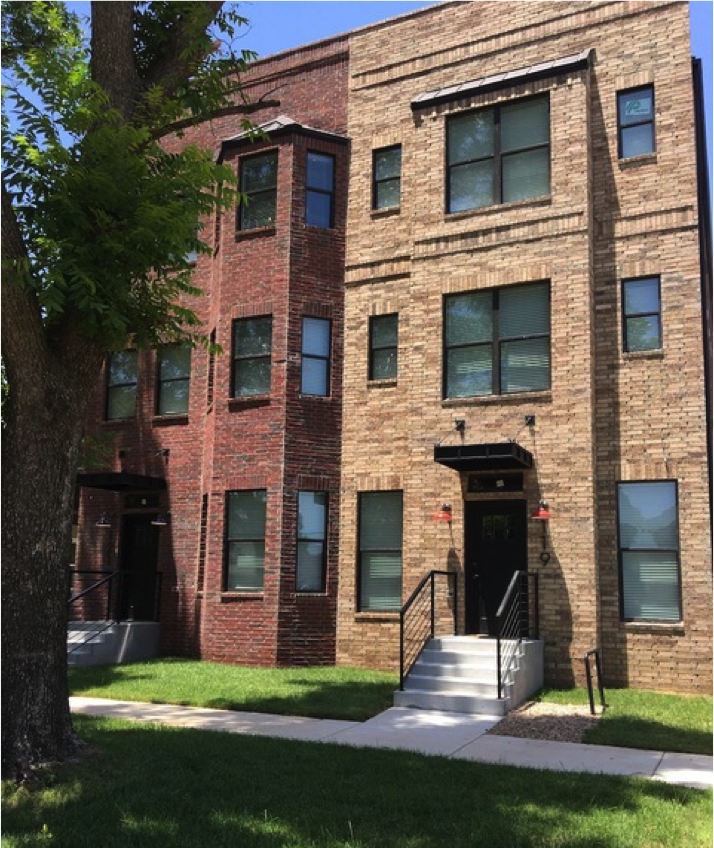 The form-based code was adopted, but not until three years post-charrette. And this, Mary explained, was a pitfall of the project—it's absolutely crucial to minimize the time lapse between charrette, code drafting, and code adoption. A lag in the Norman project meant dealing with a change of city leadership, citizens losing familiarity with the project, and ultimately a "watered down" form-based code. 
But progress is evident in Norman and much of the community's aspirations are shining through new development. Missing middle housing types—particularly duplexes and town homes—are sprouting up in a way that improves placemaking and walkability in the neighborhood while supporting new renters, homeowners, and college students.
Chris Zimmerman, vice president for Economic Development at Smart Growth America and former member of the Arlington County Board, introduced the case study for Columbia Pike—an initiative to transform a suburban-style commercial corridor into a better place for its residents and businesses. Visionaries of the project not only sought a form-based code, but a comprehensive strategy to preserve the region's largest repository of affordable housing, elevate historic preservation, and promote future development supportive of its extremely diverse population. 
Inta Malis, former chair of the Arlington County Planning Commission, illustrated the long history of debating Columbia Pike's destiny—reaching as far back as 1945—and years of failing to kick-start any quality reinvestment. In the nineties, a revitalization association brought together neighborhood advocates to begin strategic conversations about a path forward.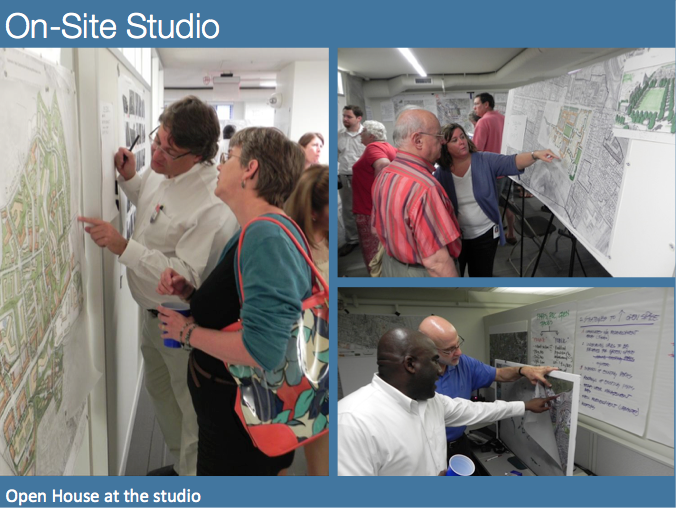 In 2002 and after 149 meetings, the project team held the first charrette focused on mixed-use nodes along the corridor—leading to the development of the Columbia Pike Commercial Centers Form-Based Code. A second charrette took place nine years later to hone in on the Pike's neighborhoods. Amy Groves of town planning firm Dover, Kohl & Partners explained that much like the Norman project, the Arlington County initiative included three phases: a public kick-off event to gather input through interactive exercises, an on-site idea-testing studio, and a final presentation to review the week's worth of work. But again, this was only the pinnacle of the process after weeks of careful preparation.
A considerable amount of the pre-charrette work was dedicated to pressing concerns about affordable housing. The project team hosted professionals from around the country to present their approaches to the complex issue and ran through scenarios for renovation, infill, and complete redevelopment of existing affordable housing complexes along the Pike.
Following both charrettes, code writers translated the resulting community vision into a form-based code regulating plan, which keyed specific building envelope standards—height, siting, and function of structures—to different parcels along the corridor. And between the charrettes, project consultants and citizens refined strategies for making Columbia Pike more walkable and multimodal during a phase of street space planning. This resulted in regulations for streetscape elements like sidewalk furniture and street trees and dimensions for travel lanes, bike lanes, and sidewalks.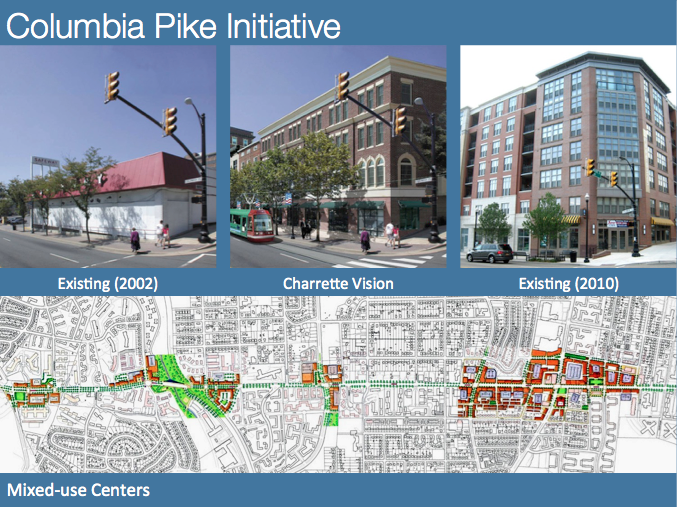 In the end, Arlington County adopted two form-based codes (one for commercial nodes in 2003 and one for adjacent neighborhoods in 2013) and an integrated affordable housing strategy. Together, this multi-pronged approach has made for a net-zero loss of affordable housing, financing and planning incentives to spur development, and requirements for new projects to include affordable units on-site. 
Lessons learned from the Columbia Pike project echoed those from Norman—especially the damage delays have on trust, motivation, and buy-in developed during the charrette. Meanwhile, it's important to increase understanding of key issues—through stakeholder meetings and analyses—and maximize publicity before deciding the community is "charrette ready." There's also a need to balance passionate feedback from citizen designers with technical recommendations from local planning experts required to address complex market realities. 
"It really works! Already we have building projects going up that are consistent with the code, that are bringing new opportunities, more walkable environments, and more housing of all kinds for the people of our community."—Chris Zimmerman
Questions?
We had so many great questions during the Q&A section of the webinar that we couldn't get to all of them. Here's what our speakers had to say about the ones we missed.
Top: A resident of Norman, OK presents during the Center City Vision Charrette. (Image: NCI)