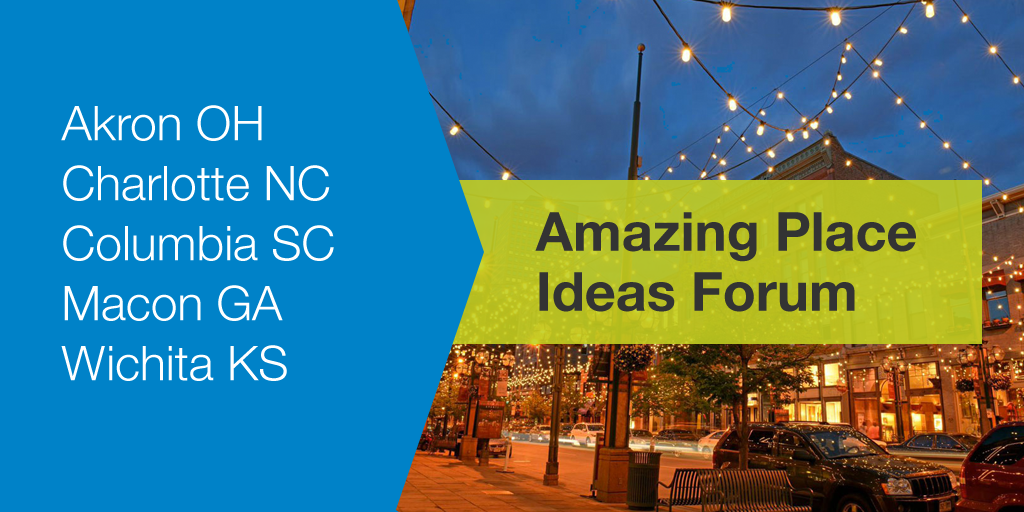 Communities across the country are embracing a new recipe for economic development: creating amazing places where people want to live, work, and play. Our Amazing Place report demonstrates ways that cities are investing in vibrant, walkable neighborhoods to help attract new residents and jobs, support existing businesses, and benefit everyone's quality of life. And starting today, we're going to share stories about how five specific cities are embracing these new strategies.
Updated 8/28/2017: With The Amazing Place Ideas Forum getting underway this week, we corralled all of the related resources in one place for those interested in following along and learning more during the Forum. Read the full report, find out how to follow along online, and read the profiles of the other four participating cities here.
On August 29-31, Smart Growth America, with support from the John S. and James L. Knight Foundation, will bring local leaders from five U.S. cities together at the inaugural Amazing Place Ideas Forum to see innovative placemaking strategies in action. It's an opportunity for the participating cities to get inspired, exchange ideas, and find new ways to advance placemaking strategies in their home city.
Leaders from Akron, OH; Charlotte, NC; Columbia, SC; Macon, GA; and Wichita, KS will meet in Denver, CO to see how that city has used transit investments, strategic redevelopment, and the arts to become a connected place that's now a magnet for millennials.
But you don't need to be with us in Denver later this month to be inspired. As we share stories from each of these five cities over the next few weeks, you'll learn about their unique assets, the placemaking initiatives that are already in motion, and what they hope to take away from the Ideas Forum.
First up in the series, we're highlighting Wichita, Kansas. Stay tuned as we spotlight each of the participating Amazing Place Ideas Forum cities.
We will also be sharing the Amazing Place Ideas Forum on Twitter — follow along at the hashtag #amazingplaceforum.
Wichita looks to cross-sector collaboration
"It's a great time for Wichita, there's a lot of investment happening downtown and in the region." said Léah Sakr Lavender of the Greater Wichita Partnership and Amazing Place Ideas Forum participant.
Within the last decade, Wichita has brought major revitalization to its urban core. Douglas Avenue, which has become a main hub of downtown's development, has over $280 million of investment currently underway. The city, in collaboration with private businesses, has also installed 19 bike share stations and redeveloped the Q Line trolley, a free shuttle service through major hot spots downtown.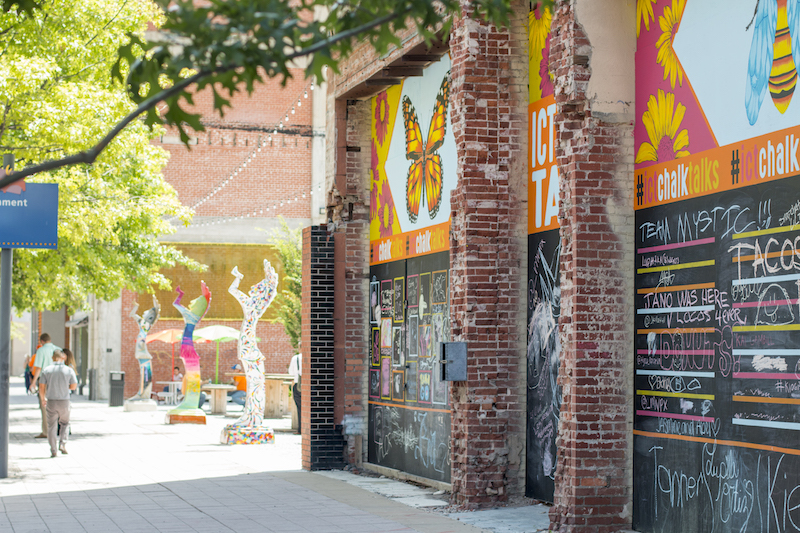 Many of these improvements were driven by the collaborative efforts of the Greater Wichita Partnership and its community partners. The earliest iteration of the Partnership was crafted in 2015, when nearly 100 CEOs, led by the vision of the Wichita Regional Chamber of Commerce, came together to form the Leadership Council, a group dedicated to coordinating local businesses, nonprofits, and government agencies. The Partnership brought existing economic development organizations, the Greater Wichita Economic Development Coalition and the Wichita Downtown Development Corporation, under one roof to develop a unique, holistic approach to community growth.
Two overarching priorities included the creation of a vibrant downtown and attracting and retaining talented workers.
And their commitment has already delivered results. In the past few years, Wichita has cultivated an entrepreneurship ecosystem through programs like 1 Million Cups, the e2e Accelerator, and Startup Grind, a Google partnership.
"We want to continue aligning public-private partnerships and bringing the community together so that Wichita can continue to invest in creating fun, quirky, and unique experiences for our community. We're excited to join Amazing Place Ideas Forum to build on the momentum of all the work we've been doing," said Sakr Lavender.
"Now we have a beach in downtown Wichita"
Local Wichita developer Michael Ramsey of Bokeh Development is not interested in the traditional development practices of the last few decades. "We thought it was very important to not only develop sites where people want to live, but also areas — this allows us to enhance our developments even further."
Ramsey and his team noticed that the most profitable and impactful projects used placemaking strategies to get people interested in the area or incorporated a sense of place through mixed-use development. Bokeh Development partnered with the Wichita Community Foundation, the Knight Foundation, and Downtown Wichita to put some of those strategies into action.
Together, the team invested in placemaking activities such as Wichita's Chalk Talks, Gallery Alley, traffic calming programs, and a hole in the ground turned popup park and beach. The design of the popup park was the result of several planning charrettes with students, local business owners, architects, and developers.
"The popup beach attracted hundreds of people everyday that would have gotten in their cars and driven away…it turned into [a] phenomenal success," said Ramsey.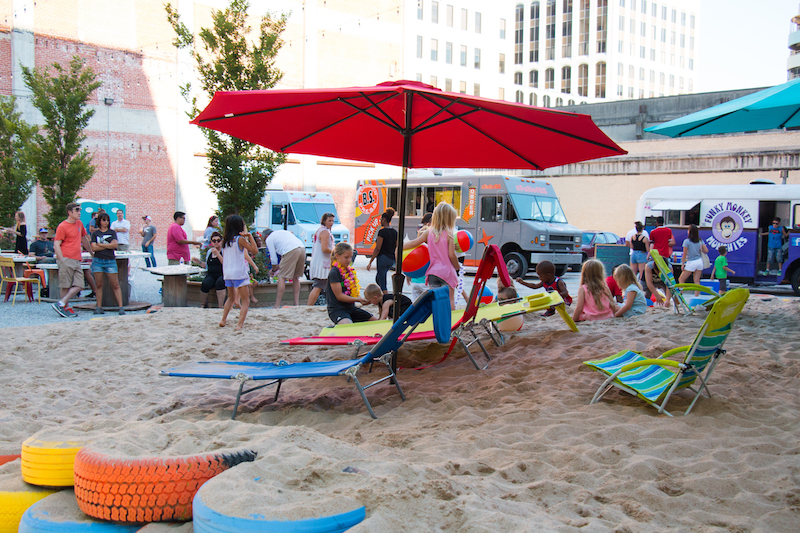 Food trucks activate the space daily by serving lunch to downtown workers. Temporary popups, such as playground equipment from the City's Parks & Creation department, keep the space new and interesting.
"Once the equipment was returned, there was an outcry from parents to continue programming and events. So we got a whole bunch of tires and painted them, laid them down, stacked them up, and then we got this huge amount of sand with beach umbrellas and chairs. Now we have a beach in downtown Wichita."
After achieving success with several smaller projects, changemakers in Wichita are ready to take on placemaking on a larger scale that will boost downtown as a destination and a place residents want to be. But they know there is still work to be done.
"One of the things I've been hearing a lot is that downtown Wichita has an opportunity to enhance walkability," Sakr Lavender noted. "The Amazing Place Ideas Forum will help us develop an action plan to build on the work we already have in place."
Photos courtesy of Greater Wichita Partnership