Amazon dropped a bombshell earlier this week when they announced that they're going to expand from Seattle by building a brand new second headquarters in another city. Based on the qualifications in their RFP, like on-site access to transit and connectivity options like sidewalks and bike lanes to "foster connectivity between buildings/facilities," it's another example of how companies are increasingly seeking out vibrant, walkable, connected urban places as they try to attract and retain talent.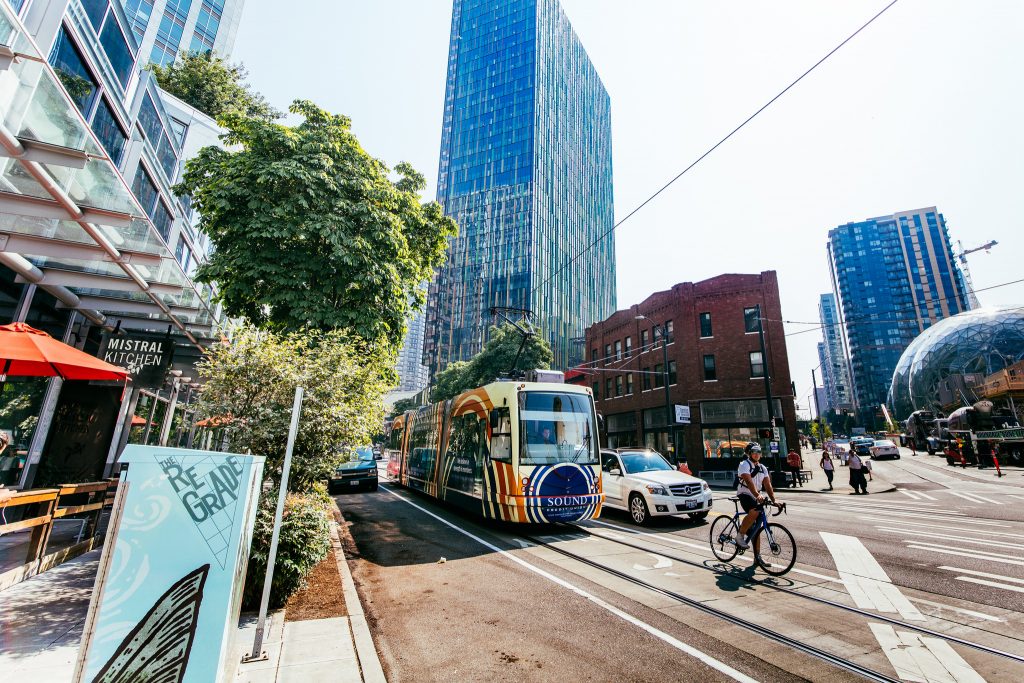 Amazon recently announced its intentions to expand operations from its Seattle home base with a second headquarters, dubbed "HQ2," that could reach 8 million square feet and bring in as many as 50,000 high-paying corporate and tech jobs. This announcement is unique in its magnitude, but more importantly because it shows how smart growth principles are taking root in the C-suites of major American corporations. The regions that will increasingly attract businesses like Amazon — and other knowledge-economy companies —  are those that provide vibrant, walkable urban places for their workforces.  Our recent reports and research like Core Values, Amazing Place, and (Re)Building Downtown — and the direct work with localities we've embarked on as part of it — points toward local governments capitalizing on their downtowns and other walkable locations to attract 21st century jobs.
Or put another way, corporate managers are demanding sites that typify what smart growth is all about.
The scale of Amazon's expansion plans justify the national attention. Let's put 8 million square feet in perspective: the Empire State Building is 2.7 million square feet, the Pentagon is 6.5 million sf and the Transamerica Pyramid in San Francisco is around 700,000 sf.  Amazon HQ2 will be a large development, possibly up to 100 acres, and totaling an area comparable to New York's Central Park. We see this in Seattle where Amazon's current headquarters occupies 8.1 million square feet over 33 buildings of mixed-use office, retail and restaurant space mostly in the South Lake Union neighborhood of Seattle, between downtown and the lake. The footprint of the HQ2 campus is poised to be as large as Amazon's influence in Seattle, which has transformed that area. The term "campus" is not even the best term — bringing to mind conventional office park sites like Initech's offices in the movie Office Space — because HQ2's size will create an entirely new mixed-use walkable urban place.
As people across the country speculate about which city will land Amazon, it's worth considering Amazon's track record. The company deliberately chose a walkable, mixed-use neighborhood that's integrated into its surroundings for their home base in Seattle. This urban focus distinguishes it from other tech giants like Apple, which recently built an isolated, sprawling auto-oriented 2.8 million square foot campus in Cupertino, California that contains more parking space than office space.
We believe that Amazon's approach is in line with future trends of business locations, and Apple's approach — while an architectural marvel — has much more in common with the failing 20th century model of the auto-oriented suburban campus. Recently we've seen General Electric announce a move from Greenwich, Connecticut to the Seaport District in Boston, drive-thru pioneers McDonald's announce a move from their auto-oriented Oak Brook, Illinois campus to Downtown Chicago, and insurance giant State Farm consolidate multiple suburban offices into larger urban buildings connected to transit.
We are not surprised by these trends because our research and work with local partners supports what we see.
In Core Values hundreds of corporate executives told us that they are seeking vibrant, walkable neighborhoods in order to attract educated talent, build a corporate brand and culture, and be where their employees can live, play, and work. Companies whose greatest asset is people, like tech companies, know that to attract talent they must be located in the places their workforce wants to be. Cities understand this too, and in Amazing Place we found that the new recipe for economic development is not tax breaks and subsidies, but creating vibrant neighborhoods through Smart Growth policies and infrastructure investment.
Amazon's request for proposals specifically mentions a desire to be in a place with on-site access to transit, and connectivity options like "sidewalks, bike lanes… and additional creative options to foster connectivity between buildings/facilities." Amazon is asking for the smart growth concepts we have been talking about, and cities should take note — especially those scrambling to win Jeff Bezos' golden ticket.
We hope that whoever lands HQ2 does so because of their investment in vibrant, diverse walkable neighborhoods. Quality urban infrastructure and policies are worth more than tax subsidies, and we hope that Amazon — the 18th largest Fortune 500 company — will not pit cities against one another for subsidies it doesn't need.
Instead of subsidies, Amazon should insist on supportive zoning, transit, bicycle and pedestrian infrastructure, in keeping with its reputation as Fortune's 2nd Most Admired Company. (It's worth saying that it's highly unlikely that Amazon would merely accept the most advantageous economic package that's tied to a location that doesn't tick these boxes above.)
Finally, we hope that the city that lands HQ2 will consider the impact of 8 million square feet of development and 50,000 highly paid employees, and plan for an inclusive future for the communities that Amazon will call home number two.
Michael Rodriguez is Director of Research at Smart Growth America.