The National Complete Streets Coalition's Technical Assistance helps state and local agencies learn to balance the needs of all users and develop and implement effective policies and procedures. Based on our widely used standard, Elements of an Ideal Complete Streets Policy; our policy work lays the foundation for participants looking to adopt or update their Complete Streets policies and our implementation assistance takes participants far beyond the typical session to understand how to transform the decision-making process itself.
Run by the National Complete Streets Coalition, each interactive, day-long workshop is run by two expert instructors. Selected from a pool of nationally-recognized practitioners, who are trained to provide these workshops, they bring a balance of policy and design experience. Each session builds local capacity to implement Complete Streets approaches and strengthens relationships between transportation practitioners, other departments, and the community. Approximately 30 key decision-makers, stakeholders, and agency professionals will learn how to more effectively balance the needs of all users and routinely create and maintain Complete Streets.
We offer four types of Complete Streets workshops: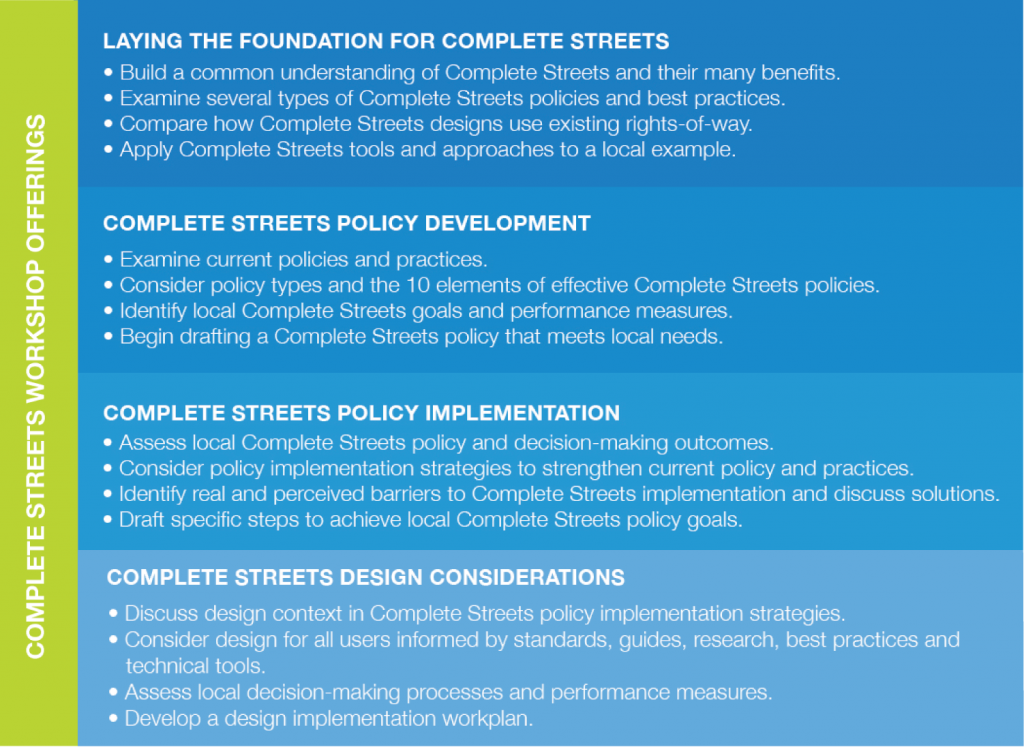 We also offer e-learning:
You can access two modules that are based on the core curriculum of our in-person technical assistance:
Introduction to Designing for Active Transportation

Integrating Land Use into Complete Streets
Click here to learn more about our e-learning offerings.
Get Help
For more information or to schedule a workshop or series of workshops, please contact the National Complete Streets Coalition at info [at] completestreets [dot] org.
DOWNLOAD: Complete Streets Workshops flyer (.pdf)