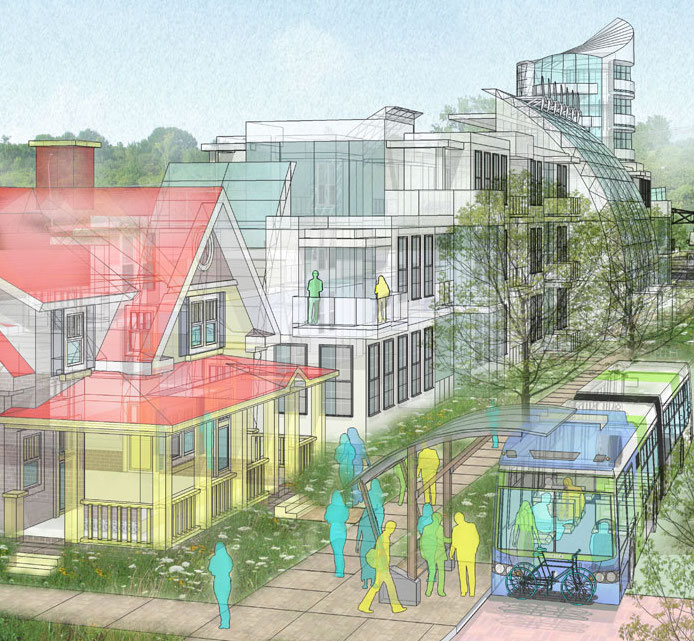 The types of development projects that contribute to vibrant walkable, equitable, and sustainable communities can be complicated and often challenging to finance. So we're doing something new to connect potential investors and developers with smart growth projects in search of a partner: the LOCUS Smart Growth Showcase.
During the 2019 LOCUS Leadership Summit: Opportunity Rising, anyone with a thoughtful smart growth project potentially having a challenging time with financing—town planners, economic development directors, or even private companies, for example—can present their project to a wide audience of potential development partners in the hopes of finding a good match.
Tell us about your project and you could get the chance to pitch your project to a room of real estate industry professionals during the 2019 LOCUS Leadership Summit on June 24. This showcase might be the boost you need to bring catalytic, smart development to your community.
We're looking for projects that go the extra mile to create great neighborhoods where people want to live, work, and play. For example, a project that creates affordable housing within walking distance of a transit hub or spurs job creation within an Opportunity Zone. In short, we want to highlight projects that seek to create shared prosperity in the community beyond the building footprint.
Selected projects will have the opportunity to exhibit their projects through the day and network during an interactive, deal-making lunch.
In addition to pitching their project, presenters will receive:
One complimentary ticket to the June 24 programming of the 2019 LOCUS Leadership Summit: Opportunity Rising. Bring your team to the Summit to collaborate with industry insiders and learn about upcoming trends in real estate and economic development.
Spotlight profile on the LOCUS & Smart Growth America blog.
The deadline to submit projects is April 22, 2019. LOCUS will notify selected applicants by May 1, 2019.