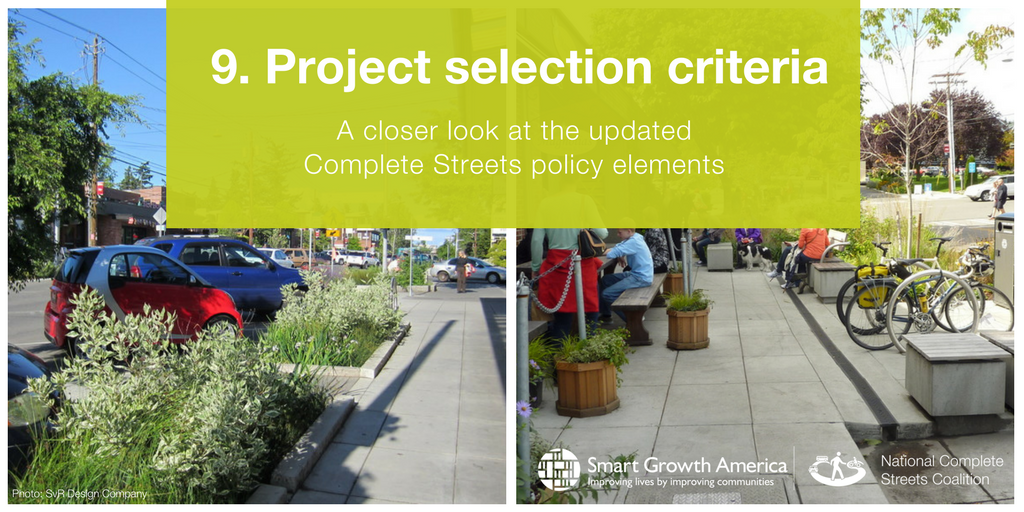 To most effectively implement them, a good Complete Streets policy must be fully integrated into the process for selecting transportation projects. And that process should focus on active transportation projects with a priority on underserved communities in order to reduce health, safety, and economic disparities.
This post is part of Complete Streets month at Smart Growth America. Throughout November, we are running a series of posts to unveil our brand new Complete Streets policy framework — revised for the first time in nearly a decade — explaining each of the 10 newly revised elements in some detail.
An effective Complete Streets policy should modify the process by which a jurisdiction chooses what projects to fund and build in order to actually drive implementation of Complete Streets. For this reason, "project selection criteria" is one of the brand new elements that we added to the revised policy framework.
Criteria for determining the ranking of projects should include assigning weight for active transportation infrastructure; targeting underserved communities; alleviating disparities in health, safety, economic benefit, access destinations; and creating better multimodal network connectivity for all users. Jurisdictions should include equity criteria in their project selection process and give the criteria meaningful weight.
We asked our Steering Committee members from MIG|SvR, based in Seattle, WA, what they thought of the new element: "Project prioritization is one of the ways historic inequities have been perpetuated. By embedding and transparently communicating project prioritization that is based on criteria like increased accessibility, multimodal connectivity, reduction of health inequities, and economic return on investment, agencies build trust with community members as they work to deliver greater mobility for all," said Tom von Schrader.
To earn points for this element as the Coalition evaluates policies each year, the policy will need to establish specific criteria to encourage funding prioritization for Complete Streets implementation and specifically address how improving equity for vulnerable users will be embedded in project selection criteria.
"As engineers, landscape architects, and planners, we see project selection criteria as a moral framework. Is the city making its streets safer and more welcoming for all? When an agency's project selection criteria bend toward a Complete Streets ethic, we know that they are interested in making their streets safer, more equitable and more economically productive."

– Tom von Schrader, Principal at MIG|SvR
Images courtesy of MIG|SvR Winslow Way, Bainbridge Island, WA project.
Stay tuned for more Complete Streets updates during the month of November
Have questions about the changes? Join us as we discuss how the new grading rubric will affect future policies during our webinar on December 1, 2017 at 1:00pm ET. The entire new grading rubric resource will be released on our website shortly before the webinar.  Register for the webinar today >>
We are now accepting nominations for the Best Complete Streets initiatives. Do you know of a project, initiative, event, person, task force, etc. that exemplifies Complete Streets? Fill out this brief nomination form >>
If you have any questions about the changes to the Complete Streets policy framework, please contact us! We're happy to discuss further.
Special thanks to our featured Steering Committee member:

MIG|SvR was founded in 1989 with a mission of providing innovation in the built environment. We are an integrated design firm that blurs the boundaries between landscape architecture, civil engineering, planning and applied ecology. This alloyed foundation gives our 30+ professionals a unique perspective on the public realm and a team-first spirit that guides our relationships with clients, collaborators and communities.