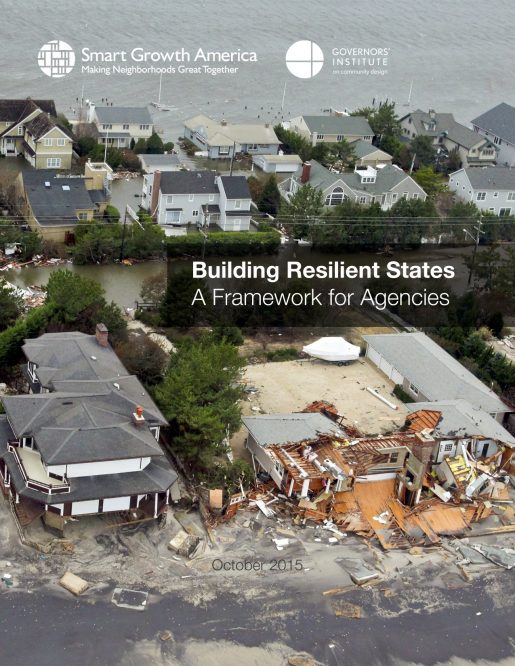 Authors
Publication Date
October 2015
Categories
Tags
Resource Type
Upcoming public events - join us!
Building Resilient States: A Framework for Agencies
Storms, floods, droughts, landslides, and wildfires have affected thousands of individuals, families, businesses, and communities across the United States in recent years. 2012 stands out as particularly devastating. Hurricane Sandy received much attention but a total of 28 states had federal major disaster declarations that year. Many other disasters, emergencies, fire management situations, and other significant events that did not qualify for a Presidential declaration. And unfortunately, the frequency and severity of extreme weather events is only expected to increase in years to come.
States have a unique stake in disaster preparedness and recovery. Disasters can cost states billions of dollars, and they are always a crucial player in post-disaster clean up and recovery efforts. Yet the states vary widely in their readiness to face disasters. States could save a lot of time, money, and lives by being better prepared. Rather than focusing solely on disaster recovery, states can and should plan for long-term resilience to natural disasters and adapt to a changing environment. States can influence this in a number of ways:
Play a significant role in deciding how and where development occurs;
Establish guidelines for local land use plans;
Design, build, and fund critical infrastructure, such as roads, utilities, and water systems;
Fund and approve the siting of hospitals, schools, and state government buildings and facilities;
Set guidelines for construction of state-subsidized housing;
Control conservation funding and oversee environmental remediation;
Provide tools and expertise, such as hazard mapping and long-term planning capacities, to local governments;
Disburse federal resources; and
Build local capacity and commitment to disaster resilience.
These activities represent an enormous opportunity for states to improve their resilience in the face of disaster. Governors can move to ensure that these and other state actions not only carry out their intended purposes (economic development, transportation infrastructure, improved housing, etc.) but also contribute to a state's overall resilience and long-term economic and social well-being.
Ideally, every state action and program should be assessed through the lens of resilience, and resilience should factor into all government decision-making. This approach is so broad, however, that it can lead to paralysis. In addition, not all state actions have equal importance when it comes to their impact on resiliency. From a practical standpoint, governors and their administrations can make significant advances by focusing on a discrete number of key actions and programmatic areas:
Put someone in charge
Seek the advice and expertise of partners outside state government
Integrate future risks into a state Hazard Mitigation Plan and land use policy
Ensure that state investments do not increase vulnerability
Develop strategies to address assets that are already in high-risk areas
Help communities become more resilient
Develop a process for monitoring, measuring, and reporting on progress
The recommendations in this Framework were informed by the Governors' Institute on Community Design's work conducting resilience policy workshops with various states, as well as the 2014 State Resilience and Economic Growth Summit. The Summit brought together 126 representatives from 26 states to discuss ways to improve resilience, and featured national expert panels on vulnerable populations, resilience as economic development, state leadership, and building state-local partnerships as well as presentations by representatives from FEMA, HUD, NOAA, and EPA on federal resilience resources and initiatives.
This Framework provides governors and their administrations specific advice on how to undertake each of these initial steps, as well as examples of successful implementation of each. Every state can learn from these ideas to bounce back more quickly and emerge stronger from disaster.