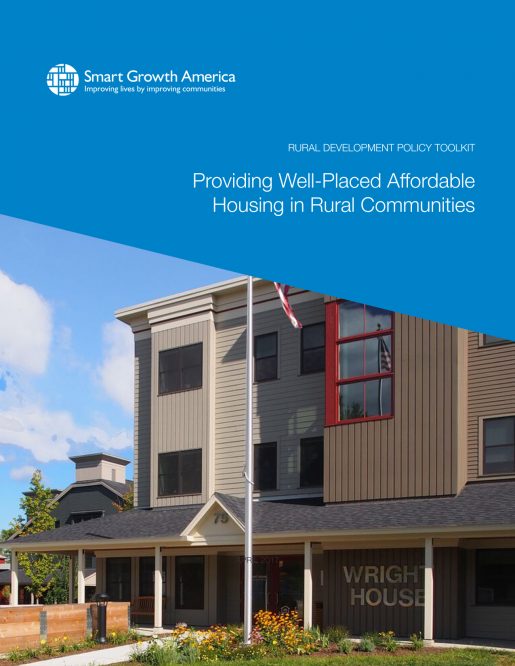 Authors
Publication Date
April 2017
Categories
Resource Type
Upcoming public events - join us!
Providing Well-Placed Affordable Housing in Rural Communities toolkit
The cost of living in rural areas is generally lower than in metro areas, yet many residents of rural cities and towns nevertheless struggle to afford the homes and apartments available in those markets. More than seven million rural households spend over 30 percent of their monthly income on housing, a cost burden that can restrict wealth-building and economic mobility.1 Despite the demonstrated need, affordable housing stock is in short supply and at risk of further decline in many rural communities. Roughly 80 percent of affordable housing mortgages funded in part through the U.S. Department of Agriculture (USDA) Section 515 Rural Rental Housing program will mature between now and 2025, threatening to re-price affordable units in tens of thousands of properties to market rates.
Furthermore, newly added affordable housing that is built is often located far from jobs, hospitals, grocery stores and schools creating high transportation costs and hardship particularly given that many of these households do not have reliable access to transportation. Access to work by other means—including walking, biking, or public transit—can dramatically reduce expenses for low-income households, by decreasing or eliminating vehicle maintenance and fuel as regular costs. When affordable housing is placed such that travel to work is possible without a car, it is far more effective. If it is located in neighborhoods with these options, households are able to live without a car or with one fewer car and the monthly cost of it. As is often the case, they may simply use their car less often. Providing affordable housing and locating it within a short walk to these necessities is key to helping lower-income families in rural areas not only get by, but also prosper. Doing so does not need to come at high cost for local governments.
This toolkit examines how local governments can provide this crucial service with little or no upfront cost by changing zoning restrictions, protecting existing Section 515 housing, and taking advantage of federal assistance.