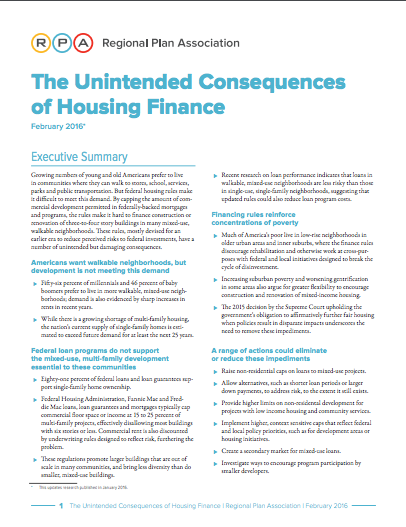 Authors
Publication Date
February 2016
Categories
Resource Type
Upcoming public events - join us!
The Unintended Consequences of Housing Finance
A growing number of Americans wanting to live in walkable, mixed-use neighborhoods—but arcane federal rules make it unnecessarily difficult to build this type of development. A recent study by the Regional Plan Association, released in partnership with LOCUS: Responsible Real Estate Developers and Investors, highlights how—and what lawmakers can do to change it.
The Unintended Consequences of Housing Finance examines several federal regulations around housing finance that were created in the mid-20th century, and the impact of those regulations on the type of development that gets built in the United States.
These regulations restrict commercial development in federally backed housing loans, the report reveals, greatly limiting the availability of financing for three- and four-story buildings that include both residential and commercial uses. This is despite the fact that more and more Americans want to live in walkable, mixed-use neighborhoods.
The rules were developed at a time when loans to commercial properties (such as stores or supermarkets) were seen as too risky to be tied to smaller-scale residential buildings. But development trends have changed, and the restriction on mixed-use housing projects is now constraining the real estate market's ability to provide what Americans' increasingly want. Since private lenders typically adopt federal standards, these restrictions have extended beyond federally backed projects.
A range of actions could eliminate or reduce these impediments, the report explains, including raising non-residential caps on loans, allowing alternatives like shorter loan periods or larger down payments to address risk, or creating a secondary market for mixed-use loans, among others.