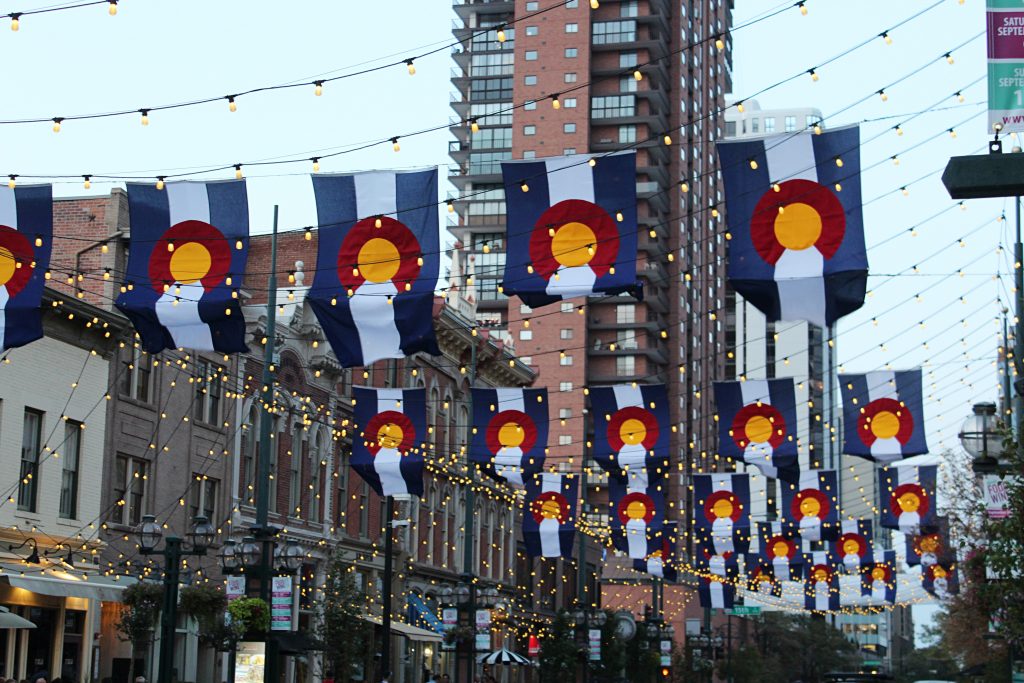 A few weeks ago, SGA brought leadership teams representing five cities to Denver to see firsthand how investing in a unique sense of place and vibrant, walkable neighborhoods is at the heart of a new economic development strategy — helping to attract new residents and jobs, support existing businesses, and benefit everyone's quality of life.
This was the first of two meetings of the Amazing Place Ideas Forum, presented by Smart Growth America with support from the John S. and James L. Knight Foundation. Read about the five cities here, and catch up with a short recap of the best tweets from the event in our last post.
"Place" is at the core of the forum, and so we began not in a boring classroom but on a walking tour to see how the Mile High city has used ambitious investments in transit and placemaking to build a downtown that is a magnet for people and businesses.
The first stop of the day was the project at the heart of downtown Denver's revitalization: the historic Union Station.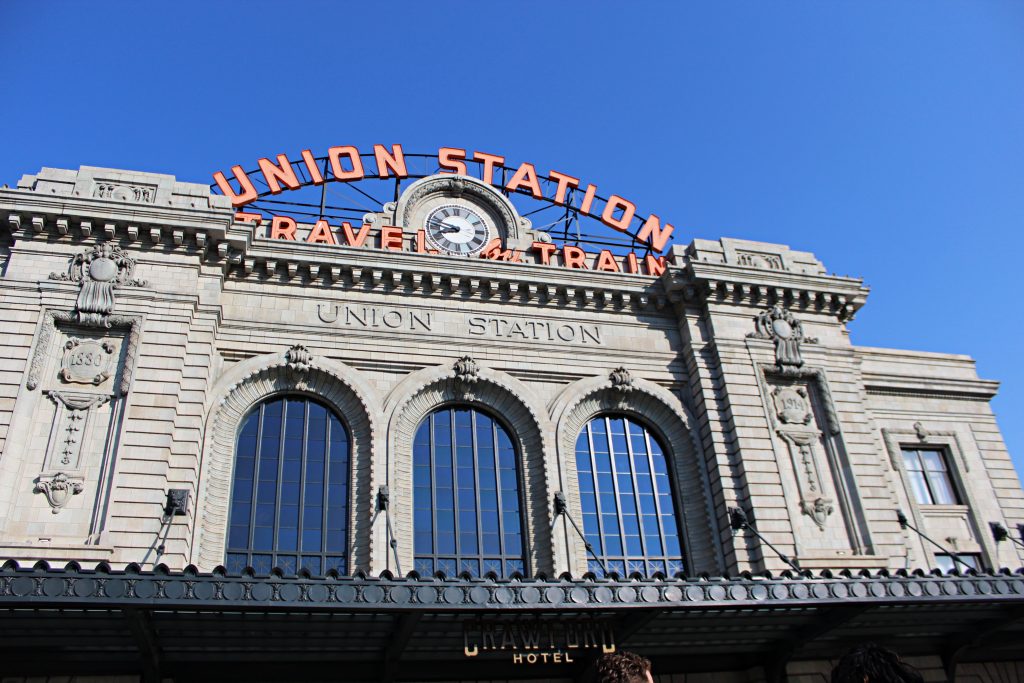 Over the last few years, millions of dollars have been invested to transform the 1914 Beaux Arts depot into a 21st century transit hub and bring together commuter rail lines, regional buses, light rail lines, and other transportation services all under one beautiful roof. Paired with investments in numerous public spaces in and around the historic structure, millions in private investment have followed, with developers building hotels, restaurants, offices and more nearby.
The Union Station project was anything but easy. Bill Sirois, the Transit-Oriented Development Manager for Denver's Regional Transit District (RTD) since 2005, explained how people were able to stay involved in the 10-year implementation process.
"We had a 96-member advisory board," he announced as mouths dropped. "We had really great leadership who were able to keep everyone focused." As to why Union Station and the LoDo neighborhood feel so safe and clean, "it's activated 18 hours a day," he noted, keeping the area full of residents and visitors. Even the underground bus concourse feels welcoming with well-positioned skylights, which fill the space with natural light even 20 feet below ground.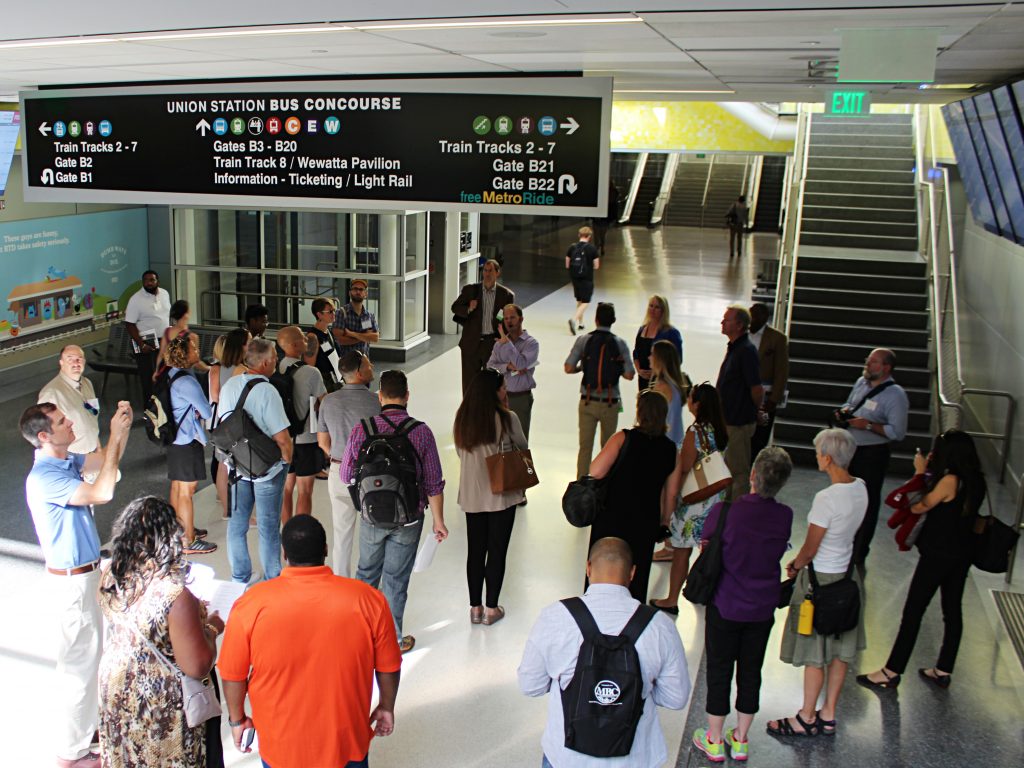 One participant noted how important transit has been for the city's success. "We heard it from the mayor, chamber, small business owners, large companies, and funders alike," she expressed.
With such a successful transportation hub, employers have been flocking to the area, and they're having no trouble finding talent who want to work in LoDo. "Only 21 percent of employees in our downtown Denver office commute alone by car," shared Amanda Tierney, Executive Vice President of EPIC Services at Zayo Group, a digital communications company located around corner from Union Station.
"For each job posting, we have 175 applications," explained Casey Stock, Sustainability Manager at DaVita. When DaVita opened their Denver headquarters in 2012, it was "the only thing on this side of Union Station," shared Kristen DesPalmes, Director of Employment Strategy at DaVita. Now the neighborhood is about to fill its very last vacant space as DaVita expands its world headquarters into a second building.
As they were hearing from community development experts while touring transit hubs, new developments, and other unique places all over the city, participants were encouraged to think about how they can incorporate some of Denver's strategies into their own communities.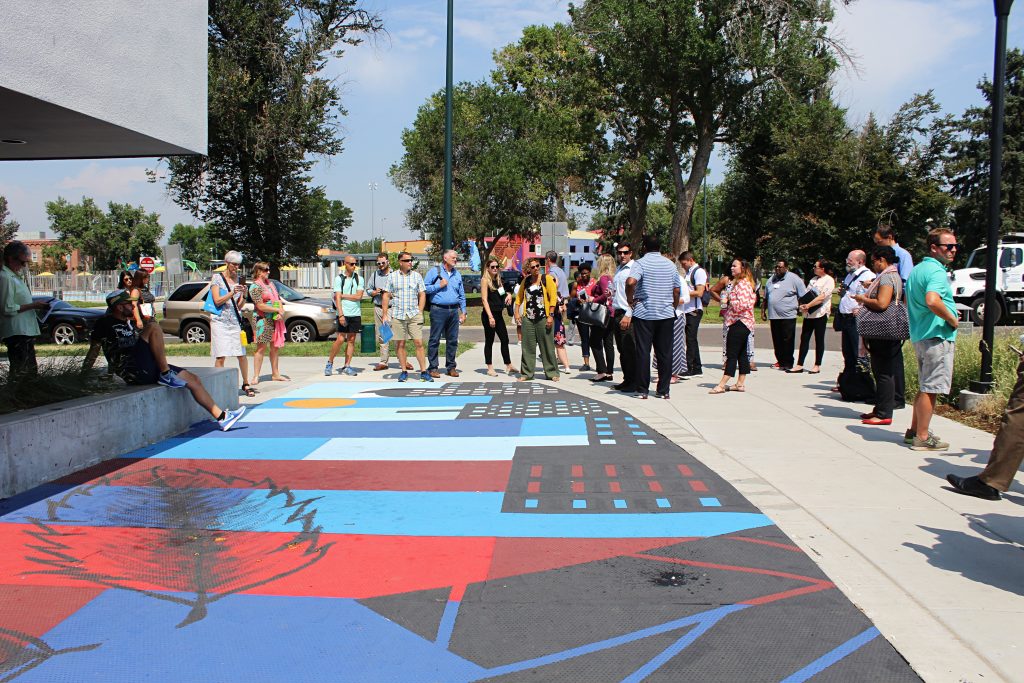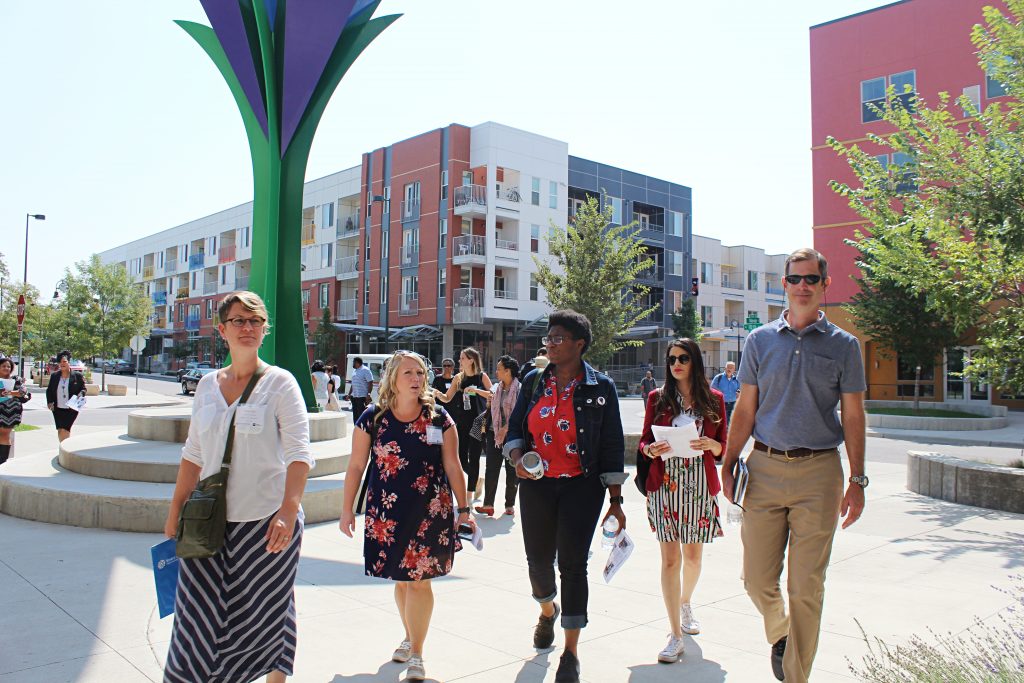 During one segment of the forum, participants were asked to work with their teams to create the newspaper front page they'd want to see in their community 10 years from now.
Akron's team members opted to design their front page after a popular local magazine with the headline, "From Rust to Renaissance." For Charlotte, the headline read, "City held up as model for equitable development" and included a quote from the future Mayor: "Last 10 years have been transformative…and we're just getting started."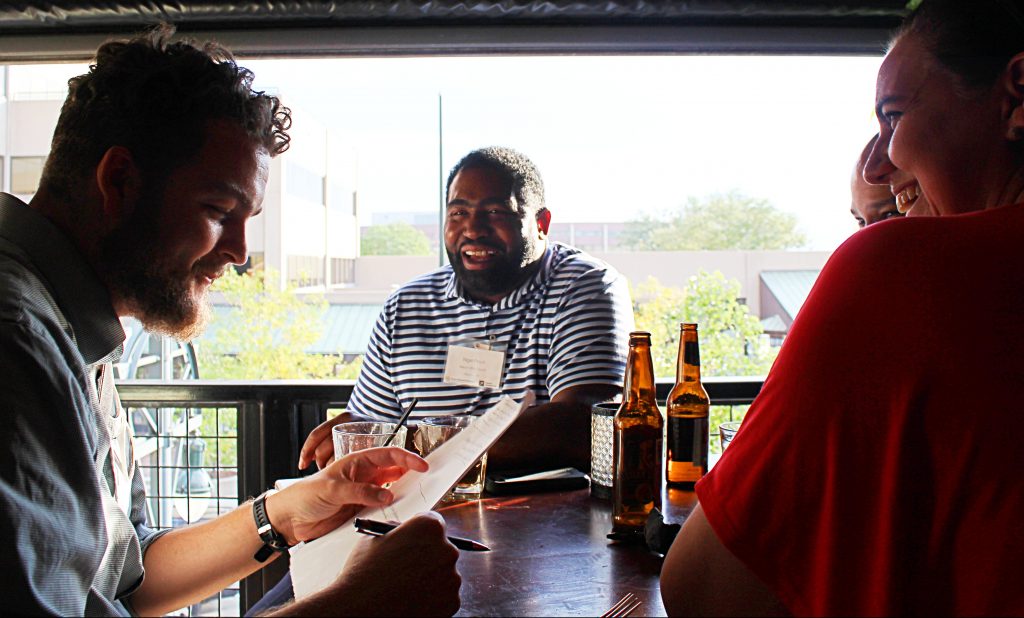 "Think big. Lots of different groups can have great ideas that can be linked together. Think long-term and stick to it," was how one participant summed up the Denver program. Another noted the importance of leadership: "The mayor is a huge advocate and he was very smart to see the opportunities for investment which is a political risk but they all worked out. You need a champion in City Hall!" Another participant recognized that "Denver succeeded thanks to regional collaboration, strong leadership, and persistence."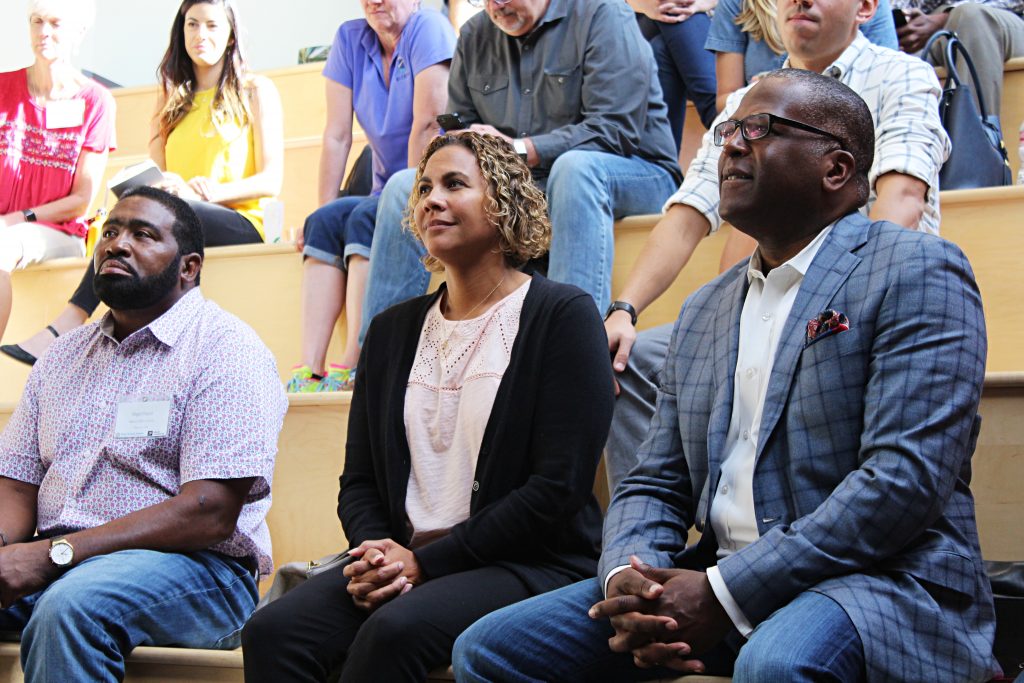 Denver's work has carried through numerous mayoral administrations, and we were fortunate enough to have Mayor Michael Hancock, Denver's current leader, stop by on more than one occasion to speak with the group. He admitted, "We never stop trying to be collaborative and we never stop trying to engage."
During this time in Denver we focused on defining what the new recipe for economic development looks like in practice and showing off the benefits that result from a deep and abiding commitment to it.
In November, we'll head to Greenville, SC, a much different city than Denver, and explore how to truly implement the new recipe into a downtown and an entire community, and examine projects and partnerships on a smaller scale in the smaller southern city. We're looking forward to working closely with Mayor Knox White, who has been a tireless advocate for and leader of downtown Greenville's renaissance and is very passionate about creating attractive,unique places where people want to live, work, and spend their time and money.
Stay tuned for more from the Amazing Place Ideas Forum in November.