Leading up to the release of this year's Best Complete Streets Policies report, we're highlighting the exceptional Complete Streets efforts of leaders and communities around the country. We're excited to highlight the incredible work of changemaker, champion, and advocate Michael Kelley, who has helped nine communities adopt strong Complete Streets policies in the Kansas City area.
Michael Kelley, Policy Director at BikeWalkKC, Kansas City, Missouri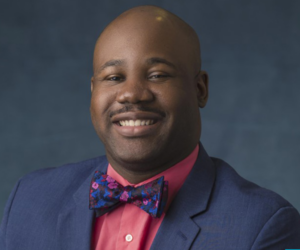 Michael Kelley is a key catalyst for Complete Streets change in the Kansas City area and beyond, and has been instrumental in assisting nine communities to adopt high-scoring Complete Streets policies, particularly in rural areas.
Michael leads BikeWalkKC's efforts to change the built environment and policy landscape in the Kansas City region and beyond to support a culture of active living. His work also includes helping to cultivate statewide coalitions for active transportation in Missouri and Kansas, as well as supporting the successful campaign for a Complete Streets ordinance in Kansas City, Missouri in 2017. Michael serves as a convener, bringing together local officials and community residents to design their communities to be more safe, equitable, and activity-friendly.
He has been pivotal in not only helping these communities pass strong policies, but also in implementing key processes and programs that advance safety, and accessibility, and enhance community quality of life.
The following is a brief excerpt from our Q&A with Michael:
Q&A:
Q: What partnerships did you build to ensure equitable and effective implementation of Complete Streets in your region? What is the value of building these relationships? 
It varies by community, but we've had a lot of success in rural communities, especially by building coalitions with the regional planning commissions (RPCs)— it's because RPCs are staffed by experts whom locals consult to determine whether or not to support something like Complete Streets. Also, getting support from chambers of commerce becomes more important in rural communities because these are some of the community's primary economic drivers.
Engaging with stakeholders who work closely on Complete Streets but have traditionally been excluded from the conversation is critical. And having diverse representation within the coalition allows leaders to better understand the community and support its unique needs and accessibility. Bringing together these stakeholders helps to lay the groundwork for them to start imagining what specific projects they should prioritize and to help set a collective vision for the community.
Q: Beyond passing policies, how has your region been successful in communicating the benefits of Complete Streets?
There is still work to be done to communicate the impact and true benefit of safer and more active design in urban, suburban, and rural communities. Our region has been successful in telling the story and making the case for Complete Streets by reaching out to our neighboring communities, particularly religious communities—like the Amish and Mennonite communities—who will benefit the most from safer road design. We emphasize how investing in street improvements not only makes it safer for your children to get to school, but also for people who ride horse-drawn carriages from the town center to their homes. And that often opens folks up to considering how Complete Streets can work in their community.
We also like to bring in experienced staff and local leaders who can speak to the shared experiences and challenges that many communities may face when planning, passing, and implementing a Complete Streets policy. These individuals are good messengers and can help instill confidence in leaders seeking to effect similar changes in their communities.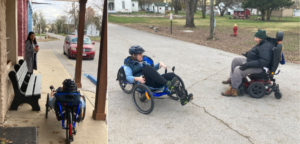 Alt text: Photo of resident riding a recumbent tricycle during a community street assessment.
Q: How do you make the case for adopting Complete Streets policies in rural and lower-capacity communities? 
Making a strong case for anything starts with a strong partner. Especially partners who can speak to your credibility. BikeWalkKC is part of a statewide coalition, Missourians for Responsible Transportation (MRT) that seeks to improve transportation safety and access in Missouri, in part through policy adoption. As part of  MRT, BikeWalkKC has on-the-ground partners throughout the state who have helped us "get our foot in the door" and build relationships with local leaders who we might not have otherwise been able to connect with.  
Developing and implementing a Complete Streets policy can seem daunting at first, particularly in communities with limited capacity or in areas where there has historically been little interest or support. What procedures need to be incorporated into the policy? Who should be involved in drafting the policy? How much will it cost? 
As regional advocates, we are there to support and encourage communities throughout the process. An effective way to do that is by sharing successful Complete Streets examples from neighboring communities and educating people on the benefits. This is really effective—especially for communities that are skeptical. By seeing examples from sister and neighboring communities, it's easier to imagine what's possible in their own community. And it can foster healthy competition, encouraging leaders to keep up with the innovation and change taking place around them.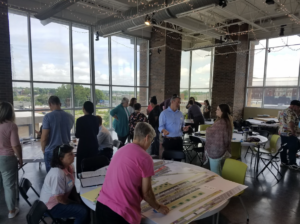 Alt text: Photo of a community engagement session featuring the "Home Street Home" interactive exhibit.
Q: The Kansas City area has taken a unique regional approach to passing and implementing Complete Streets policies. What prompted your organization to take this approach? And what has been different about using this approach?
BikeWalkKC initially chose this approach because of funding; we received a grant that allowed us to work with rural communities on active transportation. Most of the communities are located along the Rock Island Trail, a former rail corridor that has recently been transformed into a trail system. The development of the Rock Island Trail has helped several communities to recognize the benefits of investing in active transportation.
Many of these communities needed further support for their vision. Our planning team assisted in the development of implementation plans—starting with many small-scale changes, such as formally adopting plans, but also beginning to fund sidewalks, street signs, benches, and other low-level elements. These small improvements are crucial to demonstrate that it is possible to get something done in the short term. They also help lay the groundwork for a strong future active transportation network, not just within communities, but between communities as well.
Q: How were you able to tailor your Complete Streets policy approach to better serve rural communities? In your experience, what are some best practices for passing and implementing policies in rural communities?
BikeWalkKC developed a model Complete Streets Policy, reviewed by the National Complete Streets Coalition, that demonstrates what national leaders and experts identify as key policy elements. We also created "Complete Streets for your community," which encourages community leaders and stakeholders to identify key users who must be considered in their community's policy, such as horse-drawn carriages, golf cart users, and emergency services. 
We encourage communities to identify important places that they want to preserve and build on. The ability to call out specific examples and nuances of the community helps create a policy that reflects what their transportation system is like, and what they want it to be.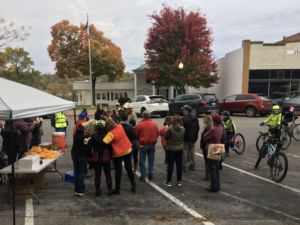 Alt text: Photo of local residents preparing for a community walk audit.
I also believe it is critical to conduct walk audits, which put people on the ground in their communities to better understand the pedestrian perspective.  Many of these places lack sidewalks, ramps, frequent crosswalks, and other safety features. Conducting walk audits helps people better understand the challenges their fellow residents face when navigating their community's roads. It also demonstrates the stark differences in what people believe is necessary for road improvements. 
Another activity we provide is our "Home Street Home" exhibition, a mobile display that we can take to libraries and community centers to help people learn the various aspects of street development. They can also visualize what a new street could look like and imagine what the impacts and benefits can be.
That's been really helpful in educating the public, because this is often their first interaction with community planning and their first time really thinking about what a vision for a different community might look like.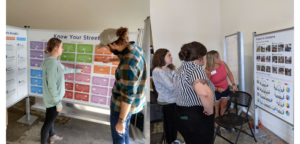 Alt text: Photo of local residents engaging with the "Home Street Home" exhibit.
You can learn more about Michael Kelley and BikeWalkKC's work on their website, and on Instagram and Twitter.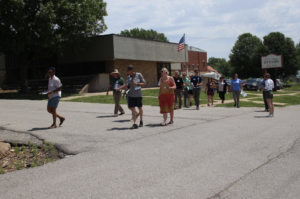 Alt text: Photo of local residents conducting a walk audit in their community.