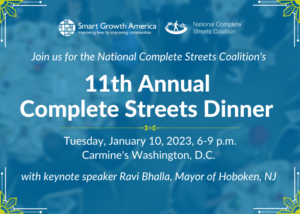 We invite you to join the National Complete Streets Coalition at our Eleventh Annual Complete Streets Dinner on Tuesday, January 10, 2023, from 6-9 p.m. at Carmine's in Washington, DC. 
The annual dinner brings together the top Complete Streets professionals, policymakers, supporters, and friends to network and celebrates the coalition and movement's recent successes. This year we are thrilled to celebrate the coalition's partnerships, progress, and the passage of over 1,600 Complete Streets policies across the country!
We are also delighted to welcome Mayor Ravi Bhalla and Ryan Sharp, Director of Transportation and Parking, from the City of Hoboken, New Jersey as our keynote speakers. A city that has been a critical leader in reducing pedestrian fatalities, having not recorded a single traffic death over the past four years.
Tickets are sold out for the 11th Annual Complete Streets Dinner. For more information, or to join the Coalition, email Ebony Venson.
Thank you to our sponsors and partners Michael Baker International, Nelson\Nygaard, and AARP for making the dinner possible.