This November, we continued our webinar series, Complete Streets 301: Putting people first, with a Complete Streets federal policy update. A recording of the webinar is now available. You can also download a PDF of the presentation or read the brief recap below.
Emiko Atherton, Director of the National Complete Streets Coalition, kicked off the webinar by sharing the history of federal Complete Streets advocacy over the last two decades. She then described the successful, Massachusetts-based Complete Streets program on which the federal Complete Streets Act of 2019 is modeled.
Massachusetts' program has motivated over half of the towns and cities in the state to adopt Complete Streets policies and officials from almost 90 percent of jurisdictions attended Complete Streets trainings. As of May 2019, 198 communities passed policies approved by the state, 161 completed prioritization plans, and the state has funded 106 Complete Streets projects over three years. Dozens of communities throughout the state, and the state itself, have committed to continue working for safer streets under the Network of Age-friendly States and Communities.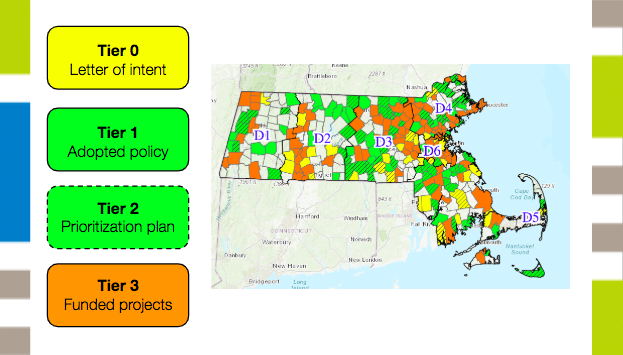 Next, Scott Goldstein, Policy Director for our sister organization, Transportation for America, outlined specifically what the Complete Streets Act of 2019 would do and what the process will be to get it passed. He made sure to explain the broader context of transportation funding and the reauthorization process.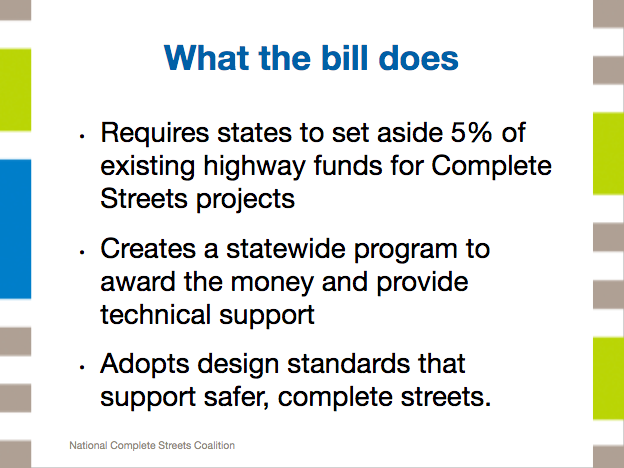 Finally, he emphasized that legislative change cannot happen without the wide-spread, vocal support of advocates. Your members of congress want to hear from you.
You can learn more about the crisis of pedestrian fatalities on our nation's streets by checking out Dangerous by Design. Explore the different tabs for data on vulnerable populations, the most dangerous congressional districts, and more.