CHILLICOTHE BUILDING RELATIONSHIPS
Location: Chillicothe, OH
Population: 21,668 (2020)
Typologies: Traditional main street; Edge
Key takeaway: Chillicothe's process was successful because the decisions the city made were driven by and through the extensive community engagement that was conducted. This led the city to pursue a hybrid option of preserving the fixed-route service while also adding the on-demand option for flexibility where the fixed route didn't reach.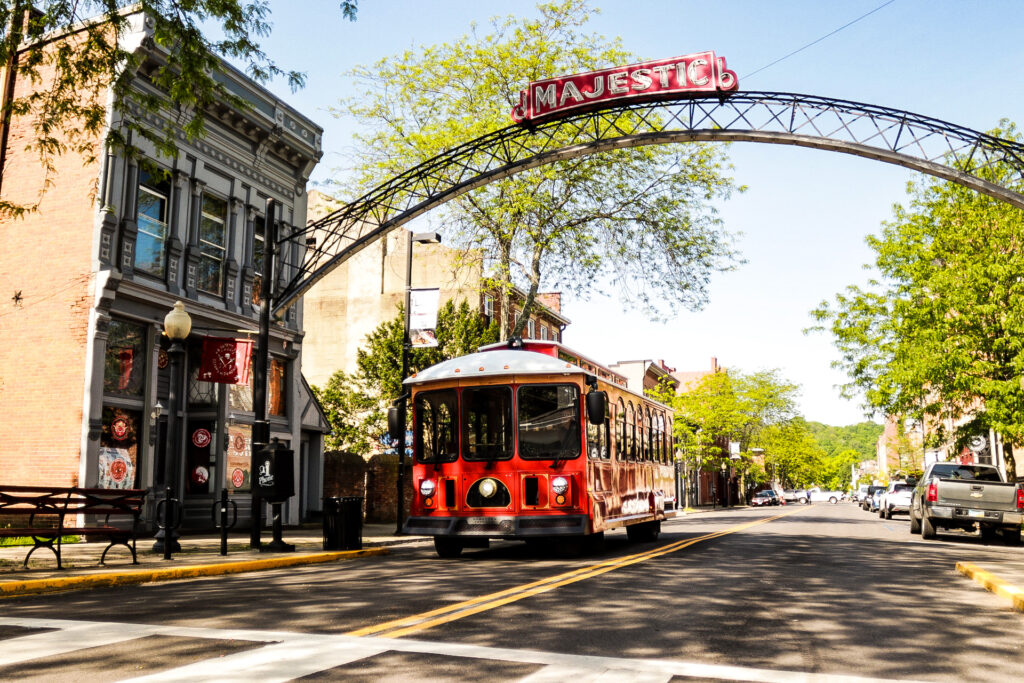 ---
Chillicothe, Ohio's first (and third) capital city, sits in southern Ohio, near the foothills of the Appalachian Mountains. US Routes 23 and 50 dissect the city, and like in many small towns and rural communities, these major corridors built to prioritize cars above all else have also divided the community. But leaders of Chillicothe have been working hard to improve access and mobility in the community for everyone to safely walk, bike, roll, and use public transit.
From November 2020 to August 2021, Chillicothe participated in the Bloomberg Harvard Innovation Track, a Leadership Initiative program where 11 interdisciplinary city teams from across the US developed innovative solutions to a pressing city problem. Chillicothe focused on improving public transit throughout the city. The city's journey over the year led to a complete revamp of service, from a fixed-route only service with extremely inefficient and long routes, to a mix of 30-minute fixed routes coupled with on-demand point-to-point service. The new transit system covers the whole city and two outlying regions where major employers exist. The city also partnered with the library to locate a transit transfer hub and introduced a new trolley system, an idea that came from their community engagement sessions. The trolley was piloted in December 2021 and received an overwhelmingly positive response with over 750 visitors in the pilot week, which led to the service being officially launched in June 2022.
"Instead of a forum or interview, if you hop on the bus and say, "Hey, what do you like or not?" They start chatting with you. And then the only other piece is getting them to trust you. When we first started talking, people didn't want to say anything bad. They were like, "Oh, it's fine." and I was like, "Well, ma'am, you've been on the bus for 45 minutes. Is it really fine?" – Asti Powell, Director of Planning and Development, Chillicothe, OH