OXFORD'S COMPLETE STREETS ADD ECONOMIC BENEFITS
Location: Oxford, MS
Population: 27,662 (2020)
Typologies: Traditional main street community; College community.
Key takeaway: Improving safety and comfort for people walking, biking, and rolling can improve not only the safety and enjoyment of people in a rural community but also the economy of the community.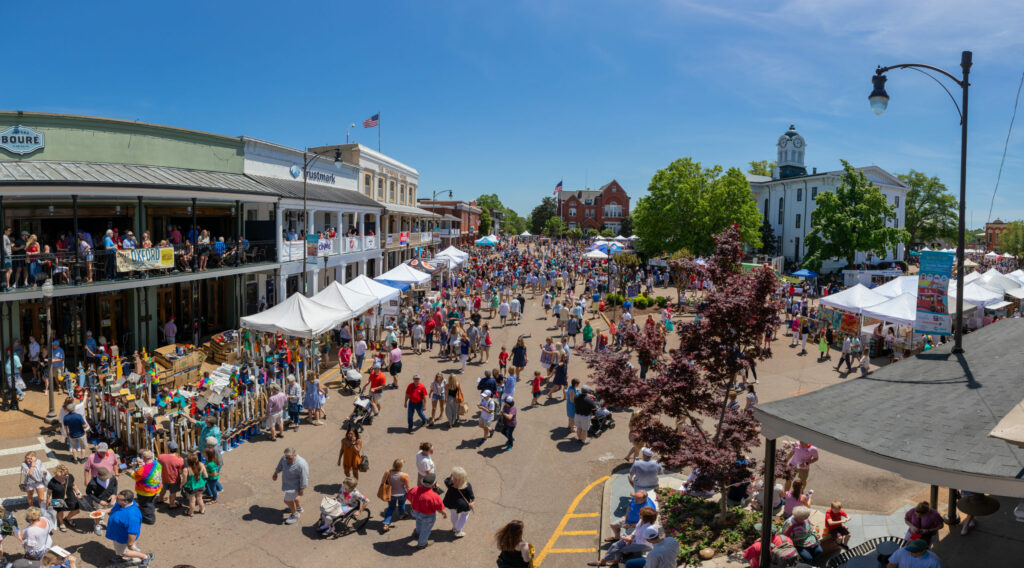 ---
Oxford, MS, is home to the University of Mississippi with a population of about 27,000 residents and a picture-book downtown square. Oxford has a rich history as the former home of William Faulkner, and a successful food and retail scene. Oxford recognizes that safe, walkable streets are a key part of making downtown economically prosperous. Since the 1990s, Oxford's economic development foundation has focused on creating an environment where people enjoy everyday life.
Oxford focused on creating good design standards for streets to make them safer and more comfortable for people walking, biking, and rolling. These strategies paid off—Oxford was ranked ninth for strongest micropolitan economy in the US in 2019. Today, Oxford's Complete Streets resolution is improving safety for people walking in the downtown area. The City is converting East Jackson Avenue in downtown into a more walk-friendly corridor. This is important since although it has a row of restaurants, retail, and heavy foot traffic, it is one of the least walking-friendly streets in the community.