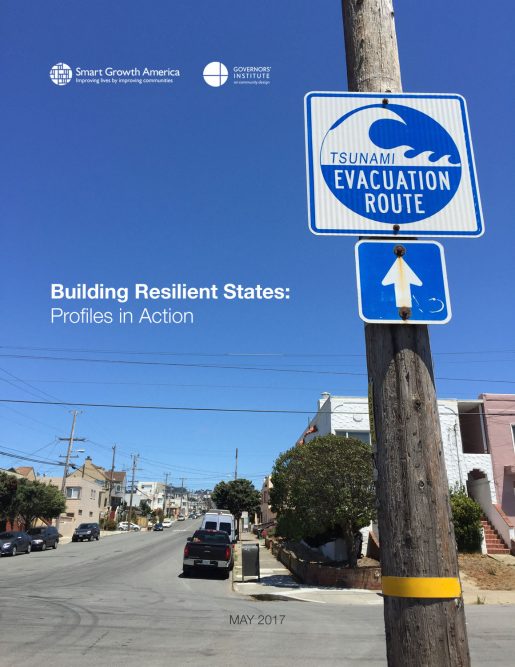 Authors
Publication Date
May 2017
Categories
Tags
Resource Type
Upcoming public events - join us!
Building Resilient States: Profiles in Action
In October 2015, the Governors' Institute on Community Design, a program run in partnership with the U.S. Environmental Protection Agency and Smart Growth America, released Building Resilient States: A Framework for Agencies, a report intended to introduce and integrate land use and transportation issues into states' conversations about resilience. The Framework was designed to help disaster preparedness professionals understand how strategic decisions about land use and transportation can make communities more resilient from the ground up. The report also included an appendix of additional resources, including federal, state, and local efforts already using the report's recommendations.
Building Resilient States: Profiles in Action is a companion to that first report and highlights several local, regional, and statewide resilience efforts in greater depth. Profiles in Action is meant to more deeply explore the advice provided in the Framework, provide actionable steps for implementation, and highlight examples of agencies taking action.
Profiles in Action uses the same seven steps outlined in the Framework that governors and their administrations can take to advance resilience:
Put someone in charge
Seek the advice and expertise of partners outside state government
Integrate future risks into a state Hazard Mitigation Plan and land use policy
Ensure that state investments do not increase vulnerability
Develop strategies to address assets that are already in high-risk areas
Help communities become more resilient
Develop a process for monitoring, measuring, and reporting on progress
Building on the recommendations discussed in the first report, Profiles in Action looks at implementation case studies in each of these seven areas, including examples from Colorado, Oregon, Connecticut, New Hampshire, Vermont, California, Ohio, New York, Florida, North Carolina, and Louisiana.
It is more important than ever to make sure state spending decisions about natural hazard mitigation and recovery are cost-effective in both the short- and long-terms. Thoughtful and coordinated investment decisions that reinvest in existing communities and infrastructure make sense in the short-term by creating more jobs and accelerating recovery. This approach can also limit long-term infrastructure costs and maintenance associated with inefficient land use and the environmental externalities of greenfield development.
We hope that other jurisdictions can learn from the successes and challenges of the examples included in this report, and implement and expand their own efforts around resilience, hazard mitigation, and disaster recovery.