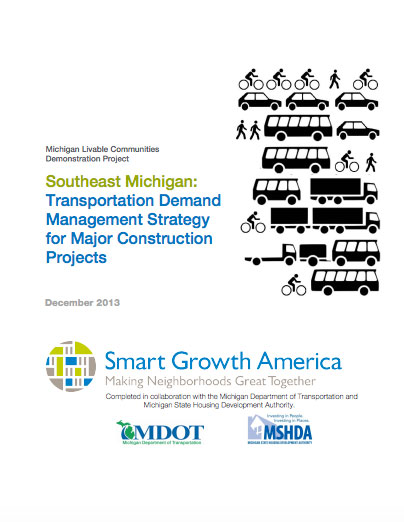 Authors
Publication Date
December 2013
Categories
Tags
Resource Type
DOT Innovation in Michigan
This report is one of several created as part of our DOT Innovation work in the state of Michigan. See the full series ››
Southeast Michigan Transportation Demand Management Strategy
The SEMCOG region is on the cusp of dramatic change. A number of major capital construction projects are on the horizon to break ground in the coming weeks and years.
In an already congested region, these major construction projects have the potential to inconvenience local and regional travelers. But they also have the potential to provide another kind of traveler experience.
Transportation demand management (TDM) is a broad suite of strategies that meet travel and connectivity demands by raising the awareness, use, convenience and attractiveness of alternative travel options and/or moving certain trips to times when roadway facilities are congested (or eliminating the need to travel all together!).
The SEMCOG region has an abundance of resources that provide a strong foundation for TDM as a mitigation strategy to reduce or eliminate the potential inconvenience of these major construction projects. These resources include not only the physical facilities of alternate routes, bicycle networks, and transit services; but also the institutional resources of a coordinated regional planning agency, a creative Department of Transportation and committed local agencies, advocates, and service providers.
This report is the product of a collaborative project. Smart Growth America, a national non-profit focused on sustainable growth policies and practices, provided technical assistance to a diverse group of stakeholders coordinated through the Southeast Michigan Council of Governments.
The project defined the opportunity of TDM in the region and its application in association with these pending mega-projects; assessed available infrastructure and institutional assets to build on; and defined an implementable strategy for pursuing action.
The project focused on four major capital projects:
M-1 Rail on Woodward Avenue
I-96 major rehabilitation
I-94 reconstruction
I-75 major improvements
The strategic implementation plan includes tailored strategies for transportation demand management in the unique context of each one of these project areas. It also recommends broader actions for pursuit on a larger scale including regional tools and employer encouragement and participation.
The project concludes with identification of recommended performance measures to evaluate the effectiveness of the individual strategies and their effect on travel in the corridor and larger region.
This technical assistance report provides a starting point. It is a starting point for action as much as it is a framework for continued dialogue and partnership.