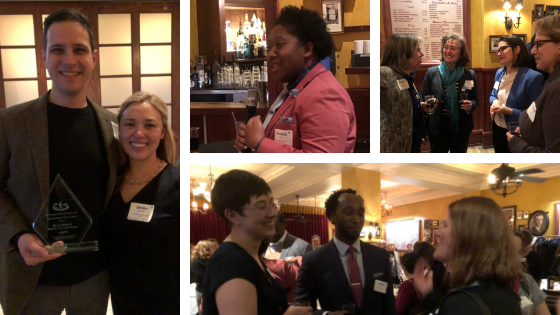 On January 15th, the National Complete Streets Coalition hosted the Ninth Annual Complete Streets Dinner in Washington, DC. We were joined by over 70 Complete Streets partners, advocates, supporters, and friends who came together to share a meal, get to know each other, and celebrate an eventful year at the Coalition.
The evening began with Calvin Gladney, president and CEO of Smart Growth America, and Rich Weaver, the director of planning, policy, and sustainability at the American Public Transportation Association and chair of the Complete Streets steering committee, who welcomed the group and thanked the Coalition's partners and dinner sponsors, MIG | SvR and the National Association of Realtors.
Emiko Atherton, Director of the Coalition, spoke next about all the work that we were able to accomplish in 2018. She then gave an inspiring introduction to our speaker for the night, Tamika Butler, a national leader in transportation equity.
"Who keeps us honest and who's our guiding light? Tamika Butler is one of those lights." – Emiko Atherton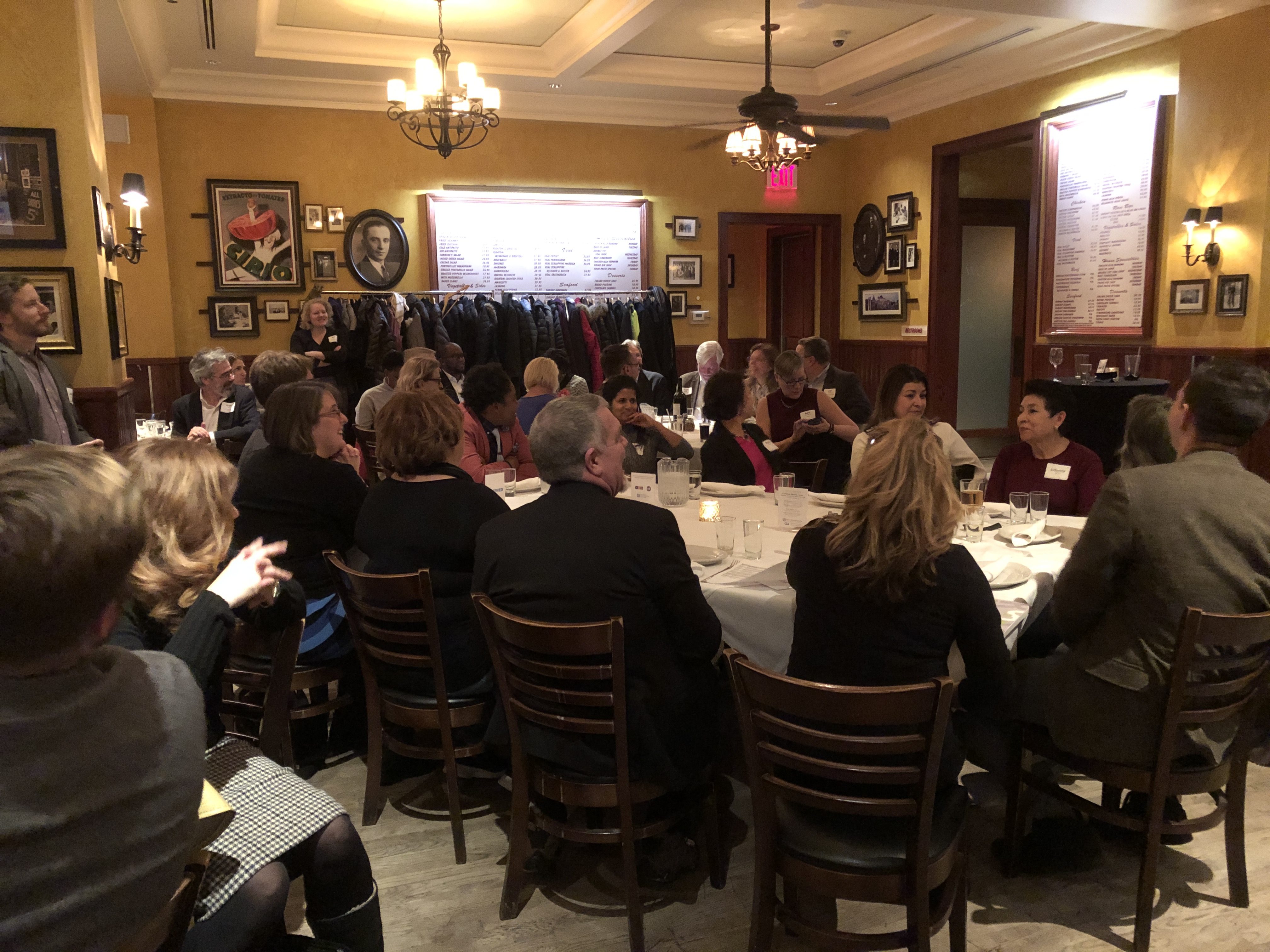 Tamika immediately grabbed everyone's attention, beginning her remarks by addressing the explosive TV documentary Surviving R. Kelly that aired January 3, 2019. The TV series shook the black community nationwide as it detailed new allegations about the singer's physical, mental, and sexual abuse with more than 50 interviews. R. Kelly was beloved by Tamika and many other people in the black community as an individual who has 'made it'; being confronted with these public allegations was a complex and intensely emotional experience for Tamika and many other people of color across the country. But the documentary isn't broadly known among white people.
You couldn't operate in the world without realizing Dr. Ford testified about Brett Kavanaugh. White people live in a world where they don't have to be aware of #SurvivingRKelly. People of color are required to know what's happening in the white world. –@TamikaButler #MoveEquity

— Barb Chamberlain (@barbchamberlain) January 16, 2019
Using this experience as an example, along with other deeply personal anecdotes, Tamika illustrated how the concerns of people of color are rarely, if ever, acknowledged by white people, yet people of color are expected to function and understand the news and concerns of white people as the "norm."
"As a black woman I have been in multiple situations where it is clear to me that if I were white I would have a very different experience." – Tamika Butler
Tamika translated these personal experiences to the broader work that we must do to advance equity in the transportation world. She left us with three steps: Talk, care, do. She urged all of us to talk about equity—even and especially when it's uncomfortable. And people of color shouldn't be the only ones having to take on the added physical and emotional labor of this work or be expected to know about everything in "their community." Finally, and perhaps most importantly, Tamika called on all of us to actually do something about it. She asked all of us to think about how we are going to do the hard work and show people of color that we care.
"You have to be willing to talk about all the uncomfortable hard parts. When we talk about equity in transportation we're actually talking about inequities. The people we talk about are also survivors in systems that exclude them." – Tamika Butler
People working on transportation are actually changing the places in which we live. We can do work that enables people to move freely and with dignity. We need to talk about it. Care about it. Do something about it. –@TamikaButler #MoveEquity #CompleteStreets

— Barb Chamberlain (@barbchamberlain) January 16, 2019
We concluded the night by presenting the National Complete Streets Champion Award to Ryan Dorsey, Councilmember in the City of Baltimore, for his leadership and contributions to the Complete Streets movement. Councilmember Dorsey's recent efforts to embed equity in Baltimore's approach to Complete Streets really embody Tamika's three steps. He understood and openly talked about how long standing inequities in Baltimore's transportation system continue to disadvantage communities of color. He cared about this problem and worked for over a year alongside other community leaders to build a coalition to work toward policy change. And he made that change a reality by introducing and ultimately adopting a new Complete Streets ordinance in Baltimore that goes above and beyond to make equity a priority in project selection and community engagement.
.@ElectRyanDorsey receiving this year's #CompleteStreets Champion Award for his incredible leadership and service in the Complete Streets movement. Baltimore made some serious street waves in 2018 #PassedABill #ItsBinding #ImplementationTime pic.twitter.com/MnVsGFhUxj

— Complete Streets (@completestreets) January 16, 2019
Thank you to everyone who attended the event and who has helped push Complete Streets forward this past year. We're grateful you are a part of this movement with us and we hope you'll all join us next year.