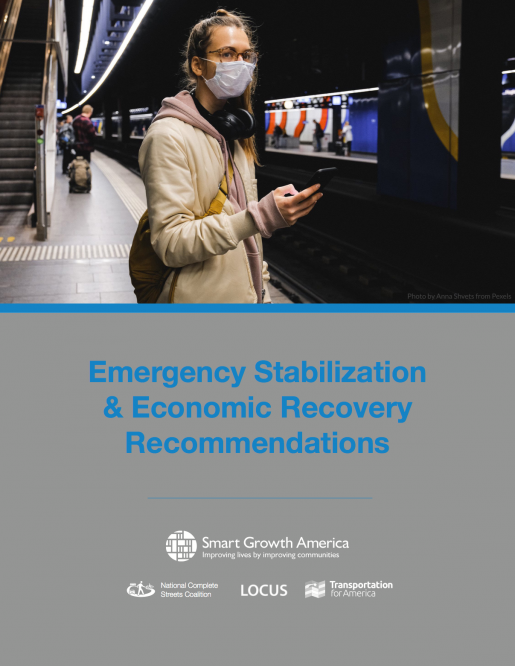 Authors
Publication Date
April 2020
Categories
Tags
Resource Type
Upcoming public events - join us!
Emergency Stabilization & Economic Recovery Recommendations
The economic collapse brought on by the spread of COVID-19 has necessitated urgent action to protect our economy. With a $2 trillion emergency stabilization package already approved, Congress and the administration will continue developing other economic recovery legislation over the coming weeks and months. They will continue to need to prioritize immediate, emergency steps required to avert economic disaster, and secondly, they need to focus on catalyzing a long-lasting recovery in the wake of this prolonged crisis. But we must invest wisely. We must not squander money investing in a way that fails to provide a foundation for long-term economic growth. Instead, funds must go to investments that build lasting economic prosperity and ultimately help all Americans have the opportunity to live in a place that is healthy, prosperous, and resilient.
While many sectors of our economy are in need of support, we encourage policy makers to provide support for the infrastructure and community revitalization programs that will protect the segments of the economy most at immediate risk and benefit local communities the most during the nadir of this crisis, while also building a foundation for long-term recovery.
Congress should support the following recommendations for stabilization and long-term recovery, separated into two broad areas: (1) Infrastructure investments, and (2) housing and community development investments.
Focus any infrastructure funds on projects that create the most jobs per dollar
Operating support for transit to preserve jobs and service and provide essential transportation options in recovery
Put America to work maintaining transit
Expand public transit
Expand passenger rail
Unlock $28 billion in community revitalization funds currently sitting idle
Give small or poorer communities quicker access to federal assistance.
Prioritize safety and increase access to jobs and other essential services through investments in Complete Streets
Expand broadband to disadvantaged, small, and rural communities
Create a national community retrofit program to encourage private investment
Promote equitable transit-oriented development (TOD) and mobility
Require clear, transparent, accountable reporting for all recovery funds
Download the recommendations to see detailed policy asks for each point.
Protect and expand the housing credit program
Remove the 401K tax penalty for COVID-19-incurred emergency housing and transportation costs
Increase federal funding for affordable housing and community development
Establish REHAB tax credit to revitalize downtowns and retrofit suburbs
Invest in public health and resilient communities
Reduce barriers to housing by establishing home savings accounts
Establish a renters' tax credit
Support middle-income housing
Download the recommendations to see detailed policy asks for each point.