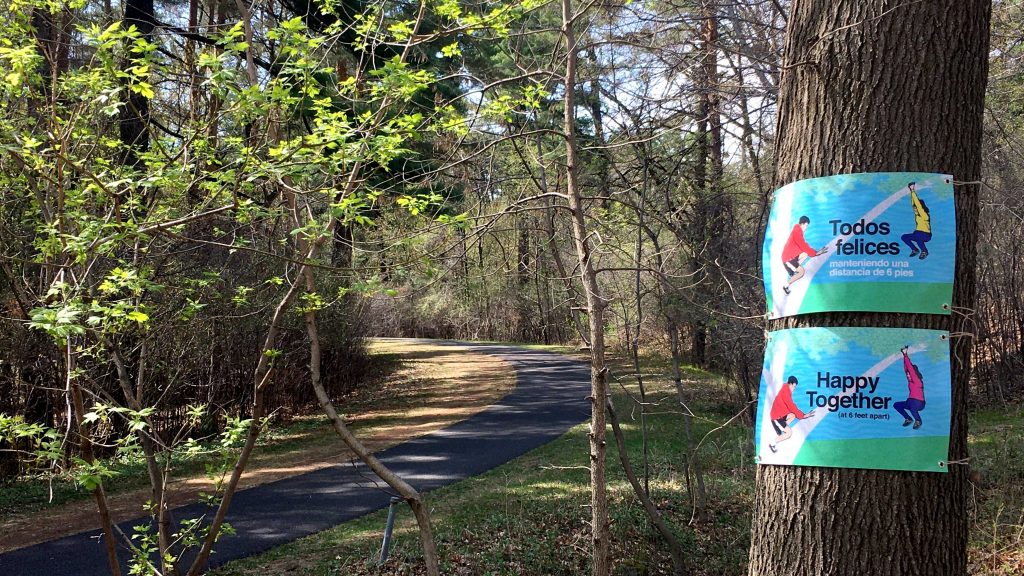 Tree Hugs is a project by Amanda Lovelee, Park Ambassador at the Metropolitan Council and Design/illustration by Witt Siasoco.
In response to COVID-19, Smart Growth America is excited to launch Arts & Transportation Rapid Response, a new opportunity for cities looking to creatively and quickly address pandemic-related transportation challenges. Applications are now open. Learn more about how to apply below.
Across the US, transportation agencies are stepping up to the myriad of obstacles brought on by COVID-19 and stay-at-home restrictions. Once busy streets are largely empty. Sidewalks are now unsafely narrow and cramped. Transit service changed overnight. In response, city-level departments of transportation and transit agencies are testing new ideas, experimenting with pilot projects, and simply trying to respond to a rapidly evolving landscape. We believe that artists and designers—who are also struggling with cancelled projects and gigs—can help.
With support from the Kresge Foundation and the National Endowment for the Arts, Smart Growth America invites transportation agencies seeking creative expertise to assist in their COVID-19 transportation response to apply.
Selected agencies will be matched with an artist who will work with the agency over the next few months on their proposed project. Participating artists will receive between $5,000 to $20,000 to support the artists' time and project materials, as well as a short series of training sessions to prepare them to work with the transportation agencies. Agencies applying for this opportunity should submit project ideas that can be addressed with this scale of funding. Smart Growth America will also provide project management support, a photographer to document each selected project, and a stipend in the range of $2,500 – $7,500—based on project scope—to the selected agencies to ensure that this is a benefit rather than a burden to their ongoing work.
Unsure of how art could fit into your transportation projects? Below are a handful of ways that artists could support your work:
Improve projects to open streets by designing durable, aesthetic, affordable, and appealing barricades and signage to block cars and encourage people to practice social distancing.
Create games and other ideas to encourage people to recreate on public streets and sidewalks to relieve crowding in parks.
Design and fabricate signage to instruct the public on new information regarding street closures, new policies related to transit, and other information that needs to be communicated clearly despite rapidly changing factors.
Manage crowds at bus stops and transit stations with durable materials and clear instructions.
Create space for queuing at grocery stores, takeout restaurants, and other retail spaces.
Build safe and comfortable public spaces for people to use wifi signals coming from public buildings while remaining outside in the public realm.
Need more inspiration?
View this post on Instagram
How to apply
The application period for the Arts & Transportation Rapid Response has closed. Applications are now open and can be completed using our online form. Applications will be reviewed on a rolling basis beginning on May 14. The deadline to submit an application is Tuesday, May 26 at 11:59pm ET.
Want to learn more?
Head over to our Frequently Asked Questions post, where you can also find a recording of the informational webinar we hosted on May 14.