Smart growth and the pandemic
Though we all have more pressing daily issues to think about—managing kids (and ourselves), putting food on the table, getting to work or the store safely—our work has become more urgent than ever. For example, the same structural inequities that have led to more air pollution, unsafe streets, a lack of transportation options, and worse access to fresh food in African American neighborhoods are also contributing to the underlying health conditions that make death from COVID-19 more likely.
When our country does start to get back on its feet, many of the things that Smart Growth America has long been advocating for—affordable, multimodal transportation, safe streets for everyone, and housing diversity and choice—are vital to helping our communities bounce back and move forward. This closely curated page collects our most valuable resources and ongoing work related to coping with the COVID-19 pandemic today, and recovering from the fallout tomorrow.
Use the buttons below to help navigate this page.
Resources     Advocacy     Connect     Read
How can we manage and recover?
Smart growth recommendations for stabilization and recovery

As we all hope for light at the end of the tunnel we'll need to build the foundation for a long-lasting recovery. SGA compiled 20 infrastructure and community development recommendations to inform additional short-term emergency measures and longer-term economic recovery efforts—with an eye toward bringing benefits to the most people in an equitable way.

Learn More
Infrastructure lessons from the 2009 Recovery Act

With a COVID-19 recession all but certain and Congress talking about an infrastructure stimulus, SGA and Transportation for America examined lessons learned from the last major stimulus in 2009. If Congress and the president want to create jobs and support economic recovery through infrastructure investments, there are important lessons to be learned. This short report provides six lessons and six recommendations.

Learn More
How are streets (and other policies) being transformed?

Transportation is changing. Cities are opening up streets to people, increasing bikeshare access, creating curbside pick-up zones for restaurants and grocery stories, and more. Our National Complete Streets Coalition, committed to advancing transportation systems that provide safe access for everyone, is maintaining a crowdsourced map to share and lift up the many ways communities are responding to the unique circumstances brought on by this pandemic.

Learn More
LOCUS resources for developers & investors

Our LOCUS coalition of developers and investors builds equitable, walkable development—things we will need much more of when we start trying to foster a recovery. Our LOCUS staff are providing our LOCUS members and supporters with timely updates and transparent resources about COVID-19 to help keep everyone safe and resilient.

Learn More
How we are advocating for change:
Tune in to learn:
Worth a read:
Important essays and posts from SGA's many diverse experts about COVID-19 and how it relates to where we live, what we build, and how we get around.
COVID-19 death rate increased amongst those exposed to greater air pollution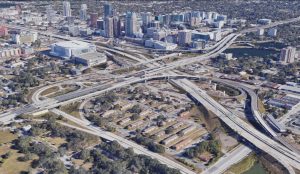 April 21, 2020 (SSTI)
Coronavirus is not impacting all people equally. Coming at a time when the current administration continues to relax pollution controls, a new paper under review presents evidence that exposure to pollution—including that from motor vehicles—reduces the survival rate of individuals who have contracted COVID-19. Read more >>>
Closed cities should open streets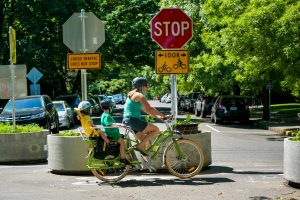 April 15, 2020
Social distancing and stay-at-home orders have made one thing evident: the vast majority of our street space is dedicated to cars. And with streets clear, more people are turning to walking, biking, and rolling than they otherwise might. But what if it didn't take a pandemic to make people feel safer moving around their communities outside of personal vehicles? Read more >>>
Stop funding transit like it's 1982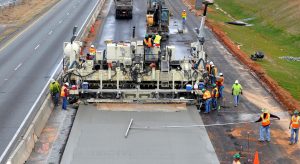 April 14, 2020 (Transportation for America)
Congress has suggested that they may focus on infrastructure in an upcoming stimulus bill. If that's the case, it's time for Congress to abandon an obsolete, untenable split in transportation federal funding that dramatically favors highways over transit. Times have changed, our funding should too. Read more >>>
2.8 million essential workers use transit to get to their jobs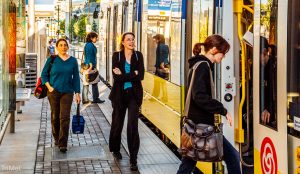 March 27, 2020 (Transportation for America)
2.8 million transit riders are considered "essential workers" during the COVID-19 emergency, underscoring just how essential it is to keep transit running. Under normal circumstances, they account for more than a third of total transit commuters in the country.  Read more >>>