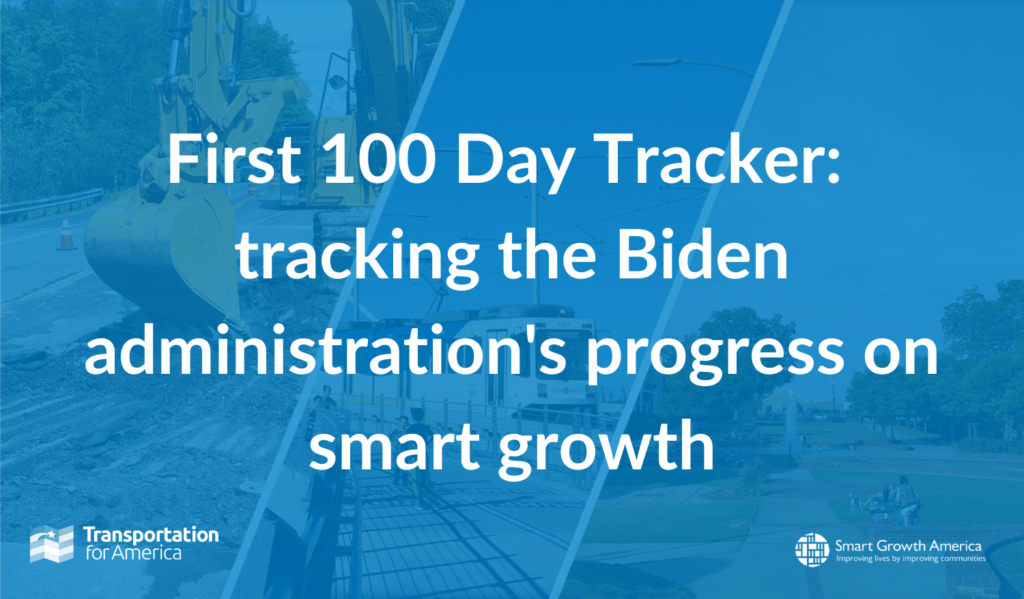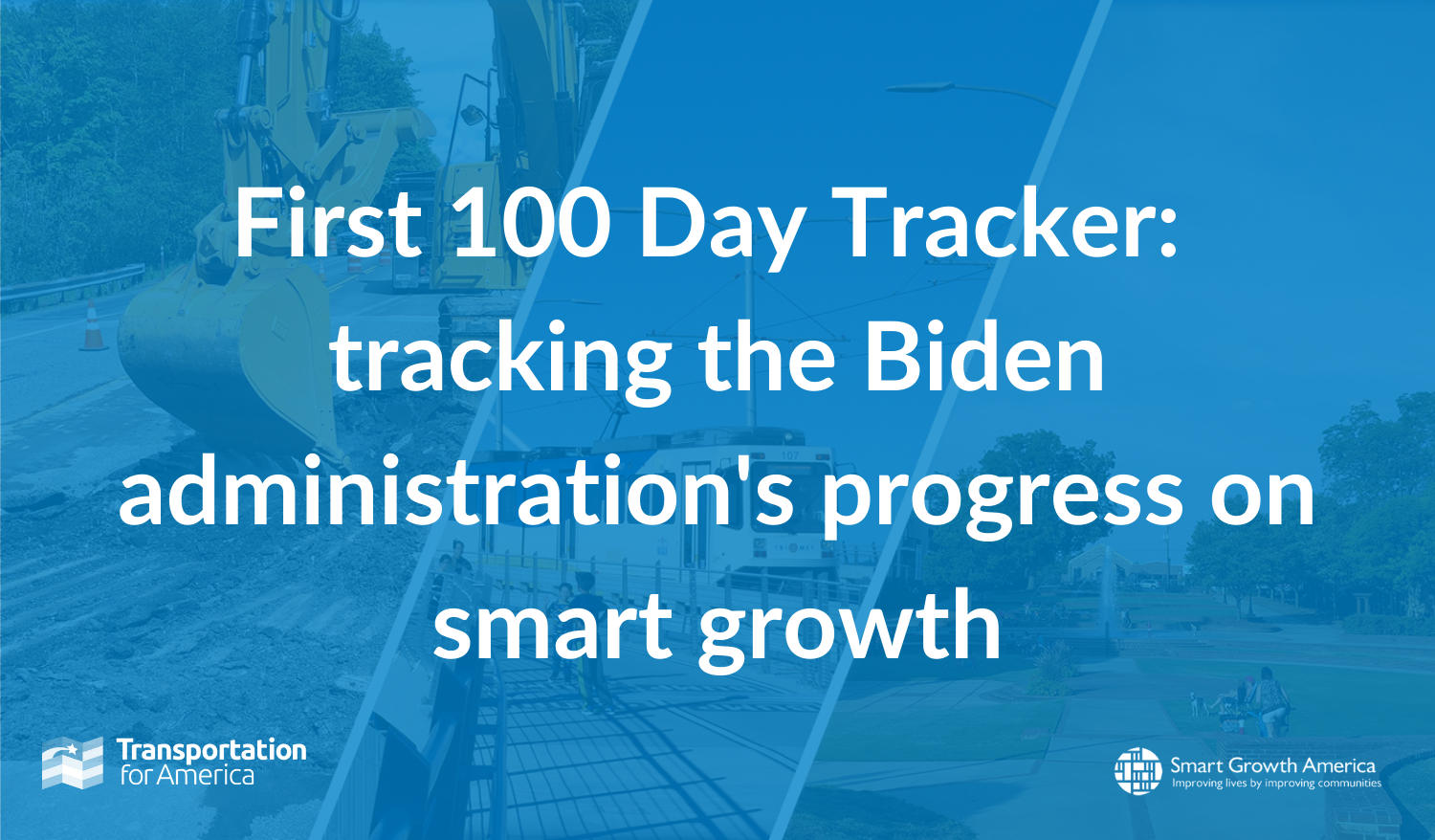 There are dozens of key actions that the Biden administration can take right now to move the needle on climate change, eliminating racial and economic disparities, and providing more homes, jobs and opportunity for all Americans. Here's a short list of recommended actions we are tracking closely.
As we noted upon its release, the President's new infrastructure plan proposes major investments in affordable housing, smart growth, climate-friendly infrastructure, and affordable transportation that better connects us—anchored by overall goals of addressing climate change and eliminating racial and economic disparities.
We're cautiously optimistic about that plan, but if the administration is truly serious about those goals, there's also some low-hanging fruit for moving the needle via administrative actions that don't require Congress' help or approval, as with their massive infrastructure bill.
Back in November, we put together a memo of day one, 100-day, and longer-term actions that the administration could take to "truly unlock our economic potential in a fiscally responsible way, tackle climate change and promote racial equity." We're still tracking our full suite of recommendations, but below is a tidier list of 14 actions we are highlighting. Bookmark this page and follow us on twitter to stay up to date on the administration's progress.
| Purpose | Agency | Status | Details |
| --- | --- | --- | --- |
| Help small communities better access federal grant dollars | USDOT | | Simplify applications for discretionary grant programs (like the Better Utilizing Investments to Leverage Development (BUILD) program) by creating an online application and benefit-cost analysis (BCA) process so that small, rural and limited-capacity agencies can more easily access federal funds. |
| Measure greenhouse gases from transportation and help states measure GHGs in projects | USDOT | | We only measure what we treasure. Re-establish the greenhouse gas (GHG) performance measure for transportation abandoned by the last administration, follow up with annual state GHG rankings, and provide guidance for projecting GHG emissions at the project level. |
| Rescind guidance that made transit investments more difficult | USDOT | Done | Repeal the June 29, 2018, Federal Transit Administration (FTA) Dear Colleague to public transit agencies regarding the Capital Investment Grant program, specifically the treatment of federal loans as not part of the local match, inclusion of a geographic diversity factor in grant awards, and encouraging a low federal cost share. |
| Help rural communites invest in cleaner transit | USDOT | | Allow rural transit systems to receive funding from the Low and No Emission bus program. |
| Protect people living near transit from COVID-19's economic impact | HUD | | Extend the eviction moratorium for economically distressed and "rapidly changing" communities near transit and issue COVID-19 emergency funding programmatic waivers to provide immediate tenant and landlord rent relief. |
| Stop housing discrimination and segregation | HUD | | Revive and strengthen fair housing enforcement and reinstate the Obama Administration's Affirmatively Furthering Fair Housing Rule and Disparate Impact Rule which would eliminate housing descrimination and reduce segregation. |
| Remove divisive highways (and other infrastructure) | USDOT | | Identify infrastructure that creates barriers to mobility (such as highways or rail beds that divide a community). Then prioritize resources to address those barriers and the disparities they create (e.g., by removing infrastructure barriers or creating new connectivity). |
| Equip the White House to coordinate investments to address climate change and improve equity | White House | | Prioritize federal-local partnerships by establishing a new White House Office of Community Mobilization, an interagency and intergovernmental office dedicated to building federal-local partnerships that advance public-private projects to address climate, public health, racial, and economic disparities. |
| Stock the Amtrak board with people who support all types of passenger rail service | White House, USDOT | | Review the Amtrak Board of Directors and assess the balance of the board with respect to support for and experience with vital long distance, state-supported, and Northeast Corridor routes, as well as civic and elected leaders from local communities actually served by the existing network. |
| Prioritize people when considering the safety of new cars | USDOT | | Revise the New Car Assessment Program to consider and prioritize the risk that increasingly larger automobile designs pose to pedestrians and cyclists (a category that is completely ignored by the NCAP) and the driver's ability to see pedestrians (particularly children and people using wheelchairs and other assistive devices.) |
| Eliminate standards that lead to streets that are dangerous by design | USDOT | Comment period extended | Reopen the comment period on the handbook of street engineering standards (the Manual on Uniform Traffic Control Devices or MUTCD) used by transportation agencies to design streets, and reframe and rewrite it to remove standards and guidance that lead to streets that are hostile to or dangerous for those outside of a vehicle. |
| Prioritize smart growth when siting federal facilities | White House, HUD, USDOT, GSA | | Re-activate the Location Affordability Portal created by DOT and HUD and establish a location efficiency and equitable development scoring criteria to be applied to decisions involving location of new federal facilities, particularly those that serve the public. |
| Stop using outdated traffic modeling that ignores induced demand | USDOT | | Improve traffic projections used to justify projects by issuing guidance requiring the measurement of induced demand and a review of the accuracy of current travel demand models by comparing past projections with actual outcomes, reporting their findings, and updating the models when there are discrepancies. |
| Stop equating fast car trips with a transportation system that works | USDOT | | Push states and metro areas to stop assuming that time savings automatically accrue due to faster vehicle speeds by updating the guidance on the value of time and instead start considering actual projected time savings for a whole trip. |
As we wrote in November:
Smart growth is the affordable, equitable, and sustainable path to recovery and prosperity. Now is the time for change enabling us to build back better, and we are glad for the opportunity to provide these recommendations to the incoming presidential administration.